OVERVIEW
Nucor Corporation (NYSE:NUE) is engaged in the manufacturing of steel and steel products, with operating facilities and customers primarily located in North America. The Company operates in three business segments: steel mills, steel products and raw materials. Nucor is generally considered a premier "mini mill" steel operation. The company recycles millions of tons of scrap steel a year.
It is an unloved stock, not trading appreciably above its 2008-09 Great Recession lows. The company is mired in a tough current industry (Iron and Steel). Reduced product demand, for both residential and non-residential construction, have plagued the company through the first three quarters of 2010. Management stated that, "The fourth quarter may indeed turn out to be the most challenging quarter of the year." Historically, the fourth quarter is the weakest for Nucor and the steel business in general.
However, Warren Buffett has been quoted, "Be greedy when others are fearful, and fearful when others are greedy."
So let's take a look at Nucor and determine if it's the time to "greedy," or "fearful."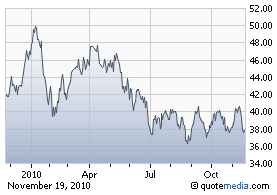 Nucor Corporation
BALANCE SHEET
When reviewing a company, I like to begin with the balance sheet. We find a strength for Nucor.
The debt-to-equity ratio is 44 percent, a solid figure for a heavy industrial company. Nucor management has historically managed its debt well. Indeed, the D2E ratio is much better than its peers, including basic materials companies like U. S. Steel (NYSE:X), AK Steel (NYSE:AKS) and Alcoa (NYSE:AA).
During the third quarter, Nucor completed a debt offering of $600 million. This provided liquidity and paid off some older debt. The coupon interest rate of 4.125 percent demonstrated the company's continued good standing within the investment community, despite a recent one-notch long-term credit downgrade by Moody's to A2. S&P has retained NUE's A rating for the time being.
The current ratio is 3.8, likewise a best-in-class figure. There's plenty of short-term liquidity. After the debt offering, Nucor now has $6.35 per share cash and short-term equivalents on the balance sheet.
To the downside, trailing twelve month return-on-equity and return-on-capital ratios, 3 percent and 2 percent respectively, are weak.
An old ratio that I like to use for industrials like Nucor was created by Benjamin Graham, the father of fundamental value investing: Equity / Assets. Mr. Graham sought companies with a E /A of greater than 0.5. From experience, I can attest there are not many current large cap companies with such a ratio. Nucor Corporation? The ratio as of 3Q 2010 is 0.54.
Price-to-book, another measure a company's relative position within its industry, remains strong. NUE has a P/B of 1.64 versus the industry 4.07.
Nucor may be undervalued. Then again, it could be a busted company. Less look deeper.
CASH FLOW
The down business cycle has hurt Nucor big-time. Free Cash Flow (Operating Cash less Capital Expenditures) is slightly negative through the first nine months of the year. The fourth quarter is not expected to improve.
Somewhat mitigating is the fact that Nucor has one of the most flexible workforces in the industry, and the distinct ability to pare back capital spending longer than most competitors without damaging the business.
Despite the poor recent cash flow, the debt offering was successful, providing necessary funds for now.
Dividends have been paid. Until 2009, Nucor had been a S&P Dividend Aristocrat: a company that had raised the payout for at least 25 years in a row. It's important to note that NUE had paid both a "regular dividend" and a "special dividend."
Despite the loss of the Aristocrat title, Nucor raised the "regular dividend" in 2009 and 2010, while eliminating the "special dividend." Therefore, I retain a healthy respect for the board's commitment to pay cash to investors. Note: upon the most recent earnings telecom, this commitment was reinforced.
INCOME STATEMENT
While the P/L may be shined up due to a number of non-cash items and creative accounting, Nucor Corporation has a clear, line-of-sight income statement. It's not pretty.
The company has been limping along making pennies a share.
Through late 2009 and into 2010, quarterly revenues were recovering from the massive decline in 2008-09. Then in 3Q 2010, the top line stalled.
Management has been particularly cautious, even negative on near-term future prospects.
End user demand has been weak, steel prices have been soft or declining for certain products, and NUE management has cited Chinese dumping steel on the U. S. market as contributing factors. To make matters worse, scrap steel prices (Nucor's primary feedstock) has risen 12 percent: the formula for a classic industrial squeeze play.
OTHER FACTORS
Insider trading has been neither positive nor overtly negative. Institutions holding NUE stock have been selling down recently, but there has been no panic. The short interest ratio (a.k.a. "days to cover) has risen to over 4. I consider this short-term bullish, as these shares much be bought back at some point in the future.
An ace-in-the-hole is Nucor Corporation's management. Having listened in on recent conference calls, I concur with consensus street view that management is shareholder friendly, straight-talking, and conservative. The senior staff is experienced. NUE has been a well-run, well-managed company for many years.
I believe the dividend is secure. While current cash and earnings will not cover it this year, management is committed to the regular dividend. NUE has not missed a payment in over 150 consecutive quarters. Given the board's decision to raise the dividend to 36 cents a share this February, I do not forecast the board turning around next year and lowering it. If the dividend is raised again next February, I would consider this a bullish signal.
The recent bond offering has provide needed short-term liquidity.
THE BOTTOM LINE
The steel industry is down, but not out. It will come back. Steel is a cyclical businesses; the down cycle of the Great Recession was particularly hard on Big Steel.
Within the industry, Nucor Corporation is a best-of-breed. The company possesses a solid balance sheet, manageable debt levels, a flexible workforce, and strong corporate leadership.
Nonetheless, the near-term is treacherous. Earnings will be about 50 cents a share this year. I project EPS of only $2.30 to $2.40 next year, pending a slow U.S. economic recovery. Nucor's problems are compounded as the business is concentrated in North America.
Ownership entails considerable risk. The economic recovery could derail, crushing the stock price. The dividend, though secure for the near-term, could be in jeopardy without improved cash flow by 2012. China's continued dumping of steel in U.S. markets, combined with ongoing rise in scrap prices, could spell big trouble for Nucor.
On the other hand, Nucor has the balance sheet and management moxie to weather a storm. Investors have shunned the stock, sending it to a level that's not much above the the low reached in teeth of the 2008-09 Great Recession. Certainly, prospects have become less dire since then.
The time to buy cyclical stocks like Nucor is when others are fearful. By the time the steel business and NUE's fortunes improve, it's too late. The stock will have run up.
If one assumes both the U.S. economy and Nucor will muddle along for another year (but not go into the tank), then rebound within the business cycle, I believe there is limited downside. In the meantime, I project the stock will trade between $36 and $41 until earnings recover.
Street consensus estimates indicate the company could earn $3.50 a share by 2012. In this case, and placing a 15X multiple on the shares based upon past recoveries, the shares may be worth $52 within 18 months. This represents a potential 37 percent upside, plus generous dividends.
The charts have demonstrated channel-trading ranging between $36.50 to $40 a share since July. Based upon a variety of technical indicators, I envision NUE remaining range-bound pending key developments: earnings and revenue guidance improvement, not just booked figures.
Bolstered by a current dividend yield of 3.8 percent (magnitudes better than peers), I am a buyer; picking slowly at shares below $39 largely using cash-secured puts.
Owning these shares is not for the faint-of-heart. Patience will be required.
Disclosure: Author is long NUE