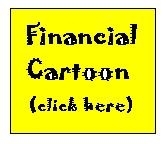 Outlook: As we round the bend heading towards the end of the year there are a number of economic and market underpinnings that seem to be coming together that may provide non-Scrooge-like investors hope for holiday cheer, i.e., the Santa Clause Rally.
Bush Tax Cuts Extended: On the tax front it's highly likely there will be an extension of the Bush tax cuts. It is the easiest way-out of infuriating the U.S. populous by automatically raising taxes the beginning of 2011. And as we know, embattled Democrats, led by Republican all time favor, Nancy Pelosi, will put up token resistance so they can later say, "I told you so". But in the end will opt for this expedient solution.
Consumer "Stepping Up": The consumer seems to be "stepping up" with better than expected retail sales in October. It's likely we'll see solid consumer spending for the holidays if retailers can provide a "value proposition" for their dollar. Wal-Mart's low price and free shipping campaign will likely set the tone for the other retailers to "get in line".
Fed is Accommodating: The Fed is ready to prop up the economy in the near-term with their European counterparts by providing interim solutions to paper over intra-Euro differences on the PIIGS.
Economy Stabilizing: Leading economic indicators continue to rise with a majority of the 10 indicators flashing a positive 0.5% for both Sept and October—fastest since May of this year. While not declaring victory, the unemployment numbers indicate that we have come out of a "tail spin" and are starting to stabilize with nascent indications of "less bad" becoming "more good.
Corporate Coffers Flush: Importantly, corporate America's non-financial companies are flush with cash. Currently, there is an estimated $2.0 trillion in net cash sitting in non-financial corporate treasuries. In a reassuring stable business environment, a part of those funds will be deployed in corporate acquisitions as well as increased capital spending as productivity is waning. Part of those funds can be used to buy back stock or increase dividends.
Large Cap Dividend Payers: Many large cap and cash-flushed companies are expected to raise their dividends. A recent report by Markit, a financial information services firm, expects a 50% jump in dividend increases for S&P 500 companies in the fourth quarter from last year.
Still Time to Play: A clear benefactor of this corporate dividend largess would be SPDR S&P Dividend ETF (NYSEARCA:SDY) which tracks the performance of the S&P High Yield Dividend Aristocrats' Index. The index tracks the performance of the 50 highest yielding stocks in the S&P Composite that have increased their dividends for at least 25 consecutive years. (See here); SDY is the S&P dividend play, where DVY is the Dow Jones dividend play.)
Based on Markit's 50% jump in the quarterly S&P 500 dividend increase, SDY's 4Q dividend would be $.0475 per share, up 7.2% from the previous quarterly dividend. This would be at an annualized yield of 3.72% versus current posted yield of 3.36%.
Just Starting: The corporate dividend cycle has just gotten underway and this is likely to be a very good investment theme for equity-income oriented investors for 12 to 18 months. For traders, the first quarter dividend is typically off 23% from the previous 4th quarter. So, get in now, get out in January.
Financials Continue its Slump: I continue to be a buyer of J.P. Morgan Chase (NYSE:JPM) as a leader in the financial services sector and one of the best in breed. It is a likely leading candidate for serial dividend increases post the most recent government stress-test. JPM is for those investors with a 12-month investment horizon. Expect this stock to remain on the weak side in the interim.
Money Flow: "Money Flow" into the DJ US Total Stock Market was up 0.2% for the week and up 3.4% for the month. The up/down ratio increased to 1.02 from 0.98 the previous week; 1.00 versus 1.01 for the month. The Industrial sector again experienced the greatest weekly change for the second week in a row, up 0.9%. The biggest loser continued to be the financial sector, down 0.8%.
Mutual Funds: The total inflows into mutual funds for the week ending 11/10/10 increased $6.7 billion, up 35.2% from the previous week. Equity funds have estimated inflows of $1.6 billion, compared to inflows of $731 million the previous week. Domestic funds continue to experience outflows ($677 million) although moderating, while investors continued to add to foreign equity funds by an amount of $2.3 billion.
Bond funds continued to experience significant inflows with investors adding $4.0 billion to their existing holdings. The recent decline in muni bond valuation showed up in the first outflows of $115 million after having averaged inflows of $473 million the previous four weeks.
Money market funds decreased another $4.1 billion for the week of November 17th to $2.798 trillion. Taxable government funds decreased by $1.8 billion, taxable non-government's decreased by $3.1 billion, and tax-exempt funds increased by $0.9 billion.
ETFs gained over 10% in assets to $882 billion for the month ending September. Domestic equity ETFs represent 56% of ETF assets while global equity accounted for 28% and bond ETFs 16%.
CEF Weekly Review: The 13 closed-end fund (CEF) types on average posted a 0.3% decrease for the week ending 11/19/10. The high-low spread was a +4.4% versus +4.7% the previous week on an average price decline of 0.3% versus a decrease of 3.2%, respectively. On an aggregate, unweighted basis, the weekly average price change for the 500 plus CEFs in the Eqcome database was down 0.9%.
The PowerShares CEF Income Composite (NYSEARCA:PCEF), an ETF that invests in taxable income CEFs, was down 0.5% for the week. The S&P 500 was essentially flat for the week and is up 7.6% YTD.
(Click Here for YTD CEF Performance. The table is based on a smaller CEF sample size as all the data fields are not available for the CEF universe.)
The Eqcome CEF Fear Index for the week eased due to the steep drop in muni NAVs. The average price declined 0.9% while NAV was down 2.0%. The CBOE Volatility Index (VIX), which typically moves inversely with the stock market—but is mostly a measurement of volatility based on stock options' premiums—declined 12.5% erasing the previous week's upward move and crossed back below the 20 mark to 18.04.
The VIX continues to bounce off its lowest point since April and is now back as in the contra-indicator range.
The S&P 500's average daily share volume again exceeded the 4 billion shares mark for the sixth week in a row easing 2.8% to 4.2 billion shares from the previous week.
CEF Weekly Fund Type Performance: The 13 CEF fund types weekly performance were mixed with equity and debt oriented funds disbursed. This typically signals market confusion and an impending change in the market's direction.
Click to enlarge: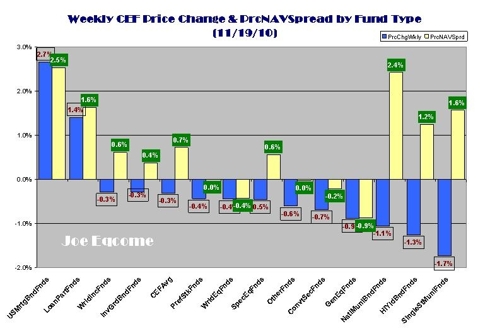 Debt-oriented CEFs represented both the best and worst share price performers for the week. USMrtgBndFnds advanced 2.7% while both national and state muni bond funds along with HiYldBndFnds on average declined 1.4%. All three experience a greater decline in NAV than share price.
Weekly CEF Winners and Losers: In general muni CEFs experienced the greatest positive spreads with Western Asset Intermediate Muni Fund (NYSEMKT:SBI) being an example. SBI price advanced 3.7% while its NAV declined 2.4% generating a positive PrcNAVSprd* of 6.1%. SBI announced its monthly distribution of $.04 per share for the months of December, January and February. Its current yield is 5.1% with a taxable equivalent yield of 7.9%. SBI trades at a slight discount of 2.6%.
One of the CEFs that experienced the greatest negative PrcNAVSprd was Cornerstone Strategic Value Fund (NYSEMKT:CLM). CLM's price declined 10.1% while its NAV remained flat generating a 10.1% negative PrcNAVSprd.
CLM and its sister CEF, Cornerstone Total Return Fund (NYSEMKT:CRF) are in the midst of a non-transferable rights offering that makes little sense for existing investors not exercising their rights. (See here)
Eqcome CEF Portfolio™: Joe maintains three separate CEF portfolios that have different investment objectives: CEFBig10™, CEFMuni10™ and CEFDisc10™.
The first is a balanced equity-income portfolio, the second a tax-exempt income portfolio and the third a portfolio whose objective is capital gains with a secondary objective of current income.
Economic & Earnings Outlook: (Click here for next week's economic calendar; click here for earnings' announcements and estimates.)
ETFs: For a more detailed EFT performance by sectors, click here.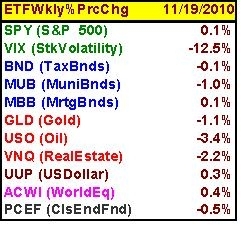 Insider Trading: The drop in CEF muni funds brought out some insider buying in its wake. The largest was Karpus Management, an activist CEF investor that added to its position in Putnam Municipal Opportunities Trust (NYSE:PMO) by 6,700 shares at an average share price of $11.54 for a capital outlay of $77,420. This increased their holdings to 200,307 shares and boosted their interest to 15.3% in PMO.
Theodore R. Jaeckel, Jr., a portfolio manager at Blackrock, added 3,000 and 2,100 shares, respectively to Blackrock MuniYield Fund (NYSE:MYD) and Blackrock, Munivest Fund II (NYSE:MVT). Whether all this purchasing by muni insider is either insightful or hopeful depends on your time horizon.
The largest insider purchase this week was in Hercules Technology Growth Capital (NASDAQ:HTGC) with its COO, Scott Gable, acquiring an initial stake of 10,090 shares at a cost of $9.88 per share. HTGC, a Business Development Company, raised $62.5 million in a follow-on stock offering last week.
(Click here for more.)
CEF Distribution Announcements This Week: The following is a link to a table of CEF distribution announcements this week as well as the previous week's with yet expired ex-dividend dates. The list is not intended to be inclusive. (Click here for CEF Distribution Announcements)
Significant CEF Corporate Events: Zweig Total Return Fund (ZTR) announced that it has set November 29, 2010 as the record date for its proposed offering of additional shares of common stock pursuant to its non-transferable rights offering that was previously announced on September 16, 2010. The Fund filed a registration statement with respect to the rights offering with the Securities and Exchange Commission on September 21, 2010, which was amended on November 4, 2010.
Shareholders of record will receive one right for each outstanding share owned on the record date. The subscription price per share will be equal to 95% of the lower of the net asset value per share of the Fund's common stock at the close of business on the expiration date of the subscription period.
Korea Equity Fund (KEF) announced the commencement of a cash tender offer to purchase up to 2,212,479 shares of the Fund, representing approximately 20% of the Fund's outstanding shares, at a price equal to 98% of the Fund's net asset value ("NAV") per share as of the close of regular trading on the New York Stock Exchange on the expiration date of the tender offer. The offer commenced November 17, 2010 and will expire at 5:00 p.m. EST, December 17, 2010, unless the offer is extended. Additional terms and conditions of the tender offer are set forth in the Fund's tender offer materials.
CEF Focus Stock(s) for the Week: Based upon the theme of corporate largesse regarding upping corporate distributions highlighted in the "Outlook" section above, it's probably worthwhile scanning the CEF universe for large cap investors in the GenEqFnds type which may benefits from this wave of rising corporate distributions potentially increasing their NAVs.
The screen was based on the following criteria of GenEqFnds, large-cap and greater than a $100 million in assets. The screen yielded 7 CEFs of which two were of interest: Gabelli Dividend & Income Fund (NYSE:GDV) and The Adams Express Company (NYSE:ADX).
Of the two, GDV may be a little more of interest to investors looking for a steady monthly distribution over the near-term as it has set its monthly dividend policy for the first 3 months of 2011.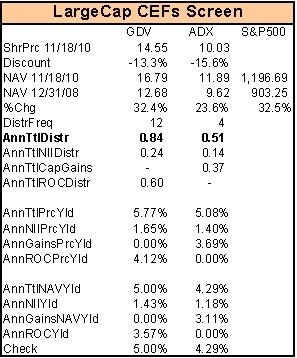 GDV employs a managed distribution plan and pays a monthly distribution of $.07 per share for an annualized yield 5.8%. While approximately 70% of its distribution is considered return of capital, the chart demonstrates that the NAV has been able to keep pace with the rise in the S&P 500 since the end of 2008.
The presumption (with a capital "P") is that since GDV's NAV hasn't declined as a result of the ROC characterized distributions that the ROC distribution payments may represent capital gains that are offset by unrealized capital losses. Therefore, newer investors may be sheltering capital gains.
(Since I'm not privy to the E&P statements, this is a murky area of speculation and I advance this supposition with a large note of caution.)
In any case, GDV's share price yield on net investment income is 1.65% versus less than 1.40% for ADX. GDV's NAV price advanced from the end of 2008 keeping pace with S&P 500 and exceeding that of ADX.
Additionally, GDV announced this week that it declared its monthly distributions of $.07 per share for the first 3 months of 2011 for those investors looking for a certain distribution over those months.

[*] All things being equal, price and NAV should move in tandem. A price movement greater than the NAV generates a positive PrcNAVSprd and may be interpreted as negative on a near-term basis and indicate that the stock is overvalued relative to its NAV which in theory is the stock's intrinsic value. The opposite would be true for a negative PrcNAVSprd.
Disclosure: (Owns a diversified portfolio of CEFs and ETFs and is long JPM, GDV and ADX as well as stocks in the CEFBig10™, CEFMuni10™ and CEFDisc10™)
Disclaimer: The "CEF Focus Stock(s) for the Week" section include CEF stocks of interest to me—and possibly other retail investors—and are subject to further analysis. Their inclusion in this section should not be viewed as recommendations based on the analysis provided here alone. Such stocks are basically a "heads-up" of something that might be of interest—or, not.