While definitely not the first time he said it, Warren Buffett received a lot of press in 2011 following his remarks that "The single most important decision in evaluating a business is pricing power. If you've got the power to raise prices without losing business to a competitor, you've got a very good business."
Praxair (NYSE:PX) is a global leader in the packaged gas industry. Today they have over 27,000 employees operating in more than 50 countries. On their website, they describe themselves as "The company produces, sells and distributes atmospheric, process and specialty gases, and high-performance surface coatings. Praxair products, services and technologies are making our planet more productive by bringing efficiency and environmental benefits to a wide variety of industries, including aerospace, chemicals, food and beverage, electronics, energy, healthcare, manufacturing, metals and many others."
As stated in the description above, Praxair serves a very diverse end market. Looking at the most recently reported earnings, Manufacturing was the largest segment representing 24% of sales - an example of their products for this end market are gases for welding and cutting.
The 2nd largest segment is Metals at 17% of sales - here they provide gases to hundreds of steel and non-ferrous mills to help lower costs, improve energy efficiency and improve productivity.
Third is Energy at 14% - here they do everything from supply hydrogen to power buses and forklifts to provide the gases to improve hydraulic fracturing in oil & gas production.
The remaining segments all fall between 7-10% of sales and include simple products like the gases to make fountain drinks bubble at restaurants to the specialized gases used in the production of semiconductors.
So they are highly diverse and have their finger on the pulse of the global economy, not very different from my other write up here on Bureau Veritas. But what makes Praxair unique is the pricing power. Starting in 2001 management started breaking out in their annual reports the impact from volume vs. pricing on an annual basis. Over the last 12 years, Praxair has grown their volume at 2% on average. To put this in context, that compares to an average of 0% industrial growth in the US according to data from the World Bank. Not surprisingly, the correlation is over 0.8.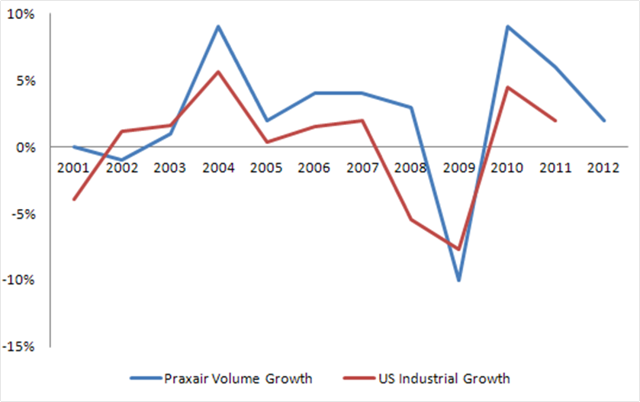 Now the problem with volume growth is it increases sales but also increases expenses. Selling more packaged gas requires more inputs, more working capital to extra cylinders, probably more staff to serve new clients. That's the beauty of pricing power. If you can charge more for the same unit of sales, you get extra revenue without the extra costs.
Over the last 12 years, Praxair has been able to realize 3% pricing gain on average each year. Now 3% doesn't sound like much, especially for the Seeking Alpha crowd that wants 50% moves in a few months, but don't forget about the power of compounding. That 3% increase means that if you were charging a customer $100 in 2000, in 2012 you were charging them $134 - your revenue has increased by a third without any extra expenses.
Many companies have this type of pricing power but they are typically hard to find because they keep it a secret. Another reason why I used Praxair for this article - management is very transparent. If you look at their recent new releases, you will find examples like this one from July where they tell bulk and packaged gas customers Nitrogen, Oxygen, Hydrogen, Helium and Carbon Dioxide will increase "by up to 15%" and facility fees will increase by "up to 10%". And this is their third announcement for 2014 - these aren't rare occurrences.
Now let's go back to the quote from the beginning, a price increase is nice but only if you can keep your customers. Looking at the 12 years of increase, volume growth was only negative in two - 2002 and 2009. In every other time period they increased customers at the same time they increased prices. What's even more amazing, for the 12 data points I could gather, not a single year had price declines.
|   | 2001 | 2002 | 2003 | 2004 | 2005 | 2006 | 2007 | 2008 | 2009 | 2010 | 2011 | 2012 |
| --- | --- | --- | --- | --- | --- | --- | --- | --- | --- | --- | --- | --- |
| Praxair Price Impact on Sales | 2% | 2% | 3% | 2% | 4% | 4% | 3% | 4% | 2% | 0% | 2% | 2% |
Not surprisingly, this incredible pricing power has showed up in operating margins. From 1995 to 2007, margins were fairly constant at 17%. Since, they have marched higher, today above 22%. As the pricing story continues and the industry consolidates (see below) it is not unreasonable to expect margins in the high 20s or even the low 30s.
Let's build up our topline model, you get volume growth at or slightly ahead of US industrial production, let's say 2%. Plus, you pick up a couple points of pricing power, let's say 3%. Now 5% baked in growth is nice but not impressive. The final leg of this stool is consolidation. Acquisitions and JVs have been a core part of the growth strategy as there are many small, regional players that are natural tuck ins for Praxair. For example, take this announcement from July 2013 where a new JV accelerates their growth in Russia. In the past this has added a few additional points to top line growth getting the company up to 7-8% average over the past 12 years.
At 21x earnings, it's difficult to argue that the shares are cheap but they seem reasonable for such a strong business. This multiple compares to an average of 19.5x since 2000. The dividend yield is just shy of 2%, up from an average of 1.26% pre crisis. In addition to consistently increasing the dividend, management has also discovered the value of share repurchases and has bought back 10% of the shares outstanding since the end of 2003. This long term compounder should find a home in every portfolio.
Disclosure: The author is long PX. The author wrote this article themselves, and it expresses their own opinions. The author is not receiving compensation for it (other than from Seeking Alpha). The author has no business relationship with any company whose stock is mentioned in this article.