What a turnaround! From imploding last Tuesday to going like gangbusters on Thursday. Though the market ended the week a hair in the black, it wasn't the healthiest type of progress. The indices are back above their 20-day moving average lines, however, which is a key make/break level.

We'll slice and dice it below, but first let's paint a bigger-picture with a look at the key economic data.

Economic Calendar

It was a busy week last week, with a ton of data to sort through. Let's just dig in.

Retail sales were better than expected, up 1.2%. Taking auto sales out of the equation though, the 0.4% rise was just as expected.

Inflation-wise, still no signs of skyrocketing prices yet, despite every reason to expect them. PPI was up 0.4%, while CPI was up only 0.2%. On a core basis, producers actually saw a 0.6% dip in input prices, while consumers paid the same as they did in September. As for the annual inflation rate, it now stands at 1.17%.

Factories were no more or no less busy in October; industrial production was flat, and capacity utilization once again came in at 74.8%.

On the housing front, starts were down by quite a bit, to an annual rate of 519K (down from September's 588K), and permits held steady at a rate of 550K. Though mortgage applications fell 14.4%, the NAHB said home prices actually edged up a little.

Unemployment-wise, we continue to see slow but clear progress. Initial claims were actually up by about 2000 people, to 439K (effectively flat), while continuing claims sank to 4295K. Both are either at or close to multi-year lows, and trending lower.

The rest is listed on the table below (click to enlarge).

Economic Calendar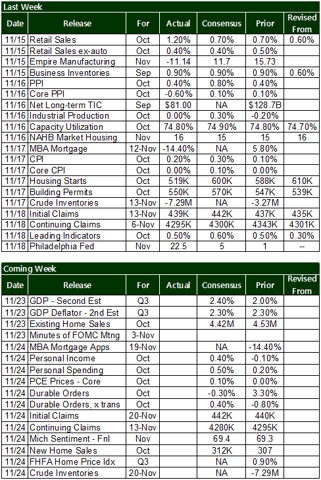 Click to enlarge

As for the coming week, the holiday break is forcing all the data to be crammed into Tuesday and Wednesday, but there's a lot of big stuff coming out in that short span.

Take Tuesday's GDP announcement for example. As of the last look, analysts expect GDP growth of 2.4% for the prior quarter.... slightly up from the prior reading.

We'll also get a read on income and spending, each of which should be up by 0.4% to 0.5% for October after September's disappointments. That data will go hand in hand with the durable orders figures to be released on Wednesday. With cars, orders are expected to sink by 0.3%. Without autos being in the mix though, durable orders are actually expected to rise 0.4%.

It's also going to be a big week for the housing market. Existing home sales are expected to sink to an annual rate of 4.42 million... slightly below the prior month's 4.53 million rate. New home sales will be released on Wednesday; look for an annual pace of 312K, which is a hair better than the previous 307K.

And on the jobs front, while new and ongoing claims will essentially look flat if they come in as expected, the longer-term (and admittedly slower) downtrends for both will remain intact.

S&P 500

Thanks to Friday's heroics, the market managed to end the week barely in the black; the S&P 500 (SPX) (NYSEARCA:SPY) ended 0.04% (+0.52 points) above the prior Friday's closing level. Before starting the rebound party though, know that there are several things still wrong for the bulls here. Here's a quick rundown, in no particular order:

Yes, the VIX (NYSEARCA:VXX) (NYSEARCA:VXZ) is pointed lower again, but look where it stopped its tumble - right at the lower Bollinger band. Had this boundary not been such a strong floor and reversal point several times already in recent weeks, it may mean nothing now. But, given the history here, a bounce for the VIX and a subsequent dip for stocks is a probability.


Despite advances over the last three days of last week, none of those days saw volume as strong as the volume seen over the four bearish days before them.



Though it's a tiny one, there is a lingering gap between Wednesday's high of 1183.56 and Thursday's low of 1183.75. The market may want to close it before moving any higher. The problem is, that small move lower may actually ignite a bigger move lower.

On the flipside, the bulls still have a couple of things going for them. Again in no particular order:

The 50-day moving average line is still intact as a support/floor at 1170. Even a move lower to close the 1183.56/1183.75 gap wouldn't technically break the intermediate-term bullish momentum.

While the VIX isn't apt to tumble under the lower Bollinger band, it's also been held back from a strong move higher. Until it actually pushes - and stays - above the 24 area, the market's corresponding potential downtrend will only remain a potential one.

The wrench in the works this week favors the bulls, even if artificially. Last week's rebound will undoubtedly serve as 'evidence' to the perma-bulls that the train is back on the track, and we should buy indiscriminately. Moreover, the Thanksgiving holiday is usually book-ended by bullish days, only by tradition; whether they should be bullish or not isn't really a factor.

All things considered, despite the likely small advance we'll see this week, it may be best to not worry about it and just take some time off instead. No matter what happens, the market will still be overbought in the bigger picture, and we'll have to pay those dues sooner or later.

S&P 500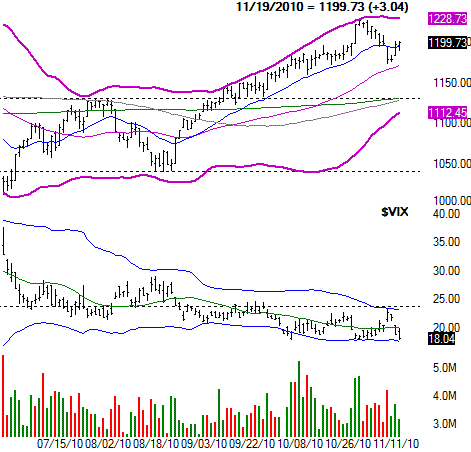 Sector Performance

Transportation stocks won the race hands-down last week, gaining 1.26% versus the market's flat move. At the bottom of the pile were gold stocks, losing nearly 2% and underscoring the question of whether or not gold - the commodity as well as its stocks - are infallible.

Given that last week's results on both ends of the spectrum were new developments of strength or weakness though; it may be premature to react to either. Rather, look for the (few) sustained trends that are buried in the middle ground, if you're looking to tap momentum. Click on chart to enlarge.

Sector Rank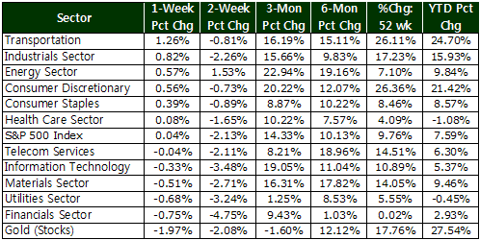 Click to enlarge

Just for a different spin on the sector-trading themes, here's a visualization of the same data (click to enlarge). It's with this chart we can see that (aside from the fact that everything has stalled) consumer staples have held up better than most other groups. Similarly, consumer discretionary stocks have continued to make standout progress.

Sector Comparison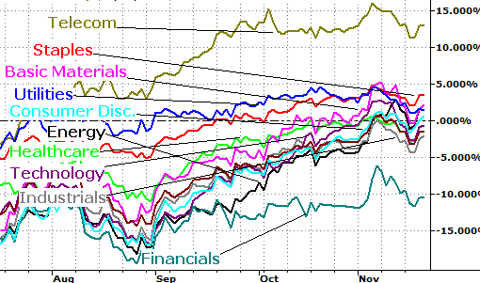 Click to enlarge

Trade Well

Disclosure: No positions