In the last week, the S&P 500 index has fallen by about 3%. While the volatility may seem like a lot from a day-to-day basis, when we look at the big picture, the downward move really hasn't been significant yet. So it's probably not a great idea to 'back up the truck.' However, the recent move to the downside has created some interesting pockets of value, largely from sectors and industries already out of favor, which have been beaten up just a little bit more over the last few days.
One of those industries is upstream master limited partnerships, or upstream MLPs, which have been cheap for quite a while, and frequently offer high dividend yields. There are a good handful of upstream MLPs available, but the best ones have low decline rates, low production cost bases, conservative hedging policies and cushy distribution coverage ratios.
Because many upstream MLPs are now discounted from where they were just a couple weeks ago, we can afford to be picky and select only the partnerships which fulfill that above criteria. One of those upstream MLP names is Memorial Production Partners (NASDAQ:MEMP). Before we go into why Memorial is one of the best upstream MLPs, let's first look at how far Memorial has fallen.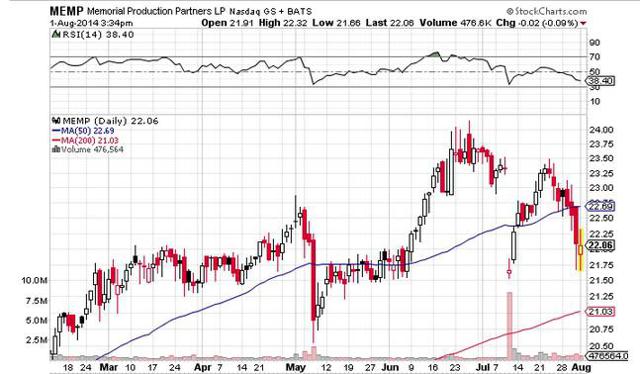 Click to enlarge
Chart by Sharp Charts
As you can see, Memorial has had something of a rocky ride: In the early part of July, units tumbled on news of a secondary equity offering. Management made the offering in order to pay off debt incurred from a big acquisition of mature oil-producing properties around Bairoil, Wyoming. Memorial recovered swiftly toward the middle of the month, and prices jumped to as high as $23.35. The recent pullback, however, has brought Memorial right back down.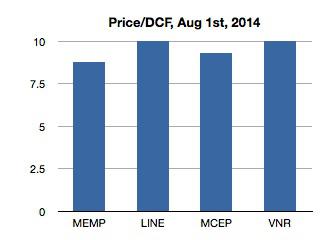 Price/DCF based off respective partnerships' 2014 midpoint DCF guidance.
Currently, Memorial yields nearly 10%. Compared to some of the other major upstream MLPs, Memorial is once again quite cheap at just 8.75 times DCF. Linn Energy and Vanguard Natural Resources, both leading upstream MLPs, are now at about 10 times DCF.
Hedging Strategies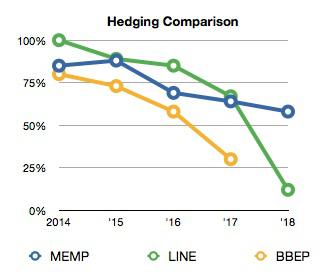 Courtesy of Linn, Memorial and BreitBurn investor presentations.
Of all the upstream MLPs, Memorial is, perhaps, the most conservatively hedged. This chart compares Memorial's hedge book, on a total cash flow basis, with two of the largest upstream MLPs; Vanguard and Linn. As we can see, Memorial had a hedge policy comparable to that of Linn Energy, but Memorial's hedge contracts last a bit longer than do Linn's.
Coverage Ratio
Coverage ratios for distributable cash flow, or DCF, are also important. Memorial is one of the better players in this regard, as well. While BreitBurn does not provide forward DCF guidance, Linn expects DCF to be just 1.01 times distributions this year. Vanguard currently expects DCF to be about 1.075 times distributions. Memorial has both of them beat, however, because it expects its DCF to be about 1.15 times distributions on the year. Memorial's distribution is among the safest in the industry right now.
Cost Base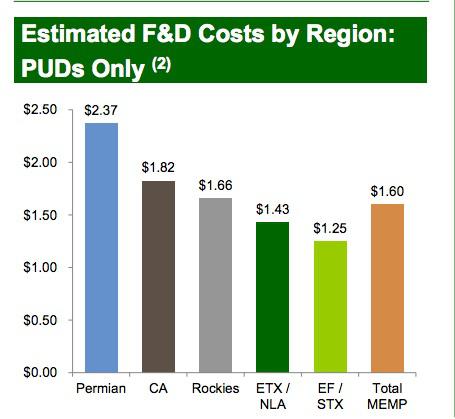 Chart by investor relations
Although this chart is a bit tricky, it does a good job of demonstrating what a great, low-cost asset base Memorial has. Memorial's lowest cost bases are in East Texas and South Texas, and both of these assets produce mostly gas.
East Texas produces 39% of Memorial's hydrocarbons, much of which comes from the Cotton Valley, which has been producing natural gas since the 1930s. South Texas, which accounts for a much smaller 13% of Memorial's production, has the lowest cost base of all Memorial's acreage. Like East Texas, South Texas' production is mostly gas.
Another thirty six percent of Memorial's production comes from the Rockies. Here, Memorial has a combination of separately acquired gas and oil properties. While the cost to produce here is higher than in Memorial's other regions, much of the partnership's Rockies production is oil, which fetches a much higher return than does gas right now. The Bairoil field is the source of Memorial's Rockies oil production, and that oil costs only about $20 per barrel to produce. While the Rockies' overall costs may be higher than both East and South Texas, returns from the Bairoil field are quite high, perhaps the highest in the partnership's portfolio.
Conclusion
Already cheap compared to its peers, Memorial became even cheaper thanks to this pullback. This is a high-quality upstream MLP, and is one that is available now for a very reasonable valuation.
Disclosure: The author is long MEMP. The author wrote this article themselves, and it expresses their own opinions. The author is not receiving compensation for it (other than from Seeking Alpha). The author has no business relationship with any company whose stock is mentioned in this article.
Additional disclosure: Have added shares of MEMP within the last 72 business hours.