The following is a list of stocks that are approaching an inflection point, based on moving average trends. For this article, we define an inflection point as the convergence between the 50-day and 200-day moving averages.

When these two moving averages cross, it often represents a shift in investor sentiment. If the 50-day MA moves above the 200-day MA (bullish), it's called a "Golden Cross" signal. If, on the other hand, the 50-day MA crosses below the 200-day MA (bearish), it's called the "Death Cross".

All of the stocks mentioned below have recently seen the SMA50 move above the SMA200 (bullish signal). In addition, all of these stocks have attractive valuation ratios, based on the trailing twelve month (TTM) P/E and P/S ratios.

This list might interest momentum investors looking for attractive valuation picks. Full details below.

Valuation data and industry comps sourced from Reuters. Moving average data sourced from Finviz.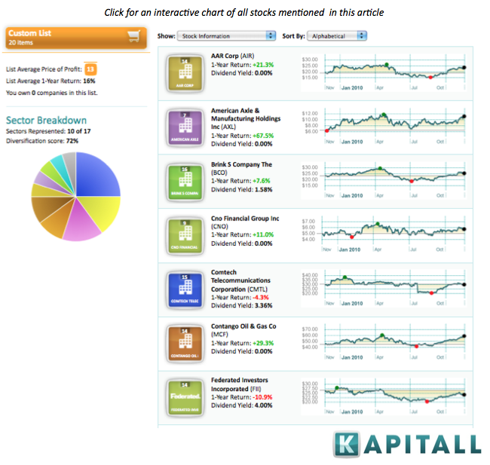 1. Thor Industries Inc. (NYSE:THO): Recreational Vehicles Industry. Market cap of $1.89B. SMA50 at $31.19 vs. SMA200 at $27.60 (Friday's closing price at $33.91). TTM P/E ratio 16.21 vs. industry avg. at 38.55. TTM P/S ratio 0.83 vs. industry avg. at 3.05. Short float at 6.82%, which implies a short ratio of 6.27 days. The stock has gained 18.94% over the last year.

2. Ingram Micro Inc. (NYSE:IM): Computers Wholesale Industry. Market cap of $2.81B. SMA50 at $17.25 vs. SMA200 at $16.48 (Friday's closing price at $17.92). TTM P/E ratio 9.58 vs. industry avg. at 15.96. Short float at 1.43%, which implies a short ratio of 2.09 days. The stock has gained 0.17% over the last year.

3. SYNNEX Corp. (NYSE:SNX): Business Services Industry. Market cap of $1.04B. SMA50 at $27.94 vs. SMA200 at $26.25 (Friday's closing price at $29.12). TTM P/E ratio 9.52 vs. industry avg. at 15.96. Short float at 7.36%, which implies a short ratio of 7.26 days. The stock has lost -0.95% over the last year.

4. Brinks Co. (NYSE:BCO): Security & Protection Services Industry. Market cap of $1.16B. SMA50 at $23.83 vs. SMA200 at $22.11 (Friday's closing price at $25.30). TTM P/E ratio 7.65 vs. industry avg. at 14.42. Short float at 4.34%, which implies a short ratio of 5.53 days. The stock has gained 9.48% over the last year.

5. Stage Stores Inc. (NYSE:SSI): Apparel Stores Industry. Market cap of $533.31M. SMA50 at $13.31 vs. SMA200 at $12.32 (Friday's closing price at $14.15). TTM P/E ratio 16.36 vs. industry avg. at 23.6. TTM P/S ratio 0.36 vs. industry avg. at 1.98. Short float at 2.74%, which implies a short ratio of 4.13 days. The stock has gained 20.43% over the last year.

6. Teledyne Technologies Inc. (NYSE:TDY): Aerospace/Defense Products & Services Industry. Market cap of $1.47B. SMA50 at $40.52 vs. SMA200 at $40.12 (Friday's closing price at $40.50). TTM P/E ratio 12.84 vs. industry avg. at 28.12. TTM P/S ratio 0.83 vs. industry avg. at 2.29. Short float at 2.63%, which implies a short ratio of 6.94 days. The stock has gained 18.25% over the last year.

7. CNO Financial Group, Inc. (NYSE:CNO): Accident & Health Insurance Industry. Market cap of $1.44B. SMA50 at $5.55 vs. SMA200 at $5.34 (Friday's closing price at $5.75). TTM P/E ratio 11.44 vs. industry avg. at 17.44. TTM P/S ratio 0.36 vs. industry avg. at 1.26. Short float at 8.2%, which implies a short ratio of 9.43 days. The stock has gained 11% over the last year.

8. AAR Corp. (NYSE:AIR): Aerospace/Defense Products & Services Industry. Market cap of $933.99M. SMA50 at $20.98 vs. SMA200 at $18.42 (Friday's closing price at $23.55). TTM P/E ratio 18.95 vs. industry avg. at 28.12. TTM P/S ratio 0.66 vs. industry avg. at 2.29. Short float at 8.98%, which implies a short ratio of 8.72 days. The stock has gained 21.27% over the last year.

9. American Axle & Manufacturing Holdings Inc. (NYSE:AXL): Auto Parts Industry. Market cap of $790.18M. SMA50 at $9.40 vs. SMA200 at $7.97 (Friday's closing price at $11.07). TTM P/E ratio 5.89 vs. industry avg. at 12.88. TTM P/S ratio 0.37 vs. industry avg. at 0.85. Short float at 17.11%, which implies a short ratio of 4.38 days. The stock has gained 67.47% over the last year.

10. Industrias Bachoco S.A.B. de C.V. (NYSE:IBA): Meat Products Industry. Market cap of $1.23B. SMA50 at $20.63 vs. SMA200 at $16.70 (Friday's closing price at $24.63). TTM P/E ratio 10.72 vs. industry avg. at 24.38. TTM P/S ratio 0.62 vs. industry avg. at 1.33. Short float at 0.04%, which implies a short ratio of 0.67 days. The stock has gained 24.27% over the last year.

11. Sonic Automotive Inc. (NYSE:SAH): Auto Dealerships Industry. Market cap of $669.69M. SMA50 at $10.59 vs. SMA200 at $8.53 (Friday's closing price at $12.71). TTM P/E ratio 12.63 vs. industry avg. at 16.71. Short float at 17.91%, which implies a short ratio of 11.2 days. The stock has gained 38% over the last year.

12. Thompson Creek Metals Company Inc. (TC): Industrial Metals & Minerals Industry. Market cap of $2.07B. SMA50 at $11.36 vs. SMA200 at $10.01 (Friday's closing price at $12.62). TTM P/E ratio 9.89 vs. industry avg. at 27.39. TTM P/S ratio 3.82 vs. industry avg. at 6.25. Short float at 5.03%, which implies a short ratio of 4.04 days. The stock has gained 8.61% over the last year.

13. John Bean Technologies Corporation (NYSE:JBT): Diversified Machinery Industry. Market cap of $509.8M. SMA50 at $16.88 vs. SMA200 at $15.56 (Friday's closing price at $18.11). TTM P/E ratio 16.39 vs. industry avg. at 23.23. TTM P/S ratio 0.61 vs. industry avg. at 2.1. Short float at 3.01%, which implies a short ratio of 7.31 days. The stock has gained 5.41% over the last year.

14. Federated Investors, Inc. (NYSE:FII): Asset Management Industry. Market cap of $2.47B. SMA50 at $23.52 vs. SMA200 at $22.51 (Friday's closing price at $24.00). TTM P/E ratio 13.53 vs. industry avg. at 14.23. TTM P/S ratio 2.54 vs. industry avg. at 90.88. Short float at 13.8%, which implies a short ratio of 11.1 days. The stock has lost -2.64% over the last year.

15. Teradyne Inc. (NYSE:TER): Semiconductor Equipment & Materials Industry. Market cap of $2.15B. SMA50 at $11.15 vs. SMA200 at $10.15 (Friday's closing price at $11.86). TTM P/E ratio 7.7 vs. industry avg. at 17. TTM P/S ratio 1.38 vs. industry avg. at 1.82. Short float at 15.34%, which implies a short ratio of 4.27 days. The stock has gained 34.01% over the last year.

16. Quicksilver Resources Inc. (NYSE:KWK): Independent Oil & Gas Industry. Market cap of $2.55B. SMA50 at $13.74 vs. SMA200 at $12.24 (Friday's closing price at $15.00). TTM P/E ratio 17.53 vs. industry avg. at 23.5. TTM P/S ratio 2.77 vs. industry avg. at 7.17. Short float at 9.2%, which implies a short ratio of 3.96 days. The stock has gained 15.12% over the last year.

17. Contango Oil & Gas Co. (NYSEMKT:MCF): Independent Oil & Gas Industry. Market cap of $913.76M. SMA50 at $52.18 vs. SMA200 at $44.88 (Friday's closing price at $58.35). TTM P/E ratio 16.95 vs. industry avg. at 24.12. TTM P/S ratio 5.07 vs. industry avg. at 7.41. Short float at 5.07%, which implies a short ratio of 7.29 days. The stock has gained 29.26% over the last year.

18. Comtech Telecommunications Corp. (NASDAQ:CMTL): Communication Equipment Industry. Market cap of $842.53M. SMA50 at $28.64 vs. SMA200 at $27.52 (Friday's closing price at $29.74). TTM P/E ratio 115.055 vs. industry avg. at 191.915. TTM P/S ratio 1.08 vs. industry avg. at 1.3. Short float at 7.16%, which implies a short ratio of 4.68 days. The stock has lost -3.5% over the last year.

19. Konami Corp. (NYSE:KNM): Multimedia & Graphics Software Industry. Market cap of $2.51B. SMA50 at $17.89 vs. SMA200 at $16.73 (Friday's closing price at $18.82). TTM P/E ratio 13.73 vs. industry avg. at 16.78. TTM P/S ratio 0.79 vs. industry avg. at 1.79. Short float at 0.01%, which implies a short ratio of 1.57 days. The stock has gained 15.74% over the last year.

20. NBT Bancorp, Inc. (NASDAQ:NBTB): Regional Banks Industry. Market cap of $785.23M. SMA50 at $22.22 vs. SMA200 at $21.43 (Friday's closing price at $22.78). TTM P/E ratio 13.83 vs. industry avg. at 18.61. TTM P/S ratio 2.75 vs. industry avg. at 3.86. Short float at 3.1%, which implies a short ratio of 14.36 days. The stock has gained 15.99% over the last year.

Disclosure: No positions