The following is a list of stocks in rally mode, i.e. trading above their 20-day, 50-day and 200-day simple moving averages. All of these stocks have seen improving analyst sentiment over the past three months.

Analyst ratings are presented on a linear scale, where 1 = "Strong Buy" and 5 = "Strong Sell". All of the stocks in our list have seen their ratings move closer to 1 over the past three months, i.e. improving analyst sentiment.

Analysts seem to think these rallies will continue, what do you think?

Analyst rating changes sourced from Reuters, moving average data sourced from Finviz.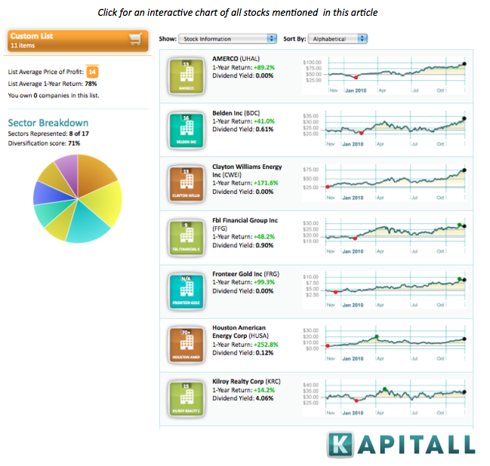 The list has been sorted alphabetically.

1. Belden, Inc. (NYSE:BDC): Industrial Electrical Equipment Industry. Market cap of $1.55B. The stock is currently 9.91% above its 20-day MA, 18.42% above its 50-day MA, and 28.89% above its 200-day MA. Analyst rating has changed from 1.5 to 1.33 over the last three months. Short float at 4.53%, which implies a short ratio of 9.09 days. The stock has gained 41.14% over the last year.

2. Clayton Williams Energy Inc. (NASDAQ:CWEI): Independent Oil & Gas Industry. Market cap of $902.02M. The stock is currently 11.86% above its 20-day MA, 27.41% above its 50-day MA, and 58.56% above its 200-day MA. Analyst rating has changed from 2 to 1.67 over the last three months. Short float at 4.26%, which implies a short ratio of 5.13 days. The stock has gained 179.41% over the last year.

3. FBL Financial Group Inc. (NYSE:FFG): Life Insurance Industry. Market cap of $854.79M. The stock is currently 1.36% above its 20-day MA, 3.96% above its 50-day MA, and 15.64% above its 200-day MA. Analyst rating has changed from 3 to 2.5 over the last three months. Short float at 4.95%, which implies a short ratio of 10.21 days. The stock has gained 49.59% over the last year.

4. Fronteer Gold Inc (FRG): Gold Industry. Market cap of $1.06B.The stock is currently 5.64% above its 20-day MA, 13.32% above its 50-day MA, and 38.94% above its 200-day MA. Analyst rating has changed from 2 to 1.71 over the last three months. Short float at 2.87%, which implies a short ratio of 2.66 days. The stock has gained 99.32% over the last year.

5. Houston American Energy Corp. (NYSEMKT:HUSA): Independent Oil & Gas Industry. Market cap of $504.43M. The stock is currently 11.68% above its 20-day MA, 31.23% above its 50-day MA, and 35.73% above its 200-day MA. Analyst rating has changed from 2 to 1.5 over the last three months. Short float at 22%, which implies a short ratio of 23.22 days. The stock has gained 265.54% over the last year.

6. Kilroy Realty Corp. (NYSE:KRC): REIT Industry. Market cap of $1.81B. The stock is currently 0.84% above its 20-day MA, 2.52% above its 50-day MA, and 8.94% above its 200-day MA. Analyst rating has changed from 2.5 to 2.17 over the last three months. Short float at 11.26%, which implies a short ratio of 9.83 days. The stock has gained 19.01% over the last year.

7. QLogic Corp. (NASDAQ:QLGC): Semiconductor Industry. Market cap of $1.9B. The stock is currently 1.82% above its 20-day MA, 4.12% above its 50-day MA, and .44% above its 200-day MA. Analyst rating has changed from 2.18 to 2 over the last three months. Short float at 6.69%, which implies a short ratio of 2.84 days. The stock has lost -4.97% over the last year.

8. AMERCO (NASDAQ:UHAL): Rental & Leasing Services Industry. Market cap of $1.87B. The stock is currently 10.32% above its 20-day MA, 15.01% above its 50-day MA, and 45.45% above its 200-day MA. Analyst rating has changed from 3 to 1 over the last three months. Short float at 4.4%, which implies a short ratio of 5.52 days. The stock has gained 92.29% over the last year.

9. UIL Holdings Corporation (UIL): Electric Utilities Industry. Market cap of $1.49B. The stock is currently 0.15% above its 20-day MA, 3.51% above its 50-day MA, and 9.4% above its 200-day MA. Analyst rating has changed from 1.8 to 1.62 over the last three months. Short float at 3.74%, which implies a short ratio of 2.29 days. The stock has gained 17.34% over the last year.

10. USANA Health Sciences Inc. (NYSE:USNA): Drug Related Products Industry. Market cap of $682.2M. The stock is currently 1.73% above its 20-day MA, 6.24% above its 50-day MA, and 19.21% above its 200-day MA. Analyst rating has changed from 2.33 to 2 over the last three months. Short float at 10.73%, which implies a short ratio of 14.06 days. The stock has gained 41.82% over the last year.

11. US Gold Corporation (NYSE:UXG): Gold Industry. Market cap of $688.34M. The stock is currently 2.67% above its 20-day MA, 6.52% above its 50-day MA, and 33.54% above its 200-day MA. Analyst rating has changed from 2 to 1.5 over the last three months. Short float at 4.95%, which implies a short ratio of 3.68 days. The stock has gained 93.79% over the last year.

Disclosure: No positions