"That which is cheap often stays cheap."
"Price is truth."
These are sayings we often hear from financial media geared to short-term investors, and these phrases always refer to the same thing: Stocks that are undeservedly cheap, but lack a flashy catalyst to pull them up.
But for long-term investors, especially ones in their 20s and 30s who may not always have cash on hand, these seemingly perpetually cheap stocks, especially the ones that pay good dividends, could really be your best friend. Why? These stocks can often be accumulated, whenever cash may be available, over long-term periods of time. One challenge discerning is which of these companies are undeservedly cheap and which ones are actually of lesser quality.
Here are a couple examples of good companies that were cheap for multiple years: Johnson & Johnson from 2010-2012 and ConocoPhillips from 2011-2013. I cite these examples because these two companies are well-known, solid businesses that were clearly undervalued. At almost any time between those two years, either could be picked up, and both have since given us stellar gains and steady, growing dividends.
Here in 2014, Kinder Morgan Energy Partners (NYSE:KMP) qualifies as a high-quality, cheap security that seems down for the long term. Kinder Morgan Energy Partners currently yields a generous 6.9%, trades at 14.5 times distributable cash flow, and is in one of the most solid, long-term secular growth trends there is: The movement of domestically-produced oil and gas.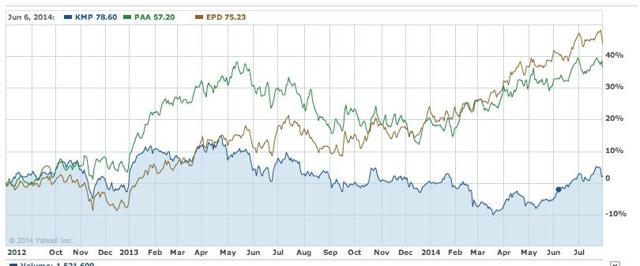 Click to enlarge
Yahoo! Finance
Kinder Morgan Energy Partners has lagged significantly behind its peers since around September of last year. In an industry where partnerships often go to equity markets to raise capital for acquisitions and big projects, a comparatively low equity price is a real disadvantage, especially when acquisitions are heating up as they are now.
Nevertheless, management, led by co-founder Richard Kinder, forsee a medium-to-long-term growth rate of between 5% and 6%. That growth has, and will, translate into distribution growth. When we also consider that generous 6.9% yield, it's easy to see how income can really pile up after a few years.
Overview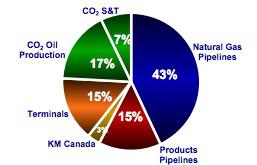 The biggest portion of Kinder Morgan Energy Partners' revenue is pipeline transportation of natural gas. Domestic gas demand is growing in several different directions: Power conversion, exports to Mexico, LNG exports overseas, and use from the thriving US petrochemical industry. Kinder Morgan has an impressive $4.1 billion of natural gas projects in its backlog. Natural gas will be the partnership's largest engine of growth going forward.
The partnership's next biggest source of income is oil operations based on CO2 flooding. Of all the partnerships' businesses, this one consistently carries the highest rate of return. All of Kinder Morgan's CO2-oil operations are in the Permian Basin, and Kinder Morgan has among the lowest-cost oil fields in the country. The capital project backlog for this segment totals $2.1 billion.
Why Kinder Morgan is Cheaper Than Its Peers
When compared to its closest peers, Kinder Morgan Energy Partners trades at a substantial discount. We know that this puts the partnership at a disadvantage in capital markets, but why are units comparatively cheap? Perhaps the most important reason is ownership structure. While most midstream partnerships have no more than two security types; partnership units and corporate shares, the Kinder Morgan family has four securities: KMP is the partnership, KMI is the corporation, KMR is KMP but without a cash distribution, and EPB is an acquired business, El Paso Pipeline Partners. Kinder Morgan looks even more complicated when we consider that many partnerships, such as Enterprise Products Partners (NYSE:EPD), have opted to scrap their corporate, general partner, share class and have only partnership shares.
Kinder Morgan also typically pays 100% of its distributable cash flow, or DCF, in the form of distributions. In the event of a decline in DCF, Kinder Morgan would have to cut its distribution accordingly. Although midstream MLPs typically have high cash flow visibility thanks to contracted agreements many years into the future, investors have still come to prefer partnerships that leave a little bit of cushion. Investors have therefore given higher valuations to names such as Plains and Enterprise.
For partnerships, growth concerns can be a self-fulfilling prophecy. Investors are concerned that Kinder Morgan cannot grow at the same pace of many other pipelines. Therefore, investors have given Kinder Morgan Energy Partners a lower valuation. As a result of that lower valuation, it is more relatively difficult for Kinder Morgan to access equity markets for growth.
This is one of the reasons that management seems increasingly open to the idea of simplifying its share structure. In the most recent quarterly call, CEO Richard Kinder said that he was open to all options that might bring units back up to a valuation similar to that of the others.
Conclusion
Even with its higher cost of equity, Kinder Morgan Energy Partners has a deep backlog of capital projects. The partnership will grow DCF by mid-single digits for the foreseeable future. Kinder Morgan Energy Partners is, I believe, a name that, despite its high quality, continuously finds itself in the bargain bin. That makes Kinder Morgan Energy Partners an ideal name to accumulate when you can.
Disclosure: The author has no positions in any stocks mentioned, and no plans to initiate any positions within the next 72 hours. The author wrote this article themselves, and it expresses their own opinions. The author is not receiving compensation for it (other than from Seeking Alpha). The author has no business relationship with any company whose stock is mentioned in this article.
Additional disclosure: Have added shares of KMP within the last 72 business hours.