The following is a list of stocks seeing unusually high trading volume and a high degree of short covering over the past three months.

To compile the list, we started with a universe of 120 stocks that saw unusually high trading volume during Friday's session. We then collected data on short interest, and narrowed the list to focus on the top 9 stocks that have seen the largest decreases in shares shorted.

To provide perspective on trading volume, we use the Relative Volume indicator, which expresses Friday's trading volume as a multiple of the three months average volume.

All short trends described occurred between 7/30 and 10/29. Short interest data sourced from AOL Money. Current short float data sourced from Finviz.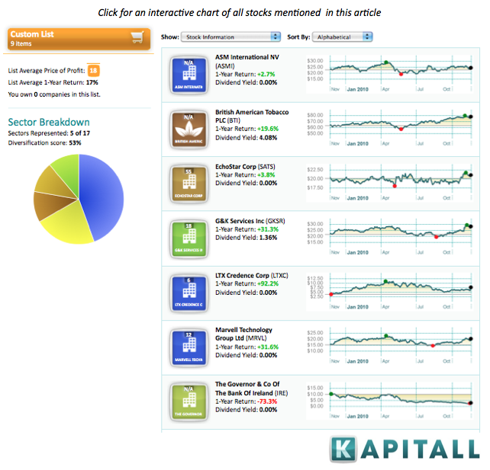 The list has been sorted by the change in shares shorted over the past three months. A reminder: All short trends described occurs between 7/30 - 10/29.

1. LTX-Credence Corporation (LTXC): Semiconductor Equipment & Materials Industry. Market cap of $372.51M. Relative volume at 7.44. Shares shorted have decreased from 5.69M to 1.44M. Short float at 2.98%, which implies a short ratio of 2.09 days. The stock has gained 92.17% over the last year.

2. British American Tobacco plc (NYSEMKT:BTI): Cigarettes Industry. Market cap of $77.63B. Relative volume at 4.44. Shares shorted have decreased from 199K to 80K. Short float at 0.01%, which implies a short ratio of 0.58 days. The stock has gained 25.42% over the last year.

3. The Governor and Company of The Bank of Ireland (NYSE:IRE): Foreign Regional Banks Industry. Market cap of $3.54B. Relative volume at 4.62. Shares shorted have decreased from 1.63M to 793K. Short float at 0.06%, which implies a short ratio of 0.23 days. The stock has lost -73.33% over the last year.

4. Universal American Corp (NYSE:UAM): Health Care Plans Industry. Market cap of $1.17B. Relative volume at 3.25. Shares shorted have decreased from 1.59M to 922K. Short float at 3.56%, which implies a short ratio of 5.69 days. The stock has gained 52.71% over the last year.

5. ASM International NV (ASMI): Semiconductor Equipment & Materials Industry. Market cap of $1.28B. Relative volume at 2.75. Shares shorted have decreased from 326K to 199K. Short float at 0.45%, which implies a short ratio of 3.33 days. The stock has gained 2.66% over the last year.

6. Verigy, Ltd. (NASDAQ:VRGY): Semiconductor Equipment & Materials Industry. Market cap of $476.97M. Relative volume at 5.06. Shares shorted have decreased from 2.71M to 1.75M. Short float at 21.31%, which implies a short ratio of 2.43 days. The stock has lost -9.64% over the last year.

7. G&K Services Inc. (GKSR): Personal Services Industry. Market cap of $518.47M. Relative volume at 2.77. Shares shorted have decreased from 589K to 384K. Short float at 2.08%, which implies a short ratio of 9.16 days. The stock has gained 33.08% over the last year.

8. EchoStar Corp. (NASDAQ:SATS): Communication Equipment Industry. Market cap of $1.79B. Relative volume at 3.17. Shares shorted have decreased from 715K to 468K. Short float at 1.25%, which implies a short ratio of 3.51 days. The stock has gained 3.75% over the last year.

9. Marvell Technology Group Ltd. (NASDAQ:MRVL): Semiconductor Industry. Market cap of $13.07B. Relative volume at 2.17. Shares shorted have decreased from 20.8M to 13.75M. Short float at 2.51%, which implies a short ratio of 0.88 days. The stock has gained 31.57% over the last year.

Disclosure: No positions