Will $0 Down Loan Programs Cripple SolarCity's Lease Model?
SolarCity (NASDAQ:SCTY) is #2 overall solar installation company in the United States, according to Solar Power World magazine. They are trailing the #1 solar installation company in the Country, First Solar (NASDAQ:FSLR).
SolarCity was co-founded by brothers Lyndon Rive, who is currently the CEO, and Peter Rive, who is currently the CTO. SolarCity designs, finances and installs solar energy systems. What SolarCity and their competitors do is great for the environment. Per house, their solar energy systems offset more than 200,000 pounds of greenhouse gas emissions over a 20-year period; that's the equivalent of planting approximately 130 trees.
SolarCity's Lease Model - Can It Last?
SolarCity attributes over 90% of company sales to their lease model. The average lease is for 20 years. Those who opt for SolarCity's lease option receive no Federal tax credits whatsoever.
There is nothing substantially unique about SolarCity's proposition over that of their competitors, other than their lease model. The value proposition behind the lease model is that customers would pay no money down and low monthly payments for their solar panels. Since many consumers are not in a financial position to be able write a lump sum check for their solar panels, investors were enthusiastic about this lease model; until much more advantageous loan financing options were made available.
SolarCity competitors are already offering $0 down loan programs that allow clients to claim the full 30% Federal tax credit, and various State tax credits. Moreover, solar panel loan programs help customers avoid potential issues involved with transfer of leases or power purchase agreements (PPAs) if and when they sell their homes.
Solar Lease vs. Loan Overview
As shown below, there are considerable advantages to getting a loan on your solar panels instead of leasing them:

*When calculating the payments on SolarCity leases, some customers may neglect to account for the 2.9% annual increase that is added to the 20-year lease term.
It is important to note that within the SolarCity lease program, the Federal tax credits are realized by SolarCity, or their investors like Credit Suisse and BofA Merrill Lynch. Lease customer are unable to claim any tax credits, and they cannot deduct their lease payments either. Conversely, using a loan to finance the solar panels, customers are able to claim the full 30% Federal tax credit, as well as various State credits depending on where they reside. These Federal tax credits will be reduced to 10% by January of 2017.
Property Assessed Clean Energy (PACE) Hero Finance Programs
In addition to typical solar panel loan programs, Local governments across the United States are making it easier than ever to upgrade your home with renewable energy products and renewable energy systems. Through the Hero financing program you make payments through your property taxes. They are $0 down, require no credit check, interest is tax deductible, and you get to claim the 30% Federal tax credit.
Most consumers are still unaware that a solar financing option like Hero exists. However, the news is getting around. Hero, along with traditional solar panel loan programs, present a clear threat to SolarCity's lease model. In fact, I can't think of one argument where the solar panel lease model would be a better alternative to the Hero loan model. Almost the entire bullish thesis to SolarCity's future success is based on their lease model. This should concern all investors.
Breaking Down Lease vs. Loan Payments
It is important to note that paying for a solar panel system upfront in a lump sum is ultimately the best choice for consumers. However, my analysis is predicated on the premise that most consumers are not in a financial position to make a lump sum payment, and would rather finance their solar panels. Now let's take a closer look at the lease vs. loan options to determine which would be a better choice for consumers.
Assumptions:
Both loan and lease options are using 100% identical 5 kW systems.
The solar panels are installed on a house in Arizona.
The homeowners are married, and are filing their taxes jointly. They make $89,000/PY. So they owe $14,114 in Federal taxes, and $3,773 in State taxes.
For the lease option there is an annual increase of 2.9% for 20 years.
The loan interest rate is at 4.0%, which is above the median interest rate noted on DSIRE. The loan is for a 10-year term.
$15,934.40 is financed in the loan option, as the customer in Arizona gets to claim Federal and State tax credits in the amount of $8,257.60.
The customer cannot claim any tax credits in the lease system; SolarCity or their investors/lenders get to claim tax credits instead.
In the loan option, the customer can claim 30% Federal tax credits, and receive $1,000 tax credit from the State of Arizona.
Both the lease and loan options are $0 down.
The solar panels have $0 value at the end of 20-year lease.
The solar panels have a 5% value of original system price, and can be resold at the end of the 10-year loan term.
Cost of the system is $24,192
Total amount paid in the lease option: $19,789.44
Total amount paid in the loan option: $19,360-$1,209; resale value = $18,151
The Arizona customer can save $1,638.44 if they opt for a loan instead of a lease.
Why Investors Should Be Concerned With SolarCity's Lease Model
As you can see, the loan option has several advantages:
1) The loan option is clearly cheaper.
2) The loan option ends in 10 years, as opposed to 20 years in the lease option.
3) The loan option allows the customer to resell their system. Lease customers must give the system back to SolarCity or continue making payments.
4) The loan option allows customers to upgrade to a better system in 10 years, whereas the lease customer is stuck with a potentially obsolete solar system for 20 years.
Can the Recent Stock Price Decline be Attributed to the Lease Model?
Some may argue that SolarCity's stock price has been declining recently, as we are approaching the company's earnings report on 8/7/14. That is a rational argument, as it is a very risky proposition to hold a position through earnings, which can have very wild swing either way.
Other investors argue the recent downward trend of the stock price can be attributed to better financing products, like the loan options noted above. This group hinges their argument on the fact that SolarCity has essentially based their future success on selling mostly 20-year leases. They are concerned that loans will become the financing vehicle of choice.
In either case, one cannot dispute that the stock price has recently fallen. As shown in the chart below, you have a head and shoulders pattern, and a downward trend.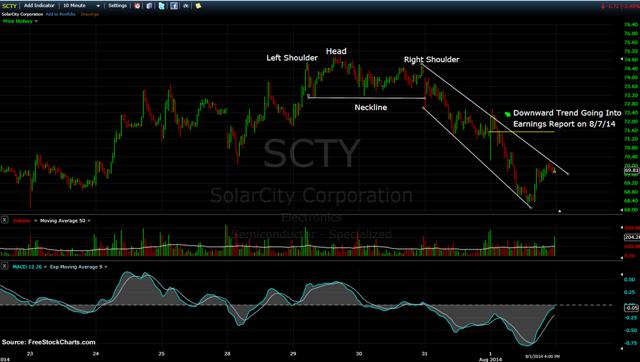 Finally, some investors believe even in the face of massive insider selling in the last 3 months, where insiders sold net 11,769,975 of their shares, the company is going to report a stellar quarter and deliver stellar guidance.
Conclusion
Long-term investors should be concerned with the fact that there are better financing options than leases. Moreover, long-term investors should be wary of the aggressive expansion SolarCity is undertaking in the face of their competition. Even if one assumes SolarCity adapts and switches to a loan option instead, their margins would be reduced, and they may face significant blowback from their lease customers.
Short-term investors should also be concerned, as the stock price is falling, and there is an earnings report on 8/7/14, which can have volatile swings. Moreover, SolarCity's stock price may follow the same pattern demonstrated recently by SunPower (NASDAQ:SPWR) where even though certain analysts upgraded the stock, and they saw strong demand, the stock price fell approximately 7%. As for myself, I am holding my short position.
Disclosure: The author is short SCTY. The author wrote this article themselves, and it expresses their own opinions. The author is not receiving compensation for it (other than from Seeking Alpha). The author has no business relationship with any company whose stock is mentioned in this article.