The Blackstone Group LP (NYSE:BX) is a publicly owned investment manager; and it is recognized as one of the best at its job. It invests for over half of all U.S. pensioners. In the past year alone (to June 12, 2014) investors invested another $52B with BX. As of the end of Q2 2014 Total Assets Under Management (AUM) were a record $278B, which was up 21% year over year. This is impressive for a company this size.
For Q2 2014 The Blackstone Group L.P. reported Economic Net Income of $1.3B ($1.15 per unit). This was up 89% year over year. GAAP Income was $517 million for Q2 2014. Distributable Earnings more than doubled in Q2 2014 year over year. This brought the year to date total to $1.06 per unit. Distributable Earnings for Q2 2014 were $770.8 million, which was a 128% increase from the $338.5 million of Q2 2013. Distributable Earnings per common unit were $0.65 compared to $0.28 in the year ago quarter. Total Revenues were $2.24B in Q2 2014 compared to $1.43B a year earlier.
BX brags that it is the most profitable asset manager in the world; and after looking at some of the charts below it is hard to challenge that logic. Long term statistics for both Earnings Growth and Revenue Growth are in the table and chart below.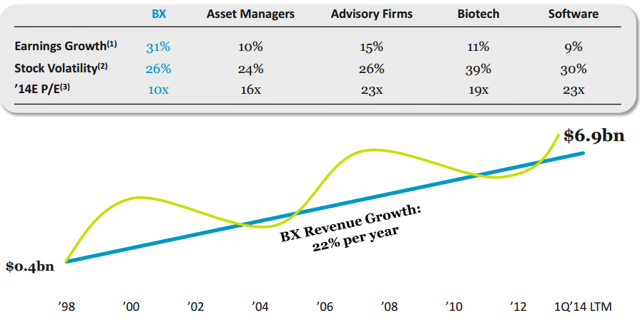 Click to enlarge
The 31% per year long term earnings growth and 22% long term revenue growth per year are hard to best for any company near the size of BX in assets under management ($278B) or even for a much smaller company.
The above chart and table show BX's great recent growth; but BX also wants to present its future growth likelihoods. For instance, it grew assets under management by 21% year over year in Q2 2014. However, it presented a hypothetical AUM growth chart at a CAGR of 12% to illustrate how investors might expect it to grow in the future.

Click to enlarge
BX also presented a chart for hypothetical Distributable Earnings growth for the next ten year. I note the LTM designation on the 0 year stands for "last twelve months".

Click to enlarge
Both of the above charts seem reasonably conservative; and BX clearly believes they are very doable. Remember the historical revenue growth chart -- presented further above -- specifies a revenue CAGR of 22% over the last 16 years.
The chart below of the recent historical Fee-Earning AUM by Segment (in billions of dollars) further tends to substantiate BX's view of its future; and it is a bright one for investors.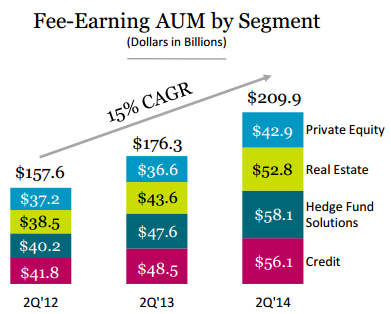 The 15% CAGR is lower than the 21% AUM growth in Q2 2014 year over year; but it is still impressive; and it tends to support the above hypothetical chart perspectives.
All the above would tend to make investors think that BX is a great investment for the long term; and that is probably true for a 5-10 year investment horizon in BX. However, there are a few things investors with shorter term horizons should probably be aware of:
Insider Transactions for the last six months show that 4,500,000 net shares have been sold during that period. This represents a decrease in insider held stock of -25.7% in just six months.
GIC Pte, which manages more than $100B of Singapore's reserves, posted an annualized return of 4.1%; and it warned that current high prices in financial markets signal a challenging outlook. BX might expect to see many of the same challenges.
Investors need to keep in mind that Funds managed by a company such as BX go through investment periods. Then they go through harvesting periods. A typical cycle might be 5 years. We might be seeing the top of the cycle right now. For example, if you invested private equity money in 2009, it would have likely grown fantastically; and it would be yielding huge harvesting profits. However, if you were investing private equity money now, you might expect the result to be much worse. Many people think we are at or near the top of the market. One article, "16 Good Reasons To Be Wary Of A Market Downturn", suggested that we might see a 10% or so pullback in late summer or early fall. Then we might see the overall market turn into a bear market next year (after the elections). There is no guarantee this will happen. However, if it does, the median drop in a bear market is -37.69%; and the average drop is -40.16%. The median bear market lasts 24 months (about two years). Money invested at the top of a bull market will have a much lower return four to five years later than money invested at the bottom of a bear market, which is what is being harvested now.
BX had $45.3B in total dry powder at the end of Q2 2014. This amount seems a bit high to me for $278B of total AUM (about 16.3% uninvested). One reason the company may be slow to invest all its capital may be that it too is worried about a downturn. If there is one, the profits two years from now may be far less than they are today.
The roughly eight year chart of BX below shows approximately how BX's stock performed in the last, severe downturn. An investor might logically expect a repeat performance by the stock price.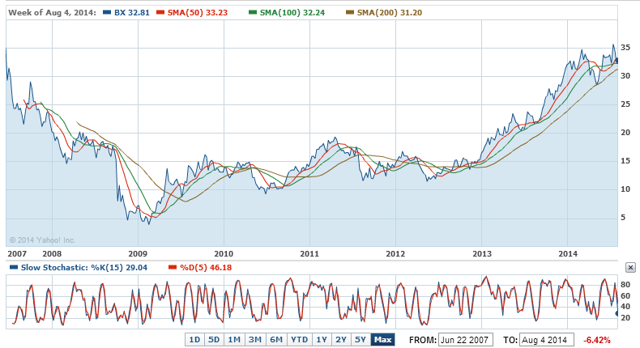 Click to enlarge
The two year chart of BX gives a more immediate term technical picture on which to base a trade.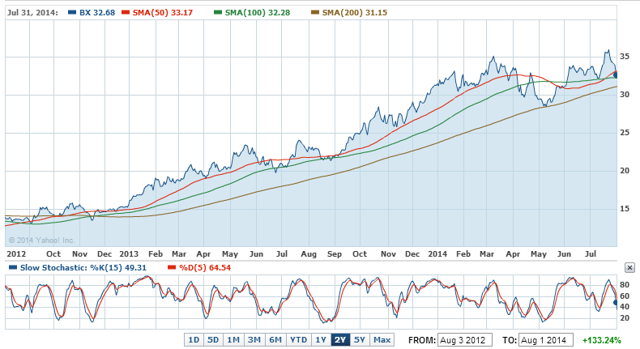 Click to enlarge
The slow stochastic sub chart is neither overbought nor oversold. The main chart indicates a weakening uptrend. However, it is hard to believe the uptrend will weaken very much in the near term. The results from Q2 2014 were fantastic. That means BX is still a buy. Plus it does pay a good 5.27% dividend (TD Ameritrade), which may rise as the year goes on.
However, I think the article, "16 Good Reasons To Be Wary Of A Market Downturn", is correct in bringing into play the possibility of a near term pullback and of a possible move into a bear market next year (2015). One solution may be to buy this stock on its current dip (or to average into it over a 2-3 month period). Then investors could likely re-evaluate the position after the elections. Perhaps just before or after the Q4 2014 earnings report would be a good time. Before would be better if you thought the guidance might turn negative. I hate to be this uncertain, but we are in an uncertain market. Even famed investors have been wary of it. For example, Wilbur Ross recently stated that he had sold six times more than he had bought in 2014; and he has historically been one of the best investors. His opinion at least deserves to be considered.
NOTE: Some of the above fundamental fiscal data is from Yahoo Finance.
Good Luck Trading.
Disclosure: The author has no positions in any stocks mentioned, but may initiate a long position in BX over the next 72 hours. The author wrote this article themselves, and it expresses their own opinions. The author is not receiving compensation for it (other than from Seeking Alpha). The author has no business relationship with any company whose stock is mentioned in this article.