Cheniere Energy (NYSEMKT:LNG) is indeed the first fully-permitted and will have the first fully-operational LNG export facility in the US, with 88% of volumes currently contracted on 20-year deals. This facility, Sabine Pass Liquefaction, is scheduled to come online late 2015, and has $2.9B in annual fixed fees already secured.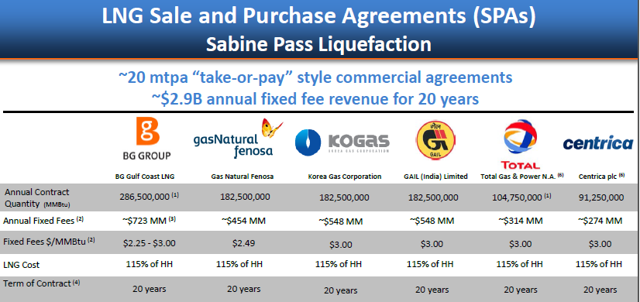 The grand total of these secured contracts is 1.029 Billion MMBTU of natural gas liquefaction per year, and is approved for 2.8 Bcf/d of volume capacity, definitely impressive numbers. Keep in mind this capacity is just for trains 1-4, the later of the 4 trains are expected to come online roughly 1 year after initial operations begin. Trains 5-6 will have over an additional 1.38 Bcf/d of capacity but these last trains are scheduled to come online in 2018/2019.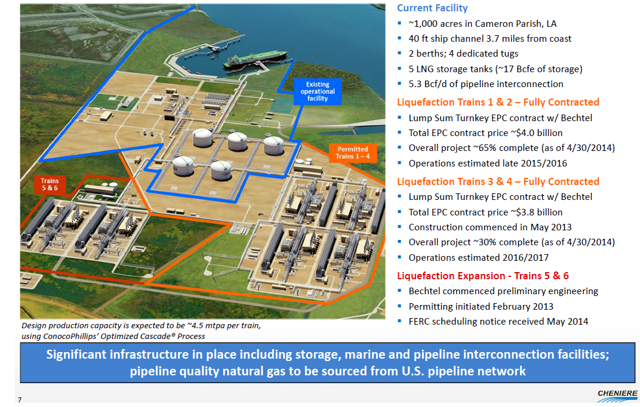 Cheniere's second project, Corpus Christi Liquefaction, has 57% of volumes locked up in similar 20-year contracts with its first LNG exports scheduled for 2018/2019. So far, the contracts total $550 M in annual fixed fees, roughly 1/5th that of Sabine thus far.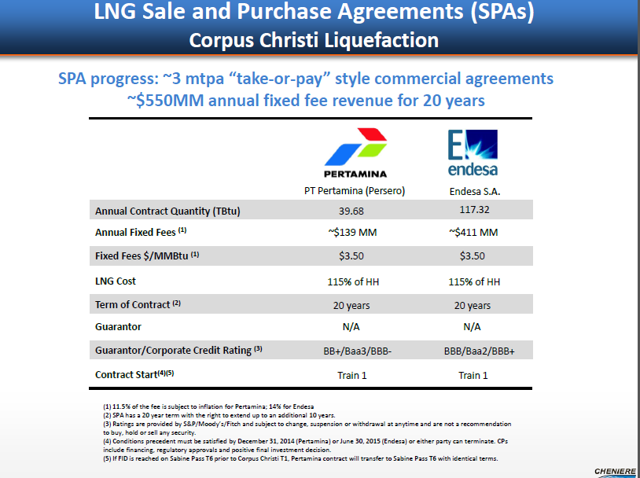 Corpus Christi is planned to have an export capacity of 2.1 Bcf/d, nearly the size of Sabine's first 4 trains.
So I think we've established the pronounced interest in these project considering the long term and high volume demands by multiple large customers. But, thinking from a supply perspective, how does Cheniere plan to feed these new facilities with natural gas?
The company website explains Cheniere's midstream system, the Creole Trail Pipeline: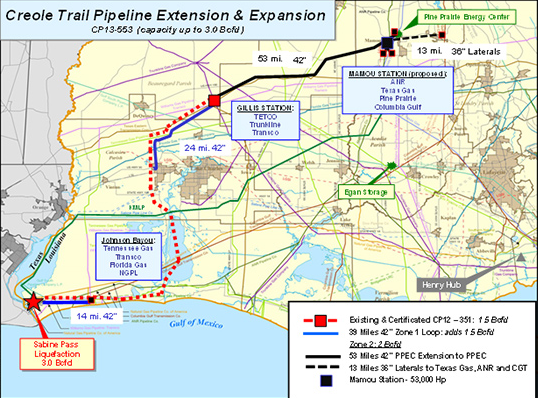 This supply system has 94 miles of completed pipe, along with 39 miles of 42" loop which doubles the capacity of this system to 3.0 Bcf/d, which apparently should be enough to fulfill the first 4 trains of Sabine Pass demand. This small network is currently connected to the following systems:
Natural Has Pipeline Company of America (NGPL): With a 20% ownership interest, Kinder Morgan Inc (NYSE:KMI) also operates NGPL as the largest transporter of natural gas into the high demand Chicago market and one of the largest interstate pipeline systems in the country, encompassing 9,200 miles of pipeline and over 1 M compression of horse power.
Transco Pipeline: Owned by Williams Companies, Inc. (NYSE:WMB), this 10,200 mile pipeline extends from South Texas through 12 states and ultimately to New York City and Pennsylvania and is a considered a major supply system to the north east.
Tennessee Gas Pipeline Company: Another Kinder entity, TGP's "300 Line" accesses the Appalachian and Marcellus shales for interstate transmission across the northeast, which includes a new upgrade of 127 miles of high capacity 30 inch pipe and 7 pressuring loops with 9 compressor stations.
Florida Gas Transmission Company: FGT is a 5,500 mile system that spans from south Texas to south Florida. This is a 50/50 joint venture between KMI and Energy Transfer Partners (NYSE:ETP).
Bridgeline Holdings L.P.: Encompasses over 1,000 miles of pipelines and "interconnects with nearly every pipeline in the GOM east of Venice Louisiana".
Texas Eastern Transmission (TETCO): Owned by Spectra Energy Partners (NYSE:SEP), this 8,000 mile system spans from Texas and the Gulf Coast to high demand markets in the North East.
Trunkline Gas Company (Trunkline): Another ETP owned system, Trunkline spans from south Texas nearly to Canada, stopping at Michigan.
Summary:
The Sabine facility is opening, there's now no denying it! Sabine is off to a great start, as long-term contracts have locked in nearly $60 B in revenues over the next 20 years. Amazingly, it looks like even more is coming considering the additional trains in the permitting process.
Just as significantly, it's clear Cheniere did its homework when locating the Sabine facility and building out the supply system, the Creole Trail Pipeline. We all know a tree is only as strong as its roots, and Creole Trail does fit this metaphor quite well. Connecting to 6 major supply systems which in themselves connect to other systems as well as major shale deposits, Cheniere will have plenty of access to natural gas. Moreover, this spider web effect of connections and access will provide diversity and eased reliance on each of these supplying systems, which should help Sabine obtain advantageous pricing for gas, which will be a major cost input to the export project other than debt payments.
I think Sabine's success will build Cheniere's already formidable reputation as the first successful LNG export facility in the US. This success will only catalyze Corpus Christi getting final approval, and suring up more business as time passes.
Disclosure: The author is long KMI. The author wrote this article themselves, and it expresses their own opinions. The author is not receiving compensation for it (other than from Seeking Alpha). The author has no business relationship with any company whose stock is mentioned in this article.