The inspiration for this article is two-fold. On one side, I attribute the basis for this article to the great Peter Lynch of Fidelity's Magellan Fund. On the other side, the real idea came from two of the top fashion analysts I know: my sister and mother.
In Peter Lynch's most-read book, One Up on Wall Street, he claims that some of the best stock ideas have come from his wife. He cites the popular pantyhose brand, L'eggs as one of his biggest successes, a stock in which he experienced a 30-fold appreciation (adjusted for splits and acquisitions). However, the idea came to him from his wife who told him how great the products of the company were. Now using this, I've heard a lot about the Urban Outfitters brands lately as being more and more popular with woman, even men. It appears to be all the rage, especially brands like Anthropologie. Using what I had heard, I decided to attempt to validate the seemingly high demand for URBN's offerings.
Now, Who is Urban Outfitters?
URBN is a lifestyle specialty retail company, engaged in the retail and wholesale of general consumer products. The company operates in two segments, Retail and Wholesale. It serves its customers directly through retail stores, Websites, mobile applications, catalogs, and customer contact centers. The company operates retail stores under the Urban Outfitters, Anthropologie, Free People, Terrain, and Bhldn brands. The Urban Outfitters stores offer women's and men's fashion apparel, footwear, beauty, accessories, and sporting apparel and gear, as well as an eclectic mix of apartment wares and gifts to young adults aged 18 to 28.
Where is this Stock Going?
My Price Target (2014): $44.00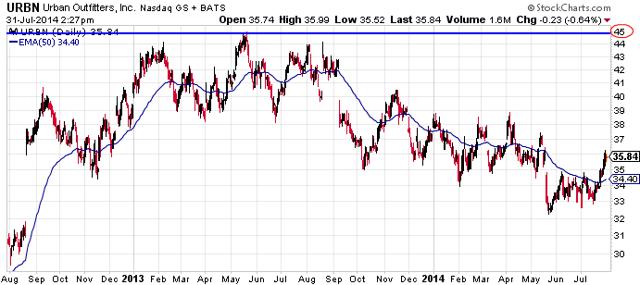 Looking technically, I think once investors take a second to reprocess the positive data coming from URBN, we will see the stock trade near its 52-week high of around $44.00. However, I predict this stock will almost double to around $80.00 by the end of 2015. Don't think it's possible? Look at Abercrombie for example: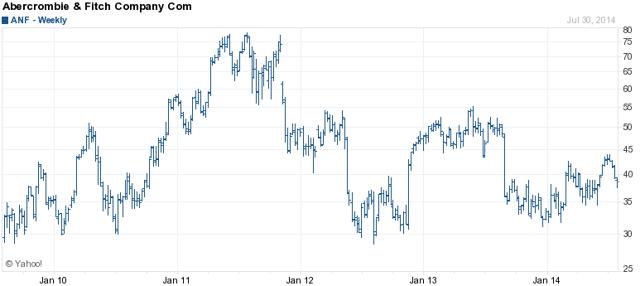 What you have to take into account is trends with these retailers. In mid-2011, Abercrombie was all the rage. Everyone wanted a piece of their clothing, and the experience that came with it. However, times are changing. Abercrombie is still a good company, but it will never be what it was. The time of Urban Outfitters is now, and I'll tell you why:
The Bad
I would like to first start with what's wrong with this company, so that we can get it out of the way early on. As such, this stock is a hot debate between the few analysts that cover it. In 1Q2014, same store sales fell 12%. Analysts see many risks with the Anthropologie brand. Specifically, Urban has spent a lot to promote the brand, and many are worried about a continued slowdown in sales trends. All that being said, let's get on to why I think you should look at the big picture here.
The Ugly
Anyone that follows URBN will tell you that this stock has been a big disappointment. Over the past year, the stock declined more than 20%, while broader averages moved 15%-20%. So far in 2014, the stock is down 7%. Looking at the below chart, investors will probably not see a homerun, or anything close for that matter. Looking at price movement in the past few months, and using EMAs to smooth out price data, we can clearly see a downward trend here. However, the only thing I see here is: cheap.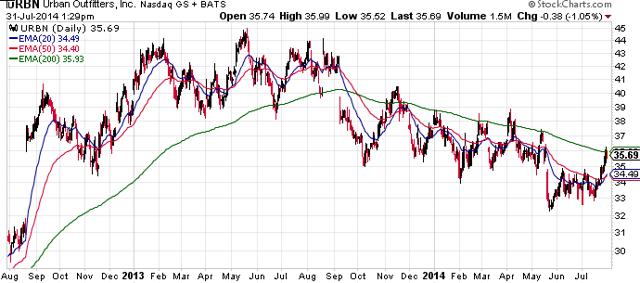 The Good
Management
Trish Donnelly, a seasoned executive that's held positions at companies like: J. Crew, Steven Alan, Cole Haan, and Ralph Lauren, was hired this month as President of North American operations. Specifically, Ms. Donnelly will be in charge of the brand's turnaround. As such, URBN is already started to incorporate a strategy to reconnect with their customers, that should help attract customers that may have fell-off the Urban bandwagon. As well, Meg Hayne, the President of the Free People brand, took over as Chief Creative Officer in November of 2013. Through this new role, she is overhauling the creative process as she looks to better identify trends in the marketplace and make product offerings more relevant. As such, I expect these efforts to greatly improve margins as the company will be able to sell more products at full price.
Anthropologie and Free People
Sales at both Anthropologie and Free People are driving this business. Anthropologie, which makes up 43% of sales, had sales that were up 10.3%. In addition, the expansion for this brand looks very appetizing. The company plans to test new and larger store formats for this brand, as well, they have set out to add new product inventories like petitie clothes, a wider array of shoes, accessories, and home décor. Not only this, but Anthropologie's sister brand, BHLDN, a bridal store, will also be expanded as new offerings are introduced and the two brands become more integrated.
Sales at Free People, which make up 16% of sales, were up over 20%. This brand is experiencing rapid and explosive growth as demand is very strong. Using this demand to their advantage, they have expanded to Tokyo, Osaka, and Kyoto, as well as, Hong Kong. Additionally, the company has plans to launch a Chinese website that will better connect it to the large customer base and wholesalers in China. Not only is this brand expanding internationally, but it is also expanding its product offerings domestically. Urban recently announced an active-wear segment that they predict will greatly boost sales.
This company is doing all the right things. Expanding internationally, and giving customers what they want. With the right product mix and marketing of these two brands, Urban can propel itself to be a big player in this market.
Fundamentals
For all the negative press this stock has gotten lately through declining sales in its namesake business, and poor stock performance, the fundamentals are very strong. Urban currently trades at a P/E of 18, where competitors like Abercrombie (NYSE:ANF) and American Eagle (NYSE:AEO) trade at P/E of 86 and 36, respectively.


When comparing Urban's net profit margin of 8.7% and operating margin of 13.24% to its competitors, it isn't even close. American Eagle has a net profit margin of 1.80% and only a 5.85% operating margin. Lastly, Abercrombie operates with a 0.93% net profit margin and 4.93% operating margin.
Lastly, this is a debt-free company. With a strong and stable cash position of $341.62M, and a levered free cash flow of $269.82M, Urban is poised very well for the future. With cash reserves like this, the funding of future expansions should not be a problem.
Outlook
As an investor, you have to have the ability to look long term. This isn't a stock that is going to send your kids through college in a year. As the ancient saying says "fortune favours the bold", and with that, I urge you to ignore the short term, and look at the bigger picture here.
ValueLine Research predicts the following growth rates for the company:

Urban is a 4.93B dollar company, and to have had the growth rates it has had in the past, is a very strong indicator for the future. Urban Outfitters is making aggressive expansionary efforts that will definitely play out in the future. The company opened five new stores in 1Q2014, and plans to open 35 to 40 new stores during this year. Specifically, they will be focusing on their money markers, Anthropologie and Free People, and they will introduce 15 and 12 new stores respectively, as well, as 12 stores for the Urban Outfitters brand. Overall, with a newfound focus on identifying fashion trends and consumer preferences, Urban will be able to make itself a force to be reckoned with. Coupled with these new tactics are the ever impressive expansion, both domestically and internationally. This stock should have no problem growing at the above growth rates in the future. I see a strong future for this fundamentally strong company in both growth and stock price movement.
Disclosure: The author is long URBN. The author wrote this article themselves, and it expresses their own opinions. The author is not receiving compensation for it (other than from Seeking Alpha). The author has no business relationship with any company whose stock is mentioned in this article.