I personally think that Starbucks (NASDAQ:SBUX) is one of the best specialty eateries out there, slightly above the caliber of Panera Bread (NASDAQ:PNRA), despite what seem to be outrageous prices in the eyes of most people. Both companies, and Starbucks in particular, have a high consistent flow of traffic. Apparently 54% of people in the United States have coffee to start their day, of which a third of these individuals go to premium outlets, such as Starbucks. Similarly to cigarettes, coffee is practically a necessity in the eyes of most, and that's why I think revenue for this business is recurring and growing very fast considering management's business model and movement internationally.
Consumer Sentiment
Based off observation this is a company that is consistently packed no matter where you go, and despite its 'hate community', it really seems to be a one of a kind place, far out-doing the standard Dunkin' Donuts (NASDAQ:DNKN) for example. From what I heard customers and employees (baristas) tend to get to know each other, develop regular orders and almost a connection so to speak. There is also a better vibe than a traditional eatery given the music, clean atmosphere, free wifi, and regular community. It is very commonplace for individuals to meet up for coffee, small social gatherings, or business meet-ups, but you can also be in-and-out in less than five minutes. I myself am not even a regular coffee drinker but am pretty impressed with a majority of the stores I see. Oh and did I mention their products are outstanding?
Valuation
In addition to the outstanding growth industry and hard-to-copy model, the company has clocked in pretty good ROIC figures north of 20% of the last several years. Generally, when businesses have this figure above 15%, they are considered to have some sort of moat, which of course this company appears to have. 25-30% is excellent, and generally it doesn't get much better than that. Autozone (NYSE:AZO) is a good example, trending in that range for the last several years, and interestingly enough the stock has turned into a 5-bagger over the last 5 years.
Analysts expect that Starbucks will be able to grow earnings at an average pace of 18% over the next few years. Since the company is an outstanding business, a slight premium will likely have to be paid. Out of the last 20 quarterly reports, Starbucks has managed to beat analyst expectations 16 out of the last 20 estimations. So perhaps a small premium being baked into the stock is actually warranted here. Say the stock dropped to $70 per share, investors would be paying less than 22x forward earnings which most would find to be pretty reasonable given relative outperformance.
S&P equity analysts actually believe that the company deserves a higher multiple closer toward 29x expected given the business's strong long term prospects (growth in China, navigation of Europe, etc). They believe the stock is a buy with about 20% upside. Regardless, if we issue a conservative expectation at 18x with modest terminal growth at 4%, fair value hangs at $80 pps. A reduction in the discount rate from 12% to 11% would move it higher towards $87-88 FV, although traditional cost of capital is 12%.
Dividend Growth
I find it pretty interesting that the company is offering a dividend while growing the top line at a pretty high rate. The company recently decided to distribute profits to shareholders via dividends versus a massive share repurchase program (which is now probably a good idea given that the stock is no longer egregiously cheap). Over the last four and half years, it has grown dividends at a 30% rate and more recently at 23%. This is pretty outstanding despite the weak yield compared to other Fortune 500 businesses that offer returns closer to 3%. Still it's a nice add-on for the long term shareholder.
Technicals
Starbucks has maintained a strong upward trend over the last several years, but the price action has become a little choppy over the last year, sustaining a channel between $70 and $80. In my opinion I think we can see a better price than $78.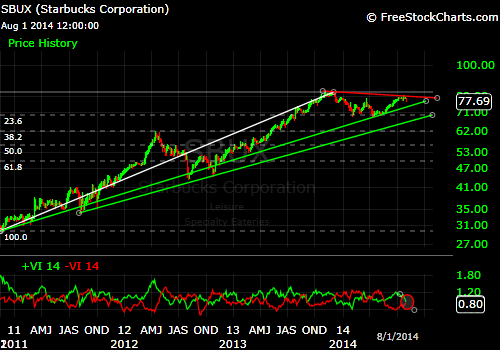 First I used two traditional ascending support lines from the weekly timeframe to establish where obvious support may lie. Both appear to be sitting around $74 and $68 pps. Descending resistance remains around $80. I also decided to use a fibonacci retracement to gauge where vertical support and resistance may be, and it came out very nicely despite the consistent momentum higher. The takeaway here is that strong support exists at $70 pps. Additionally, the vortex indicator looks as if it will confirm a short term sell-off.
The 200 DMA could however impede selling to $75, and a golden cross just formed in the middle of July which is highly indicative of bullish price action going forward.
Conclusion
I think SBUX is an outstanding company and has good prospects for the foreseeable future. Unlike what the media suggests, I don't believe that sales will be impacted by competition considering their high qualitative moat. The company can modestly adjust prices to deal with fluctuations in commodity pricing, and an upward tick in coffee futures would adversely affect competition more so than the leader. Personally I would not chase the stock here, but if it happens to reach the $69-72 level then I'd recommend starting a small position. If you are a strong advocate of Starbucks like Jim Cramer is, perhaps you could settle for $73-74 to avoid missing the train.
Disclosure: The author has no positions in any stocks mentioned, and no plans to initiate any positions within the next 72 hours. The author wrote this article themselves, and it expresses their own opinions. The author is not receiving compensation for it (other than from Seeking Alpha). The author has no business relationship with any company whose stock is mentioned in this article.