On April 29th, Winthrop Realty Trust (NYSE:FUR) announced that its Board of Trustees has unanimously adopted a plan of liquidation, the implementation of which is subject to approval by the holders of a majority of Winthrop's common shares. If approved by shareholders, the plan will provide for an orderly liquidation of Winthrop's assets. The shareholder vote is today, at which time I expect the shareholders to vote in favor of the liquidation.
Wow, how often do you see a REIT hoist the white flag and call it a day?
For those who are unfamiliar with the REIT, Winthrop Realty is engaged in the business of owning real property and real estate related assets which are categorized into three reportable segments: (NYSE:I) the ownership of investment properties including wholly owned properties and investments in joint ventures which own investment properties; (ii) the origination and acquisition of senior loans, mezzanine loans and debt securities collateralized directly or indirectly by commercial and multi-family real property; and (NASDAQ:III) the ownership of equity and debt interests in other real estate investment trusts. Not quite the traditional REIT.
The non-traditional nature is what lead me to conclude (when I wrote on them nearly two years ago):
Bottom Line: Winthrop Realty Trust is not your typical REIT. They are, essentially, a CRE mREIT which has taken properties into their portfolio opportunistically. The REIT does not focus on steady, consistent and growing dividends, it focuses on total return - which must be considered. For yield/income focused investors, I would focus on the preferred stock as it has a longer period until it can be redeemed (4 years vs. 3 years for the debt) and although it trades at a premium, the yield to call is also higher than the yield on the debt.

The preferred payment is also made by a matched investment from the operating partnership. I consider the equity to be higher risk and have concerns regarding some of their equity positions (Marc Realty and Sealy) and the ongoing focus on loans although they have managed their loan portfolio well.
So why would this "hybrid" REIT throw in the towel now?
The reason (emphasis mine):
The decision to adopt the plan of liquidation followed a lengthy process in which Winthrop's Board of Trustees explored numerous alternatives including continuing under its current or a revised business plan, acquiring through merger or otherwise the assets of another real estate company, seeking to dispose of its assets through a merger or a portfolio sale, and liquidation. Based on a number of factors, the Board of Trustees determined that a liquidation of its assets at this time was in the best interest of Winthrop's common shareholders. These factors included: (1) the relative continued disparity in Winthrop's common share price to Winthrop's estimated net asset value; (2) the inability to raise additional capital at prices that are accretive to existing shareholders; (3) the current strong market for real estate assets and the annual disposition limitations imposed on REITs for federal tax purposes which effectively prevent any further sales this year by Winthrop and generally restrict the number of sales by a REIT in any taxable year; (4) the resultant diminished flow of opportunistic investments that satisfy Winthrop's investment strategy and minimum return parameters; and (5) the price level of offers and indications of interest received from third parties in acquiring Winthrop as a whole.
Management of the REIT determined the market wouldn't recognize the net asset value of the REIT and, when shopped, wouldn't pay enough for the whole kit and caboodle.
Management has calculated the NAV (at 3/31/14) to be as follows: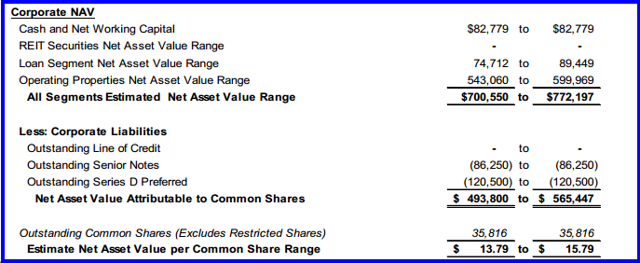 Winthrop is one of the only REITs I have seen consistently show its NAV calculation (well, since 2012). Based on this calculation, they are, essentially, telling investors that they should realize the low end of the NAV range.
Should the higher end of the NAV range be realized, the gain from today's close would be 4.5%. Until the announcement, the market has not afforded the REIT even the lower end of the NAV range: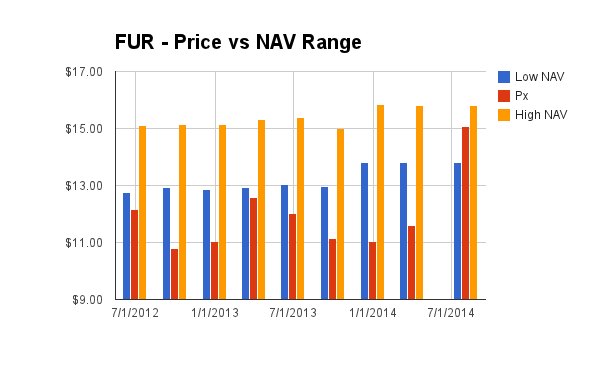 Apparently, the market believes the assets are worth more dead than alive. This although the REIT has had to book impairments as recently as Q1 2014.
A look at the equity of Winthrop confirms the market's belief: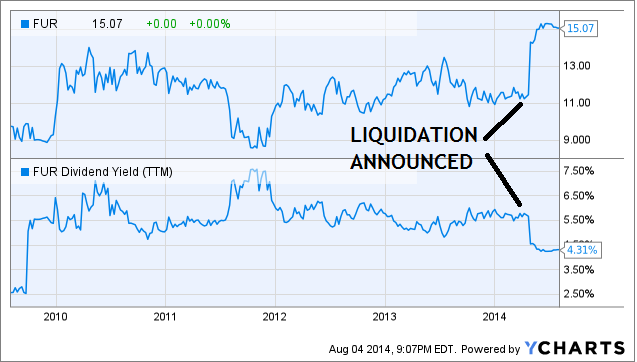 Winthrop, like most companies with a "non-traditional" structure/asset profile, has been discounted by the market due to its "difficulty" to analyze. The REIT began to change this during 2013 as they sold their equity portfolio (comprised of Cedar Realty and MPG Office Trust - both at tidy gains). The balance sheet has begun to simplify and now looks like (3-31-14 10Q):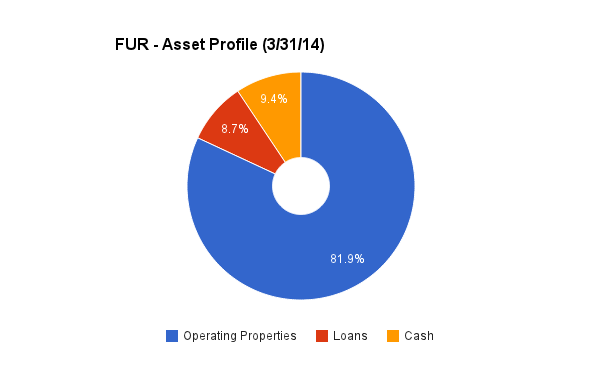 A simplified profile from just three months earlier: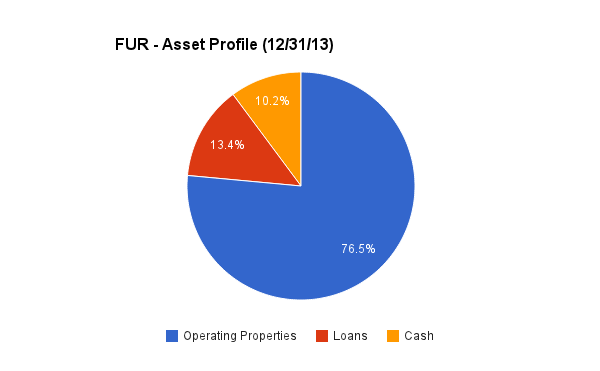 Even with the simplification, the market still didn't agree with management's assessment of value.
Bottom Line: If you are an owner of Winthrop common shares, the market price is now 4% below management's estimated NAV and a liquidation will take quite some time to accomplish. Unless you believe that the assets of the REIT have significant value above and beyond what management and the market is telling you, head for the exit. Management's upper NAV band has not changed in quite some time, so upside is indeed limited. While the yield of 4.5% is somewhat attractive, there are other REITs that can pay you that with far less uncertainty. Finally, If there were significant accrued value, wouldn't another REIT have come in $2-3 lower and purchased it? Management has shown zero confidence in the REIT, its properties and their ability to drive value. Why trade against them?
Below the bottom line: I have to admire the stance of management in this case. They state quite plainly on their site (prior to announcing the liquidation):
Like you, management is unhappy with this situation. We are uncomfortable with a number of suggestions recommended to us for addressing the problem. For example, we are reluctant to have the Company issue shares the principal purpose of which is to increase our float so as to draw a greater following to the Company. Our resistance is not simply that such share offerings are dilutive to NAV but we believe that selling equity in order to raise the stock price with no discernible accretive investment need or deleveraging opportunity replaces one problem with another down the road. We are equally unwilling to invest to purchase a stabilized asset at market capitalization rates absent an opportunity to reposition this asset for higher returns. In the first instance, we are concerned that the benefit of acquiring fully leased assets at a market price has more downside risk than upside potential. Moreover, there already exist more than 125 equity REITs whose business is the sourcing of stabilized assets at market pricing for investors. It would be an act of hubris on our part to assume that we can materially distinguish ourselves from so many qualified competitors for your capital pursuing that investment strategy. Management and our Board of Trustees are acutely aware of our share price performance and of the need to improve shareholder value where it counts the most - share price. To that end, we have and will pursue all reasonable alternatives during the coming year with an open mind.
Keep in mind they would have gotten a higher management fee by increasing equity. I have never heard such frustration coming from management. For their honesty and willingness to sacrifice management fee for the only perceived alternative, a hat tip from Rubicon Associates.
Disclosure: The author has no positions in any stocks mentioned, and no plans to initiate any positions within the next 72 hours. The author wrote this article themselves, and it expresses their own opinions. The author is not receiving compensation for it (other than from Seeking Alpha). The author has no business relationship with any company whose stock is mentioned in this article.
Additional disclosure: This article is for informational purposes only, it is not a recommendation to buy or sell any security and is strictly the opinion of Rubicon Associates LLC. Every investor is strongly encouraged to do their own research prior to investing.