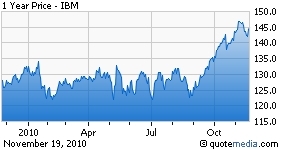 After the dot-com crash of 2002, International Business Machines (NYSE:IBM) saw its earnings per share drop to $3.07 and witnessed the loss of more than half its market value, resulting in a share price of $56.60. Approximately seven years later at the end of fiscal 2009, IBM posted $10.01 in EPS, representing a 5-year compound annual EPS growth rate of 17.92 percent. Today, IBM shares trade for only $145 and a P/E of barely 13; a far cry from their 10-year average P/E of 18.35 and a proper valuation given all their recent success. Moreover, last year's dividend increase was 10 percent, making it the 14th year in a row of dividend increases.
CEO Samuel Palmisano, serving since 2003 and whose total fiscal 2009 compensation was approximately $24.3 million, firmly advocates,
Our superior cash flow has enabled us to invest in the business and to generate substantial returns to investors. Our 2009 cash investment was $1.2 billion for six acquisitions – five of them in key areas of software. And after investing $5.8 billion in R&D and $3.7 billion in net capital expenditures, we were able to return more than $10 billion to you -- $7.4 billion through share repurchases and $2.9 billion through dividends.
IBM remains a transformed company and continues to focus on what they call their four high-potential opportunities, which are Growth Markets, Analytics, Cloud and Next-Generation Data Centers, and Smarter Planet Technology. Furthermore, a closer look at IBM's decade of transition leads to comparing the differences in profit sources of 2009 and 2000:
Segment Pre-Tax Income
| | | |
| --- | --- | --- |
| | 2009 | 2000 |
| Hardware | 7% | 24% |
| Financing | 9% | 11% |
| Services | 42% | 40% |
| Software | 42% | 25% |
| Total: | 100% | 100% |
For IBM, finances remain healthy. All except $5.5 billion of debt supports its financing business. The non-financing debt-to-capital ratio is approximately 23 percent; boosted by over $12 billion in cash on the balance sheet and a Standard & Poor's A+ long-term debt rating. Financing operations also generated a quite satisfactory 34.4 percent return-on-equity for fiscal 2009.
Of more than 4,900 U.S. patents IBM received in 2009, more than 70% were for software and services. Accordingly, IBM continues to harness the rapid changes occurring in the technological business sphere as 2009 marked seven straight years of year-over-year double digit EPS growth. Hence, why is IBM trading at such a low multiple given its recent operating success story? Either IBM is a clear bargain for the long-term investor or merely a value trap.
Disclosure: The author has no positions in IBM at the time of writing.