A week after the shock presented by the hot Employment Cost Index, expect the SPDR S&P 500 ETF (NYSE: SPY) to remain pressured. Investors are increasingly being made aware of heating inflation and its influence on the Federal Reserve's plan for interest rates. Thus, aftershocks threaten equity performance, and so the SPDR S&P 500 should be sold in my view for the next 3 months. Rumor will be replaced by the news of actual Fed Funds Rate hikes eventually, but that is at least 6 to 9 months away.
| | | | |
| --- | --- | --- | --- |
| Security | Last 5 Days | YTD | TTM |
| SPDR S&P 500 | -2.7% | +4.2% | +12.6% |
| SPDR Dow Jones (NYSE: DIA) | -2.7% | -0.5% | +5.4% |
| PowerShares QQQ (NASDAQ: QQQ) | -2.1% | +7.6% | +23.0% |
| SPDR Gold Shares (NYSE: GLD) | -1.1% | +7.1% | -1.6% |
| iPath S&P Crude Oil (NYSE: OIL) | -4.3% | +2.5% | -5.7% |
Last week's driver of broad asset selloff was ultimately the reported Employment Cost Index for the second quarter, in my opinion. You can see in the chart below here that it was on Thursday, the day the Employment Cost Index was reported, that the S&P 500 Index fell precipitously. Stocks were done in by the inflation indicator, with the SPDR S&P 500 ETF off 2.7% on the week. Other asset classes sold off as well, as evidenced by the ETF table above here, which shows gold and petroleum also fell. The prospect of Fed rate hikes strengthened the dollar and sent the prices of everything it buys lower.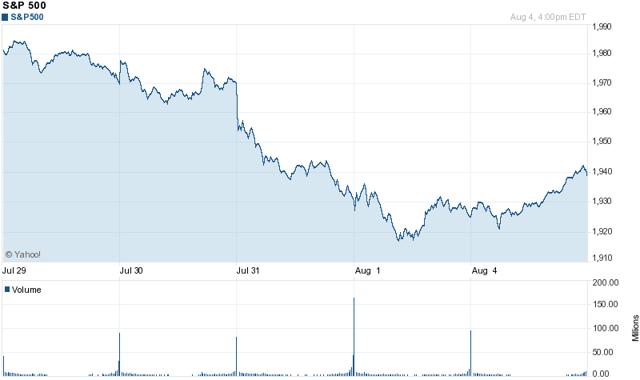 So a sort of momentary deflation was presented, but fear not, as lower pricing came not by demand softness, but by the prospect of Fed action to curb inflation. Whatever the case may be, this factor remains to haunt stocks in the near term. Over the longer term corporations will have to deal with a higher cost of capital.
The valuations of stocks, though, do not currently reflect an environment inclusive of a higher cost of capital. The P/E ratio of the S&P 500 Index is currently 19.2X, versus the historical mean value of 15.5X for the index. It's going to need to adjust in my view. Without extraordinary EPS growth, therefore, the price of stocks generally should decline. Thus, the broader reaching ETF, the SPDR S&P 500 is unlikely to enjoy performance similar to anything experienced over the last five years.
In the week ahead, I see nothing solid enough to give support to the SPY, though I expect market pundits to look far and wide for it in economic data and projections. The week's economic schedule includes several services measures, which are important considering that services generate a great majority of American GDP. Chain store sales data will also be reported, though the nation's most important retailer, Wal-Mart (NYSE: WMT) does not offer monthly updates. Investors will have to piece together a theme for the pre-back-to-school shopping period that should be soft anyway. The earnings schedule is busy but not really incorporative of any companies that might be used as proxies for the economy.
There's a natural tendency for stocks to rise, and that's because of our culture. American earnings drive a flow of funds into retirement accounts and other professionally managed accounts. As Americans earn their paychecks, a steady flow of funds goes into pension and 401K portfolios, and funds directed into insurance plans are invested as well. It's a machine that serves stocks and the economy well, but professional investors understand the implications of higher rates well enough to hedge risk and thus lead stocks lower. Therefore, I suggest investors sell the SPDR S&P 500 ETF. If you must have exposure to stocks, I suggest you do it through active investment seeking value stocks and similarly styled actively managed portfolios.
Disclosure: The author has no positions in any stocks mentioned, and no plans to initiate any positions within the next 72 hours. The author wrote this article themselves, and it expresses their own opinions. The author is not receiving compensation for it (other than from Seeking Alpha). The author has no business relationship with any company whose stock is mentioned in this article.