EXXI Nearly Doubles Up; Moves To 3rd Largest Oil Producer On The Shelf
First Things First Watch:
NICE JOB GOES TO LONG TIME SUBSCRIBER BIRDSOFPREYRCOOL
The Price:
$1.01 B - They're using cash from the balance sheet and getting their revolver bumped in size in accordance with the new reserves to pay for the deal. Look for another secondary down the road, but probably at a higher price than here ... $30 maybe.
The Purchase:

1P Reserves of 49.5 MMBOE


(61% oil),

$20.40 / BOE = pretty good price

Reserves are engineered by Netherland Sewell so should be a fairly conservative take

2P Reserves of 66 MMBOE

Current Production of 20,000 BOEpd


(53% oil)

$50,500 per flowing barrel per day ... a good price.

Leases total 131K net acres
The Impact:
Makes EXXI the third largest oil producer (out of all E&Ps and Majors) on the Shelf

They'll be operator of 94% of all acquired

They get slightly less oily, but that's not a big deal and that's day one, before they start working the assets in the direction of their aggregate oiliness.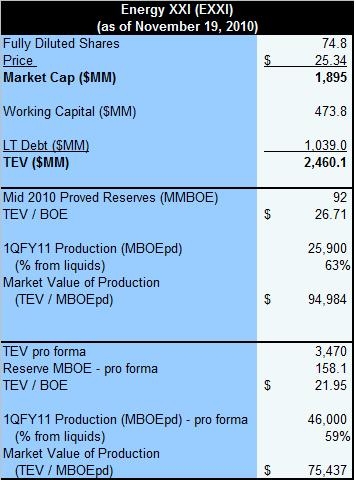 Nutshell: A nice price to pay to nearly double up the size of the firm. Buying from a Major ensures they will be getting overbuilt infrastructure and bypassed exploitation and exploration opportunities. Not accidentally, the properties overlap with EXXI's current operations nicely. At first blush, when compared to the Apache for Mariner acquisition earlier this year, this deal appears slightly more pricey. However, the Mariner was 53% natural gas, much less liquid rich than this transaction. Oil prices were also lower then and APA was moving into a whole new theater in the deepwater, whereas EXXI knows these properties well already.
Lastly, the deal is accretive to the way the market has been valuing EXXI on both reserves and production. If you flip your thinking around and say, "what would EXXI trade at based on its original multiples of reserves and production" you get a post deal share price of $29, and $31, respectively. It won't happen overnight to be sure, but I expect that and more as time progresses.
And that excludes any thoughts on their ultra-deep program. This is an oversimplification and gives you no benefit of higher production levels' spread of cash costs, which will undoubtedly be the subject of many questions on today's conference call, along with near term exploitation and long term exploration opportunities on the new properties. I continue to own the shares in the ZLT.
Conference Call: Today, 9 am EST
Disclosure: Long EXXI