Buy Meritor at a Discount to Fair Value
Meritor Inc. (NYSE:MTOR) is trading at a significant discount to fair value at these levels. Shares of the Michigan-based, automobile parts manufacturer closed at $12.73 on Friday, August 1st. This represents an upside greater than 38%, consistent with a fair value estimate of $17.50/share. Fair value is derived here using a discounted cash flow model, assuming a 66% 5-year (per annum) growth rate, an 11% discount rate, and a terminal growth rate of 3%. Meritor's projected 66% growth rate, over the next 5 years, trumps the projected 19% benchmark growth rate, in the auto parts industry, during the same time frame. Using these growth estimates, a forward PEG ratio of 0.31, for shares of Meritor, is compared with the industry average, a forward PEG of 1.32. With a price/sales ratio of 0.34 ttm, versus an industry average 0.61, these valuation metrics seem to corroborate a case for shares being fundamentally undervalued.
Fair Value Sensitivity

Strengthening the Pipeline
Meritor operates in two business segments; Commercial Truck & Industrial, and Aftermarket & Trailer. The recent Q3 earnings presentation substantiated tremendous value in the pipeline. In a recent memorandum of understanding signed with Volvo, Meritor entered a 7-year agreement for axles in Europe and South America through October of 2021, a 4-year agreement for axles and drivelines in North America through May of 2019, and expects a long-term contract to be signed before the expiration of the current contract in October of 2014. The added value from the inking of this contract will likely be a catalyst for the stock to move higher. Meritor secured a long-term agreement supplying axles and brakes to Hino in the United States, and in Canada, and has also developed a new customer relationship in the thriving, emerging market of India supplying axles and brakes for mining application trucks.
Macroeconomic Trends
Despite inflationary concerns, the Company sees market sentiment improving in India. Decreased defense spending in the coming years will ideally be offset by growth in Chinese and North American markets. However, if growth in China remains anemic following depressed levels in 2013, and if inflation rears its head in India, the negative impact of the South American market may be felt on the bottom line more profoundly. Continuing efforts towards achieving maximum operating efficiency, and towards strengthening EBITDA margins from 8.1% to 10%, should further safeguard Meritor's profitability in the event that macroeconomic growth concerns, such as low GDP growth in South America, and economic uncertainty across Western Europe, persist. Sustained EBITDA margin grown is shown on the chart below.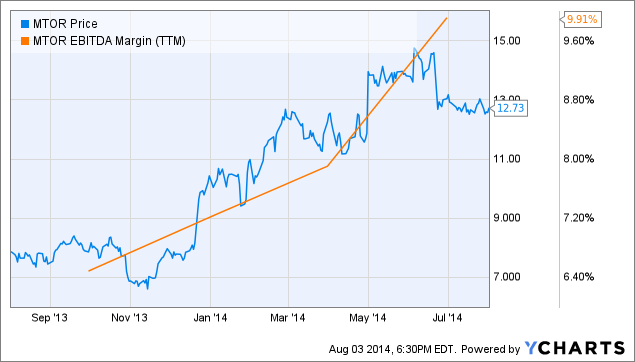 Strategic Initiatives, Unlocking Shareholder Value
Meritor looks likely to outperform the competition in the years to come, as strategic initiatives, aimed at deleveraging, increasing operating efficiency, and unlocking shareholder value, come into effect. A hugely attractive aspect of Meritor's Q3 earnings, in which the Company announced adjusted income of 28 cents per share on $28m adjusted net income, is the $71m of free cash flow that will enhance Meritor's deleveraging efforts, and potentiate the $210m equity repurchase program, expected to finish by the end of fiscal year 2016. In addition, the Company intends to reduce debt by $400m, to below $1.5bn, by the end of fiscal year 2016, thereby improving the efficiency of Meritor's capital structure. Strengthening liquidity and free cash flow growth have been the result of increased efficiency in operating activities, shown on the chart below. These efforts resulted in a positive cash flow of $103m in the first 9-months of fiscal year 2014, compared to a cash outflow of $73m over the same time period in 2013. Though revenues decreased 0.7% year-over-year to $986m, lower sales in South America, and in the defense business, were largely responsible for the drag.
Significant Upside Potential
Trading at a 38% discount to fair value, this small cap looks like an attractive long here. Meritor's continued efforts to achieve maximum profitability, and to unlock shareholder value, are working. Global growth will propel this one higher.
Disclosure: The author has no positions in any stocks mentioned, and no plans to initiate any positions within the next 72 hours. The author wrote this article themselves, and it expresses their own opinions. The author is not receiving compensation for it (other than from Seeking Alpha). The author has no business relationship with any company whose stock is mentioned in this article.