by Mike McDermott
The last few weeks have featured a stealth (and not-so-stealth) shift in momentum. After the QE2 euphoria, all of the major indices have filled their gaps and now look vulnerable. For the most part, broad averages finished flat to slightly higher last week. But a mid-week drop certainly caught the bulls' attention and surprised many complacent traders.
Weakness was especially prevalent in areas which have previously been stalwarts of strength. Hard assets (which are supposed to benefit from the flood of QE2 liquidity) have been hit particularly hard, and many of the trustworthy momentum stocks are now showing signs of exhaustion and rolling over.
China made headlines by raising the reserve rate that banks are required to maintain – one of the many tightening tools policymakers have in their bag. The move was the second of its kind in just two weeks – and is changing the way traders are perceiving the global economic growth leader. So while the two reserve hikes are essentially yesterdays' news, the continuing realization of potential policy tightening could continue to weigh on all markets related to China (and nearly all markets ARE related in some ways to China).
At this point, China has not actually increased benchmark interest rates, but that is expected to be the next step. Policymakers typically do not tighten one time and then step aside. Instead, governing bodies usually implement a series of hikes to gradually raise rates to accomplish objectives. Today's traders may just now be coming around to accepting the potential for higher rates – but a series of hikes could very well challenge growth assumptions – and lead to a mass-exodus.
We may be starting a holiday-shortened week, but don't be caught complacent and off-guard. There are a number of new setups that we are following heading into the week (along with some old favorites) so let's jump in and take a look…
Base Metals Topping
As China begins to put the brakes on its growth engine, global manufacturing and construction will be particularly vulnerable. So while inflation hawks argue that the safest course of action is to "own stuff," there are significant differences between the kinds of "stuff" that actually preserve their value.
We've already talked about short positions in base metals such as steel and copper, and this week we are interested in adding horizontal exposure to this area by trading the producers of these metals.
BHP Billiton (NYSE:BHP) was recently "rejected" after its bid for Potash Corp. (NYSE:POT) was denied by the Canadian government. The company has a wide portfolio of mining assets including coal, iron ore, oil, gas, and base metals.
The inability to significantly diversify into agricultural assets such as potash leaves BHP more vulnerable to economic swings, and China's restraint on growth makes the vulnerability all the more evident to traders. The stock looks weak after losing its summer momentum, and we will be interested in shorting any significant break this week (click to enlarge).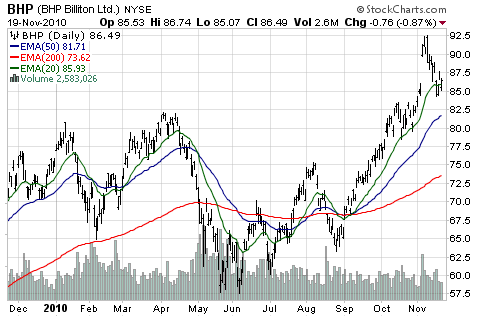 Rio Tinto (NYSE:RIO) has had a similar trajectory (click to enlarge), as traders have bought into the inflationary story and expect RIO's assets to appreciate. But this "inflationary environment" is turning out to be extremely fragmented – with industrial commodities facing challenges due to low economic growth – even while the purchasing power of currencies decline.
Since RIO has a heavy weighting towards industrial metals, China's policy decisions could weigh heavily on the stock price for months to come. The recent rally appears to have traders camped out on the bullish side, and any realization of risk could trigger a stampede in the other direction.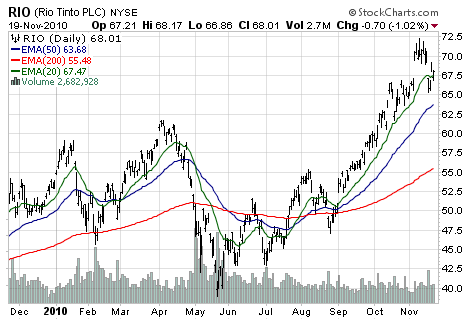 The Brazilian mining company Vale SA (NYSE:VALE) was actually able to complete an acquisition of a major fertilizer company this year which could help to diversify the company's asset base away from traditional base metals.
During the last three quarters, VALE has experienced exponential earnings growth along with a stock increase of well over 200% from the recessionary lows. The stock appears to be running into resistance near $34 and if industrial metals come under pressure, traders will not likely differentiate between VALE and its peers.
The stock dodged a technical bullet last week after breaking below a key support area, but then rebounding as the broad market bounced on Thursday and Friday. A re-break of this support area would set up an attractive risk/reward trade as the stock could drop significantly and we would likely use a relatively tight stop on the position (click to enlarge).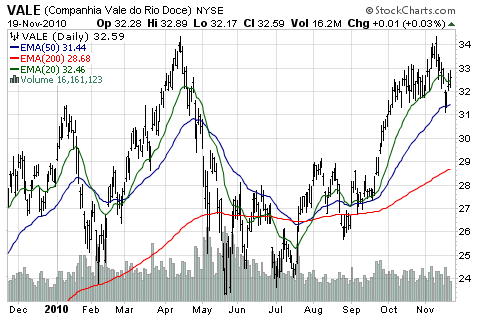 General Momentum Faces Retreat
Late last week, Jack and I set up potential trades in the "four generals" of momentum. These widely held stocks are often the first place that managers will turn to when putting new capital to work, and could be particularly vulnerable if capital withdraws force liquidation of positions.
I expect to have a bit more detail on this area later in the week, but suffice it to say that when momentum names fall out of favor, they usually fall very hard.
We enter the week with all four orders pending (we need price action to confirm and trigger our entry points) but it's not inconceivable to think that we may be short all four heading into the Thanksgiving break.
Amazon.com Inc. (NASDAQ:AMZN) is trading at a premium multiple even while it sees quarterly revenue and earnings growth losing momentum. The consumer has been surprisingly resilient which has certainly helped to prop this momentum name up – but at this point traders are pricing in the very best scenario and any surprise will likely send the stock plummeting (click to enlarge).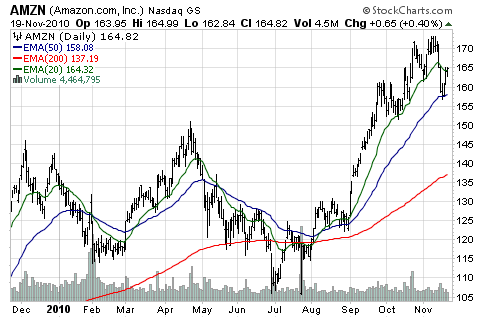 Baidu, Inc. (NASDAQ:BIDU) is another name that has an incredibly generous valuation and could be vulnerable to negative surprises. The "Google of China" is a go-to name for emerging market exposure, but the long-term growth rate just does not appear to support such a lofty valuation.
If China's tightening campaign puts the brakes on economic growth, BIDU could continue to see earnings appreciate while enduring a significant drop in stock price just due to multiple compression.
A break of last week's low would not only call the October breakout into question, it would also put the stock below the 50 EMA. While there's nothing magical about this moving average, a break would catch traders' attention and raise questions about the health of BIDU's momentum (click to enlarge).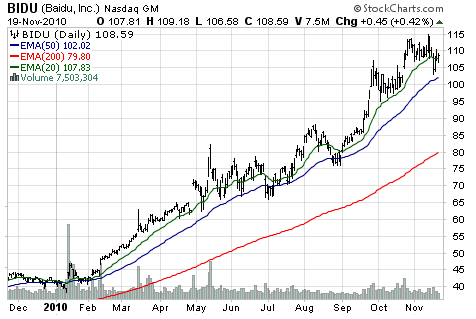 Precious Metals – Another Inflection Point?
Over the past few weeks, we have lightened our exposure to precious metals. The theme still has merit as global currency devaluations encourage numerous market participants (traders, investors, corporations, sovereign wealth funds, currency reserve boards etc) to diversify out of fiat currency holdings. But the area had become so extended, that it made sense to lock in gains and wait for a consolidation.
For some time, Allied Nevada Gold Corp. (NYSEMKT:ANV) represented our largest (and most profitable) position. The stock hit our tightened risk point in mid-October, and we cashed out for a 30% gain on the last part of our position. But after a few weeks treading water we are watching for another breakout.
The company has a very attractive mining operation with low production costs and plentiful reserves. A stable gold price argues for a materially higher stock price, and if the spot market for gold continues to climb, Allied Nevada will likely experience another dramatic run higher. (click to enlarge)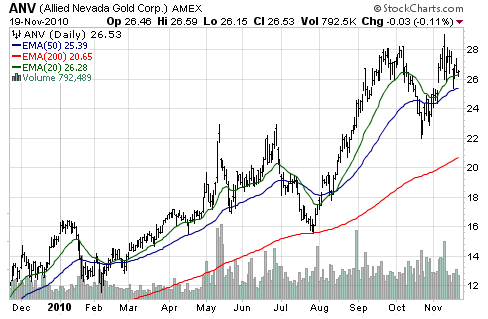 Not to be outdone, Silver Standard Resources (NASDAQ:SSRI) has potential to continue its explosive run after taking a couple of weeks to consolidate gains. The company is one of three high-quality silver miners we have been actively trading, and with an attractive global portfolio of silver mines, the company should be able to capitalize on strong precious metal trends (click to enlarge).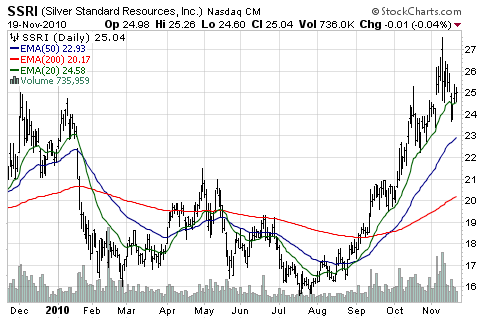 If established trends are truly in the process of being reversed, then traders who are willing to challenge established assumptions will likely fare best.
We are looking for opportunities where bets have been firmly placed – and the consensus is leaning heavily in one direction. A shift in fundamentals can then be the catalyst for a significant shift in capital allocation.
So while there are times for trend following and running with the herd, today's stealth shift seems to point to an opportunity to lead the masses in a directional change – and profit handsomely if proven correct.
There are a lot of good trading hours between now and turkey, so let's man up and trade 'em well.
Disclosure: As active traders, authors may have positions long or short in any securities mentioned. Full disclaimer can be found here.