When markets sell off, narratives can quickly change. What once seemed like a great idea, a worthwhile premium valuation, and/or a manageable risk/reward can suddenly seem exactly the opposite just because other participants have decided to sell. Such a reversal may have happened with premier mining equipment-maker Joy Global (NYSE:JOY).
On July 16, 2014, Joy Global's stock soared off its 50-day moving average (DMA) to gain 8.1% to a new (marginal) 18-month high as speculation swirled about the potential interest of a Swedish company called Atlas Copco. to buy JOY.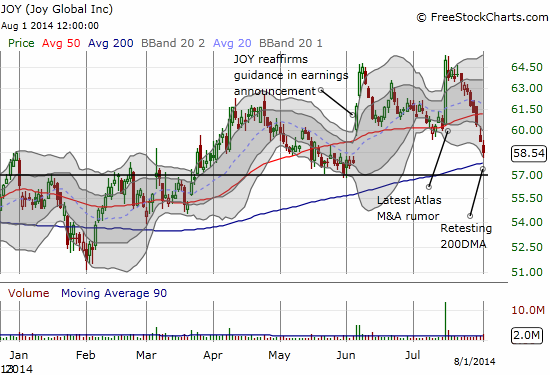 The market has slowly but surely faded JOY's post-rumor gains and now its gains from June earnings
Now, the market has not only reversed all the post-rumor gains but also it has erased most of the gains from June earnings. From a technical perspective, the stock is setting up a very enticing retest of support at its 200-day moving average as the market has chosen to forget the rationale for the June (post-earnings) and July (post-rumor) rallies.
This M&A rumor with Atlas has occurred at least once before. On February 20, 2013, JOY gained as much as 7.9% before fading to a much more modest 3.2% gain on the same M&A rumor. The stock continued to slide from there. It did not recover to the pre-rumor price levels until April of this year.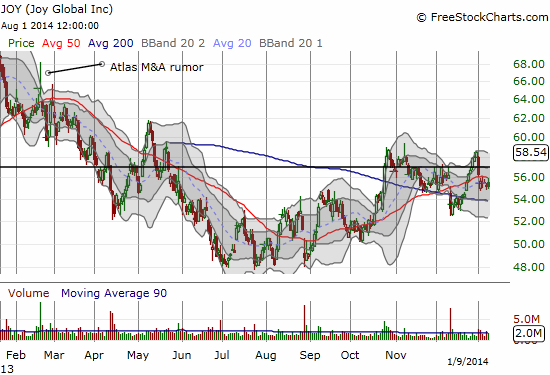 JOY's post-rumor pop barely survived the day and could not stop the stock from sliding most of the rest of 2013
Source for charts: FreeStockCharts.com
Will JOY repeat this poor post-rumor performance? Hard to say, but the current reversal seems to favor a repeat. One potential difference this time is the trading in JOY relative to the price of iron ore. JOY roughly followed the price of iron ore downward in 2013: the M&A rumor mattered little in the middle of an iron ore sell-off. In 2014, iron ore resumed its decline as inventory piled up in China amid an on-going supply glut. Iron ore broke the $100 psychological threshold in May after a successful bounce from $100 in March. Despite this latest sell-off in iron ore, JOY's stock price managed to bottom in February. In the chart below, JOY is the bright green line (left scale), iron ore is the black line (right scale).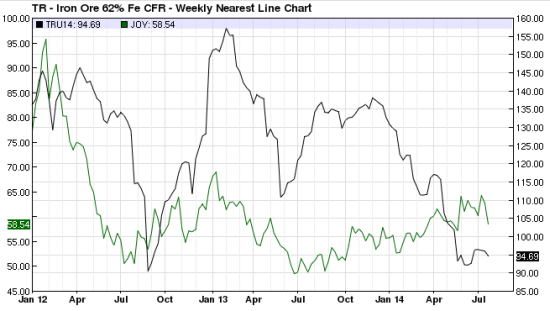 Joy Global has defied gravity by rallying in 2014 even as iron ore has sank in price
Source: Barchart.com
It is of course entirely possible that the buyers supporting JOY are just delaying an inevitable steeper sell-off. For now, I think the relative price strength in JOY should be respected and interpreted as representing some kind of higher odds that good news, like an M&A deal, might indeed be just over the horizon. JOY should at least be a good trade whenever the stock market is in a rally mode.
Options players have stopped betting against JOY in aggregate….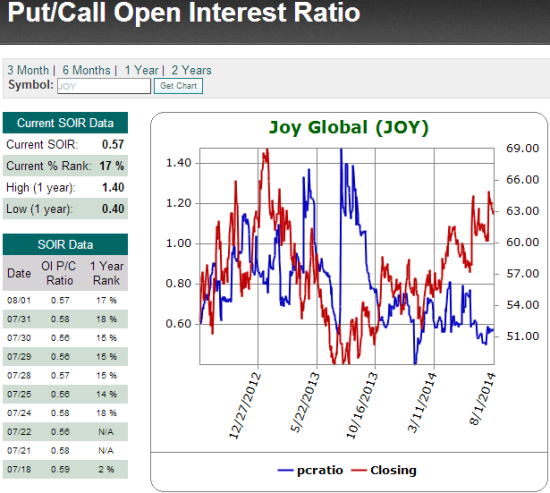 JOY's open interest put/call ratio over the last two years
Source: Schaeffer's Investment Research
…but shorts have fought JOY the entire way up from 2013′s low…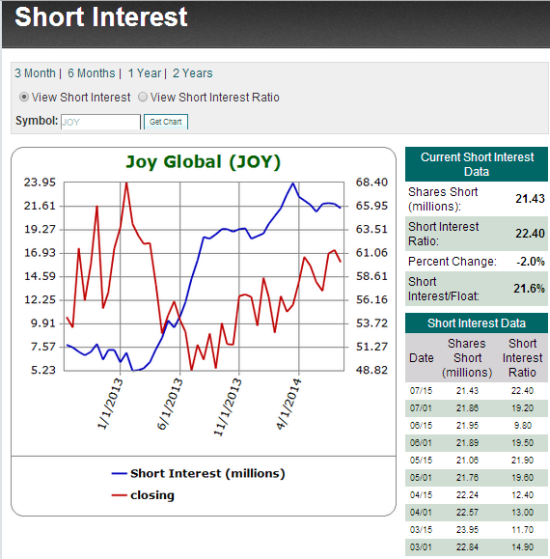 JOY's shares short over the last two years
Source: Schaeffer's Investment Research
A simple rule of thumb for trading JOY here is to play a likely bounce from current levels now that the previous euphoria has been wiped clean. If JOY manages to close BELOW the May/June lows, cut losses - perhaps even go short if the general market has gotten increasingly bearish….but watch out for more M&A rumors.
Be careful out there!
Disclosure: The author has no positions in any stocks mentioned, but may initiate a long position in JOY over the next 72 hours. The author wrote this article themselves, and it expresses their own opinions. The author is not receiving compensation for it (other than from Seeking Alpha). The author has no business relationship with any company whose stock is mentioned in this article.