Although it initially sounds counterintuitive, circumstances often dictate that for a business to grow larger, it has to cut some lines or operations. Operational and physical size and capacity for financial growth are not always synonymous, and those business lines that do not contribute the same profit margin levels can also drag down total financial earnings in the aggregate.
This was the dilemma faced by Procter and Gamble (NYSE:PG) when its CEO, A.G. Lafley, announced that Procter and Gamble would be selling over half of its brands in order to focus on the 70 to 80 that currently contribute over 90% to the company's bottom line.
P & G's Brand History
Procter and Gamble has a long and storied history, starting with the introduction of Ivory Soap in 1879, and whose daytime advertisements in the early days of American television during daytime dramas helped to coin the term "soap opera".
P & G's brands are practically a microcosm of American home supply personal care retail: diapers such as Pampers (for babies) and Tampax (for women), beauty products under the Wella and Clairol names, additional feminine care products, toothpastes, mouthwash, paper products, and razors, as well as detergents, are just part of the P & G product menu.

(Lineup from: http://pg.com/en_US/brands/index.shtml)
Spinoffs - Not New
This is not a totally new revelation for Procter and Gamble. They already have sold off their food division, which includes brands such as Jif Peanut Butter (sold to Smucker's), Pringles potato chips, and Folger's Coffee. The Zest soap brand was sold to private equity firm Brynwood Partners in 2011.
The announcement from CEO Lafley contains a not insignificant degree of irony, since his earlier run as the head of P & G from 2000 to 20009 concentrated on growth through acquisition. In addition to beauty brands Wella and Clairol, the 2005 acquisition of Gillette for $53 billion has been a huge winner. Gillette's brands, such as their multi bladed Mach 3 and Venus razors, other shaving products, Duracell Batteries, and Oral-B toothbrushes all contributed to P & G doubling its sales over the following years.
A Sound Strategy
Given the economic climate since 2008, Lafley's strategy makes sound fiscal sense. Households have had to drastically tighten its belts, and premium brands that command high prices, like P & G's Tide detergent, has seen sales suffer in favor of cheaper brands in the P & G line or those belonging to competitors.
Growth in sales since 2010 has only been in single digit percentages, so reinstating Lafley last year (his predecessor, Bob McDonald, was recently named as the Obama Administration's new U.S. Department of Veterans' Affairs head), seemed to be a prudent move by the P & G board to try to recapture some of their mojo from a decade ago.
Private Equity Firms Queue Up
Although the actual list of brand names being shed has yet to be disclosed, speculation has already caused a buzz among prospective buyers. Private equity firms specializing in consumer goods manufacturing and sales are expected to compete in bidding for many of P & G's brands, the total of which are estimated to run up to 100 in number.
Additionally, foreign nations, such as China, where Procter and Gamble brands have established themselves, albeit some under other names (Always feminine care products in the U.S. are branded as Whisper in Asia) may have suitors looking to consolidate ownership and expand product brand penetration in their regions under different management and marketing control.
Positive Signals For Investors
The market greeted the news positively as well. P & G shares rose 3% to close at $79.65 and analysts were almost unanimous in their praise for the announcement.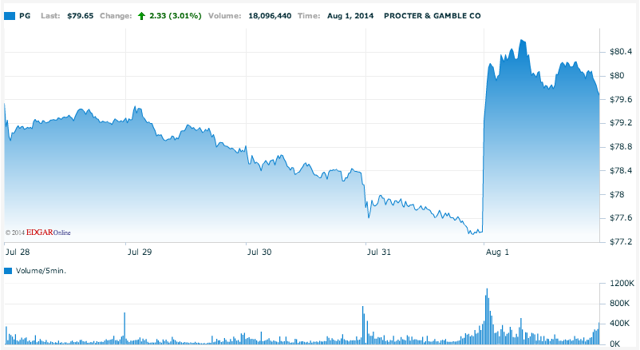 (Nasdaq.com)
Despite lowered sales in recent quarters, PG has managed to beat revenues the past three quarters.
The company has also paid solid, increasing dividends for the past several years.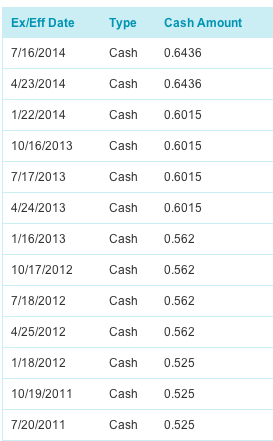 (Nasdaq.com)
We are positive on PG going forward in 2014, anticipating both new growth and consistent income, and suggest other investors be so, as well.
We invite readers wishing to join the discussion on P & G to click the +FOLLOW button above the title of this article-- and those looking for the latest developments to click +Get real-time alerts.
Disclosure: The author has no positions in any stocks mentioned, and no plans to initiate any positions within the next 72 hours. The author wrote this article themselves, and it expresses their own opinions. The author is not receiving compensation for it (other than from Seeking Alpha). The author has no business relationship with any company whose stock is mentioned in this article.