Anytime I find a company that is trading below the cash on its books, not even including its other hard assets, or potential earnings value, and no major debt obligations, I find it very compelling to investigate further. Sometimes the market is right, in discounting a company below its assets to a degree, as something has happened to reduce future value expectations. Sometimes there are alleged accounting shenanigans, (like DYP), a lack of information, or other uncertainty, which inherently lowers your margin of risk tolerance. However, sometimes the market is just not correct, or severely discounts a one time event, where an investor who astutely sees this undervaluation, can profit from it.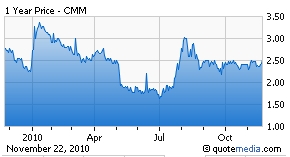 Consequently, I have found a $63M Small-cap Company, founded in 2003, IPO'ed on NYSE '08, doing business in China in the field of independent Television Advertising, with Zero debt, has 26.3M outstanding ADS shares, (30 ordinary shares per ADS) of which the public float is 9.56M due to 77% insider ownership, with the CEO owning over 70%, and has $80.2M in cash (June 30th) and $14.7M in ST investments, plus over $8M in Prop, Plant, and Equipment. That is $95M in cash, excluding the hard assets, which divided by share count, is $3.61/share. The shares are trading at $2.41, or a 49% discount just to the cash, which I think is foolishly undervalued. The company is buying back shares, with $6M recently authorized for the next 12months, by its board of directors on 9/30/10.
The Current Ratio is 2.61, meaning the company has sufficient funds to pay near term costs.
The company has been profitable in the last 3 reported quarters, but earnings have dropped, due to some changes in State run CCTV, their main customer, the largest TV network in China, which has 19 channels broadcast to over 1 Billion viewers. It is the country's most powerful and prolific television program producer, and has chosen to take some contract advertising slots and sell them 'in house' themselves, as well as a slight slowdown in overall TV advertising due to the recent Global recession. The company was named as one of the "Ten Best Advertising Agencies of the Year" by CCTV in 2004, 2005, 2006 and 2008. The Company provides the full range of advertising services, with creative production capabilities to produce commercial advertisements, public service announcements, from planning, directing, producing, editing, and montage, which dramatically differentiates them("one-stop shop") from their competitors, who usually just have the ability to provide air time contracts.
The company Founder (Mr. Wang, a Canadian citizen), who is the largest shareholder, worked as a reporter at CCTV from 1981-1996, before retiring, and then as senior manager at a number of advertising companies from 1996 to 2002, then Founding the company in 2003. Advertising revenue is Seasonal, and the Company expects business to pick up in the second half of the year. China already has the largest television population in the world, with the growing economy (GDP 9%+), this number is rising further and also the popularity of television as a preferred advertising medium. The CFO has also just submitted (last month) an application to the Hong Kong Stock Exchange to be dual listed on its main board while maintaining its listing on the NYSE, which may further increase liquidity, P/E expansion, and valuation.
The company I am describing is China Mass Media (NYSE:CMM) and reports earnings today Monday, Nov 22.
http://www.chinammia.com/English/index.html
http://www.nyse.com/about/listed/cmm.html
www.google.com/finance?client=ig&q=CMM
http://phx.corporate-ir.ne/External.File?item=
UGFyZW50SUQ9ODUyOHxDaGlsZElEPS0xfFR5cGU9Mw==&t=1
Additionally, concerning currency risk, the China Currency, the Renminbi has been trending higher, (dollar devaluing) being $8.18 per USD in 2005, $7.95 in '06, $7.58 in '07, $6.91 in '08, $6.82 in '09, and $6.78 as of Aug '10, and $6.644 today. With the China economy going strong, and the US government continuing to 'print' money, I don't see a major deviation from this trend anytime soon. Basically, assets in the USD are losing money.
Disclosure: No position as of writing this article; intend to go Long subject to review of 11/22/10 earnings.