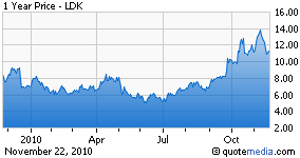 The fundamentals at LDK are looking great. LDK recently reported Q3 earnings of 72 cents, well above the analyst estimates of 43 cents per share. LDK also raised guidance for Q4. LDK rallied on these great results to just over $15. However, soon after there was a drop in solar stocks and the market pressure over European debt. In spite of this, the fundamentals at LDK remain excellent and the technicals now also support a much higher stock price. LDK is solidly above the 200 day moving average and the shares have found support around the 50 day moving average around $10.81. Because the fundamentals and technicals both look so good right now, I think this is a great opportunity to average up or start a new position.
LDK reminds me of when I first started buying shares of Baidu.com (NASDAQ:BIDU) for as little as $6.80 per share (adjusted for split). Back then, I remember myopic Wall Street analysts cutting their target prices and earnings on BIDU over any concern they could dig up. I remember the big drops after some earnings reports in BIDU where investors would find an excuse to sell the shares. Fast forward a few short years and BIDU is over $100. I bring this up not because LDK and BIDU are similar companies but because the short term and overly negative outlook by some analysts and investors reminds me of the early days in BIDU. Just like BIDU climbed a wall of worry in the past few years, I believe LDK will do the same. I also think the CEO and founder of LDK is like the CEO of BIDU, very ambitious and capable. BIDU and it's CEO were underestimated in the early years and I think the same is true for LDK and it's CEO.
For a great analysis on LDK solar's earnings outlook read this article by Investing Hobo. (He has an excellent, long term track record and is extremely knowledgeable with solar stocks) In this article, he shows the supporting numbers for .85 cents per share in earnings for Q4.
I think it's wise to ignore some the short term noise and distractions coming from some analysts and instead focus on the incredible long term growth opportunities in these shares!

Disclosure: Author long LDK and SOL