Executive Summary
Duke Energy (NYSE:DUK) is the largest electric power holding company in the United States, supplying and delivering energy to approximately 7.2 million U.S. customers. Electric customers include areas of North Carolina, Florida, Indiana, South Carolina, Ohio, and Kentucky. Gas customers include areas in Ohio and Kentucky. The company is headquartered in Charlotte, North Carolina. Companies that provide a necessary good or service reward shareholders with a strong dividend, and have extensive history that can provide significant opportunities. If market volatility allows for some bargains in the stock market, it is important to know what stocks will be on your shopping list.
Pros for Duke:
As mentioned previously, one of the largest advantages of investing in Duke Energy is its generous dividend. At a current share price of roughly $72, the shares are yielding 4.36%. This dividend yield is slightly above industry average, and considerably above average for the S&P. Investors seeking current income or dividend reinvestment should pay particular attention.
In recent news, the price target for Duke Energy has been increased, according to analysts. The median price target is currently in the $77 range, providing slight upside potential from current levels. In a situation where the market experiences continued volatility, lower share price entry points could be possible.
Taking a look at prior performance can sometimes be a good indicator of how a company may perform in the future. Although nothing is guaranteed, historical returns are one of the best methods of evaluating future prospects. Looking at a more short-term chart, you can see that the stock has performed well, but overall, has underperformed the S&P since 2009.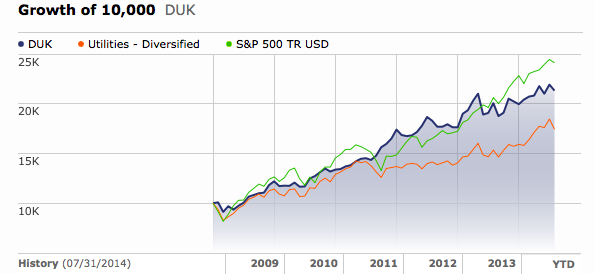 Over the long term, however, the picture presents itself differently. Looking at the past 10 years, Duke has actually outperformed the S&P by a large margin.

(Both charts courtesy of Morningstar)
Two other prospects that could prove successful for Duke include its global prospects, as well as its increased investments in future developments. In terms of global prospects, Duke has performed well in its Latin American divisions. Duke is also considering development opportunities. It has stated that it plans to invest between $16 billion-$20 billion from 2014 through 2018. Duke has recently proposed solar projects in North Carolina, as well as gas plants in South Carolina.
Cons For Duke:
Of course, as with any investment, Duke Energy comes with a number of potential investment risks. Two of the largest risks for Duke include its regulatory risks, as well as potential economic and environmental risks that may be beyond Duke's control. Fluctuations in commodity prices can also have a large impact on profitability for the company.
Duke Energy utility businesses are regulated on a cost-of-service basis subject to state statutes and regularly commissioned rules from North Carolina, South Carolina, Florida, Ohio, Indiana, and Kentucky. If Duke Energy utility earnings exceed the returns established by the regulations, potential profitability could be decreased. At the same time, if the industry were to become de-regulated too much, competition could increase, which could also hurt profitability.
Risk factors beyond Duke's control include weather condition risks, supply and demand for energy commodities, transportation costs, and commodity prices for natural gas, crude oil, and refined products. Weather conditions include the possibility of a mild winter or summer that could cause lower energy usage for heating or cooling purposes. Based on 2014 personal observations, both winter and summer have been far from mild.
From a valuation standpoint, Duke Shares do not seem attractive. Duke currently trades at a price-to-earnings ratio of 26.8, versus an industry average of 18.5 and an S&P 500 average of 18.2. When looking at Duke's growth rate in relation, its PEG ratio is currently roughly 3.1. This means that Duke is currently trading at a multiple over three times its growth rate, which usually indicates that the stock is a "sell."
Conclusion:
Duke has the majority of its operations based in the North and South Carolina and Florida regions. From personal observations, it seems that economic and population growth seems to continue to increase for both North Carolina and Florida. Given the fact that the baby boomers are retiring on an ongoing basis, it should be no surprise that population is shifting into these areas (particularly Florida). This population shift could prove profitable for Duke Energy.
Having said that, the stock seems too expensive to purchase at current levels. For investors seeking dividend or current cash flow, the dividend yield is difficult to beat. However, given the valuation and the proximity to current price targets, Duke Energy may provide better entry points in the future. At current levels, I would label Duke a "hold" or "sell."
Disclaimer: This article is given for informational purposes only and is not to be construed as investment advice. Contact your investment professional and do your own due diligence before investing.
Disclosure: The author has no positions in any stocks mentioned, and no plans to initiate any positions within the next 72 hours. The author wrote this article themselves, and it expresses their own opinions. The author is not receiving compensation for it (other than from Seeking Alpha). The author has no business relationship with any company whose stock is mentioned in this article.