Just this week, Pacific Healthcare (OTCQB:PFHO) pushed itself to new highs near $73. This was a stock that one year ago was trading near $7.50 a share. Heading into the company's Q2 report, I continue to be extremely bullish on the name. The company is set to report on August 14th.
I've publicly put a target price on PFHO of $100/share or buyout.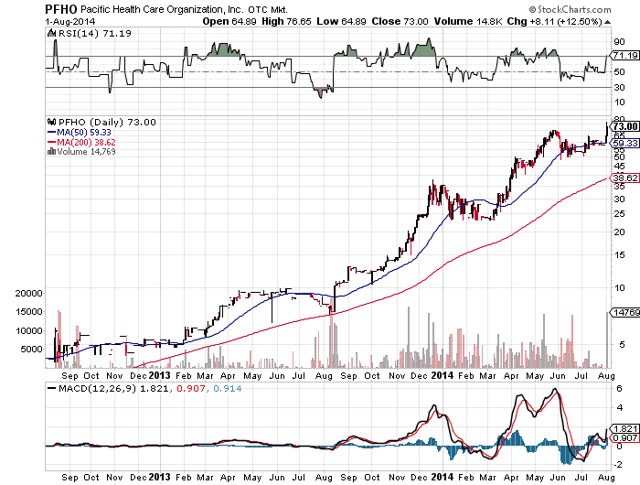 Who is Pacific Healthcare Organization?
(Source: Pacific Healthcare Organization website)
Pacific Healthcare Organization, Inc., through its subsidiaries, engages in managing and administering healthcare organizations (HCOs) and managed provider networks in the state of California. The HCOs are networks of medical providers established to serve the workers' compensation industry.
Pacific Healthcare Organization, Inc., through its two HCOs, offers injured workers a choice of enrolling in an HCO with a network managed by primary care providers requiring a referral to specialists; or a second HCO, where injured workers do not need any prior authorization to be seen and treated by specialists. The company was formerly known as Clear Air, Inc. and changed its name to Pacific Healthcare Organization, Inc. in January 2001. Pacific Healthcare Organization, Inc. was incorporated in 1970, and is based in Newport Beach, California.
As I stated in my first article on it, Pacific Healthcare was named as the fourth-fastest growing small public company in Orange County, California: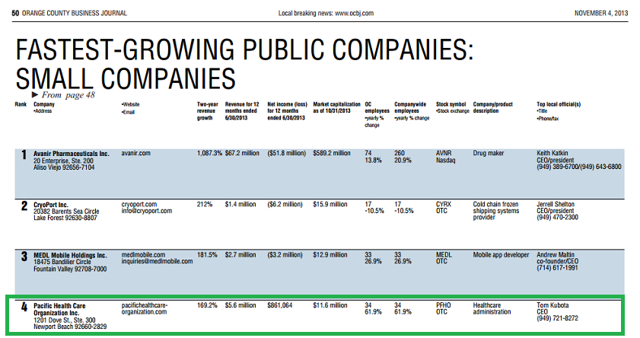 My history with Pacific Healthcare Organization is as follows:
Since then, I have disclosed that my price target for PFHO was $100 or buyout. I continue to stand by these sentiments.
For those that bum around the microcap stock message boards, you may or may not have heard of MikeDDKing. Mike has had a knack for picking low-multiple, high-value microcap stocks with big insider buying. It's nice that QTR found Pacific Healthcare at $7 - it's much cooler that MikeDDKing found it at $0.55/share.
So, I wanted to shout Mike out, even though I've never met him or spoken to him. Traders that I know hold him in as high of a regard as I do. You can follow him at @MikeDDKing on Twitter.
Meanwhile, heading into earnings, PFHO CEO Tom Kubota continues to buy his company's own stock - he's been doing so all the way up from $9.25 a share to $53/share on the open market.

I cashed out of my PFHO position once the company broke $60/share, but am considering buying back in before earnings, if the price drops. Either way, if you're holding, I remain extremely bullish into the Q2 report.
PFHO is likely to continue to show EPS growth as it's done in the last couple of years, quarter after quarter. Additionally, I continue to contend that the company remains a perfect buyout candidate with its small market cap (~$50 MM) and its small share count (<1 MM shares).
I remain bullish on PFHO here. Best of luck to all investors.
Disclosure: The author has no positions in any stocks mentioned, but may initiate a long position in PFHO over the next 72 hours. The author wrote this article themselves, and it expresses their own opinions. The author is not receiving compensation for it (other than from Seeking Alpha). The author has no business relationship with any company whose stock is mentioned in this article.
Editor's Note: This article covers one or more stocks trading at less than $1 per share and/or with less than a $100 million market cap. Please be aware of the risks associated with these stocks.