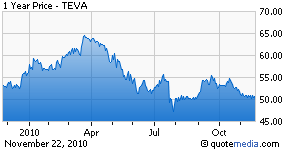 Already the undisputed leader in generics for small molecule drugs, Teva (NASDAQ:
TEVA
) stands to benefit enormously as biosimilars begin to gain momentum. Laws passed in recent years have paved the way for the approval of follow-on versions of biologic medicines. The EU is leading the way with 13 biosimilars approved compared to just one in the US through their respective approval processes. While these rules only applied to simpler protein therapeutics for now, the EU is set to release a new set of requirements for the development of follow-on antibodies.
The requirements are expected to be fairly strict, requiring clinical trials for every drug. The question to be answered is how extensive those trials will need to be. Teva has already planned for the worse case scenario; it has initiated full head-to-head trials of its version of Rituxan, TL011, against the original in both
non-Hodgkin's lymphoma
and rheumatoid arthritis.
Teva has partnered with the world's largest API manufacturer, Lonza (
OTCPK:LZAGF
), to share in the risks of this venture -- a necessary move considering the cost of each indication may be over $100 million. The reward is certainly enticing -- worldwide Rituxan sales were close to $6 billion in 2009 across multiple indications including cancer and rheumatoid arthritis. Rituxan loses patent protection in the EU in 2014, and in the US, between 2015 and 2018. An approved copy of Rituxan would be the first follow-on antibody.
The risk and expense of developing biosimiar antibodies creates a high barrier to entry- few generics companies have the resources to conduct the full-scale clinical trials likely required for approval. This certainly works out well for the big players. A smaller field means less competition and higher profits for an extended period of time. Teva is among the few generics companies able to compete in this lucrative business. Rivals include Sandoz [a unit of Novartis (NYSE:
NVS
)] and Hospira (NYSE:
HSP
) on the generics side, Merck (NYSE:
MRK
) and Pfizer (NYSE:
PFE
) on the Pharma side.
This is a huge departure from the historical generics landscape, with dozens of drug makers, large and small competing for each drug as it goes off patent, each working independently. When a typical small molecule drug loses patent protection, the first generics company makes substantial profits during its first six months of exclusivity. But soon after, competition from fellow generics drug makers drives down prices and profits.
In 2009, the sale of all biologics reached $130 billion, with $35 billion of that attributed to antibodies; antibodies are the fastest growing therapeutic segment. It is estimated that between 2008 and 2014, $60 billion worth of biologics will lose patent protection. Teva already has a biosimilar to G-CSF approved in the EU and expects an approval for its copy of enoxaparin in the US later this year, however, both products had abbreviated approval processes. G-CSF was among the first set of biologics the EU built its approval process around, and generic enoxaparin did not require any clinical testing.
Biosimilar antibodies will be a boon for Teva. The upfront costs may be high, but downstream gains make it well worth the investment. Regulators, in an attempt to bring down drug costs by providing safe and efficacious follow-on biologics, have created another windfall opportunity for generics companies, especially for Teva.


Disclosure: Long NVS, MRK