This is not just an Exxon-Mobil (NYSE:XOM) problem. It affects most large oil & gas companies. They simply cannot increase production. In fact, they cannot even keep it flat. It is in a permanent state of decline. There is little doubt now that Exxon is faced with such a situation. While liquids production in 2006 was 2.7 mb/d, in 2013 it fell to 2.2 mb/d. For the first half of this year, it fell bellow 2.1 mb/d according to the Q2 report. Total production, which includes gas reached a peak in 2011.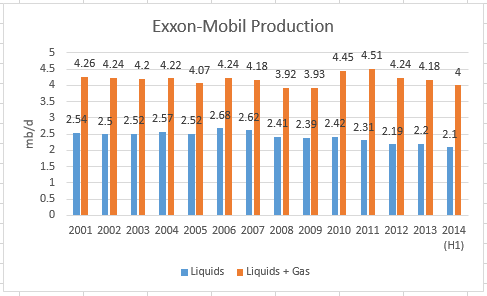 Data sources: link, link, link
Opportunities to tap new reserves are dwindling as most of the worthwhile projects are to be found in states where resource nationalism led to oil majors either being restricted or outright kept out, due to national oil companies claiming monopoly on production.
Given this trend in production, oil majors including Exxon have been eager to offer the investor value through dividends and stock buybacks.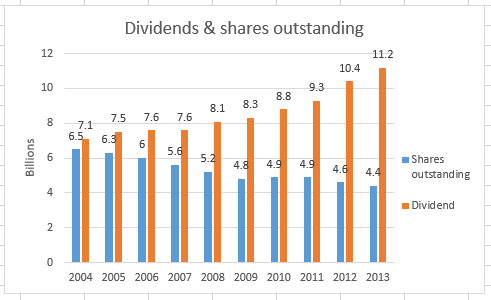 It is possible that Exxon will slow its stock buyback program in the future. It may be that they are reaching the conclusion that paying a higher dividend may be the better way to go. Regardless of which way Exxon wants to go, there is no getting around the fact that it is facing a shrinkage in upstream production and it is thus looking at a situation where the current share price and company's market value cannot be maintained. Share buybacks and increased dividends can only be a temporary stopgap measure. In the end, increased production and/or an increase in the value of their product are the only ways to increase the company's value.
Increased prices:
On the issue of increased oil prices, I already made my opinion clear in previous articles. There is very little upside left, because we settled in the past years at a level that is at the edge of crossing into severe demand destruction territory. The last time the WTI benchmark tried to rally towards $120, there was a sharp negative reaction on the part of the consumers, with demand in the OECD plunging.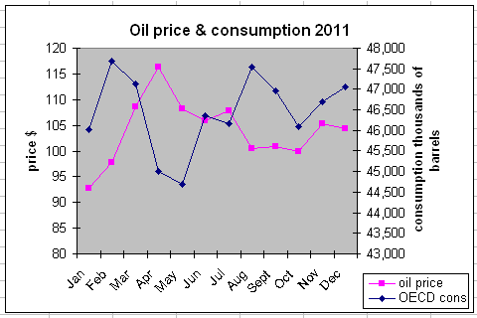 Note: The sharp rise in price early that year corresponded to a sharp decline in OECD consumption, which lasted until the price receded.
I think we have now settled in a $90-110 price range, with prices being kept from going lower by an increasing reliance of global supply on expensive projects, which require this price range to be viable. At the same time, I think there are clear signs that the market has no tolerance for a price higher than the current range either, so this is the price Exxon will get for its oil for the foreseeable future.
In terms of natural gas, the picture is somewhat more complicated. There is some potential for falling prices in South America, but prices are likely to continue increasing in North America as increasing NGL capacity will start to tighten the supply/demand situation. A slowing shale gas revolution is also going to put upward pressure on prices. It is unclear how prices will evolve in the Europe-Asia region, but prices there are already significantly higher than they are in the North American market, so very little upside should be expected in that region.
Prospects for increased production.
Prospects of increased production are very few. Increased recovery from existing fields is already factored in due to over a decade of rising oil prices which already sent the price signal needed to commence such projects. As far as new projects, there are the unconventional plays in North America where oil majors did not succeed in excelling, being out-competed by companies which specialized in unconventional oil & gas extraction. Offshore regions all over the world offer much potential at a relatively high financial risk level, given the high price of exploration and commencement of production. This is part of the reason why capital spending has been growing significantly even as production was not increasing up until 2013.
Exxon-Mobil was hoping to move in on Russian opportunities, but the current diplomatic and economic standoff between Russia and the West is putting that opportunity in danger as well. Its current production in Russia is not great. It produced 54,000 b/d in oil equivalent, which is just over 1% of its entire output. Exxon-Mobil is hoping however to become a much more prominent producer in Russia, with its eyes on the giant and potentially recoverable Bazhenov shale oil field and a large share of arctic hydrocarbon riches. It is by far its biggest potential opportunity in my view, but with Western sanctions being increasingly aggressive and the resulting possibility that Russia will retaliate, it is also one of its riskiest investments.
In the absence of sustained production gains coming soon, I find it hard to see where Exxon-Mobil value will come from, especially in the very important upstream segment of the business. The downstream sector may still have some room to grow, with LNG being one of the potentially bright spots, as long as it will be profitable. The continued ramp-up of dividends and stock buybacks is pretty much reaching the end of the road in terms of being a reliable way to defend the company's value. The decline in capital spending announced starting from 2014 all the way to 2017 (link), which is likely to be a new long-lasting trend may signal that there is a mood of capitulation when it comes to the effort to increase production in the future. Goldman Sachs argued at the end of last year that Exxon-Mobil and other oil majors are a buy, based on expectations of a reverse of production declines in 2014 despite the cuts in spending (link), but with results for the first half in, at least for Exxon-Mobil this seems to be very far-fetched. Perhaps there will be a quarter here and there which will offer some hope, but the overall trend established almost a decade ago seems to be in no danger of being interrupted.
Disclosure: The author has no positions in any stocks mentioned, and no plans to initiate any positions within the next 72 hours. The author wrote this article themselves, and it expresses their own opinions. The author is not receiving compensation for it (other than from Seeking Alpha). The author has no business relationship with any company whose stock is mentioned in this article.