If you aren't familiar with Geospace Technologies (NASDAQ: GEOS), here is a brief excerpt from their website:
Geospace Technologies designs and manufactures scientific instrumentation and equipment used by the global petroleum industry to acquire more seismic data in new and better ways. Geoscientists look for oil and gas with sound. They use our instruments and equipment to collect seismic data that in turn creates images of potential or existing oil-and gas-bearing formations in the earth's subsurface. Seismic is the one of the most reliable and commonly used technologies in the petroleum industry's global quest to find, develop and efficiently produce hydrocarbon resources.
Geospace Technologies will report its Q3 earnings after the bell on Wednesday, August 6th. When it released Q2 back in May, it lowered the year outlook after missing on net income and EPS. If you look at the quarterly charts, it might look tumultuous. However, the yearly charts look much more promising. Revenue, net income, and profit margin all have increased every year since 2009. Growth between 2012 and 2013 was close to 56%, and matching that growth in 2014 does not seem to be realistic at this point. Despite the slower growth rate, Geospace will earn a profit and net income will increase in 2014. The question remains, will the earnings meet expectations? If Geospace can beat earnings for Q3, this stock will turn around and begin the climb back upwards.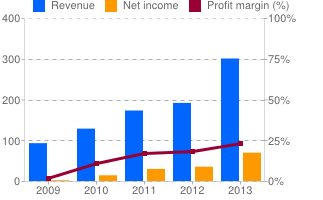 Sources: Google Finance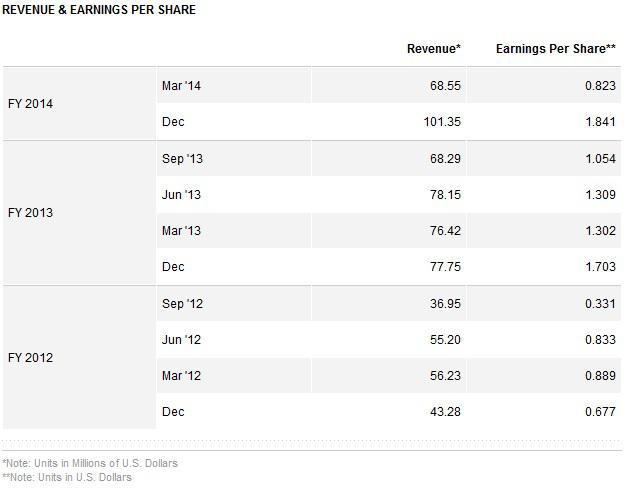 Source: Reuters
Revenue has increased year-to-year for five straight years along with retained earnings also increasing in every one of those five years. In 2009, it had revenue of $128.5 million, and in 2013, had revenue of $300.6 million. Gross profit has gone from $47.3 million to $139.8 million in the same time period. One ratio I like to compare when doing research is the cost of goods sold ratio. I look for a decrease in year-to-year operations, and Geospace Technologies fits the bill. Previous years, that ratio has been in the low 60 percentile. Year ending 2013, it was only 53.51%. If this ratio can continue to decrease in the next year, and get under 50%, that would provide a higher indication for future increased gross profit.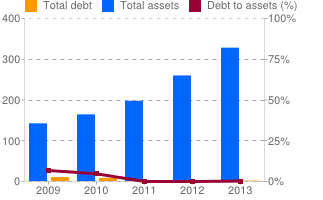 Sources: Google Finance
One financial classification that amazed me is that Geospace Technologies has a history of having zero, I repeat, zero total debt. They had zero total debt in both 2011 and 2012, and reported only had $0.93 million in total debt in 2013. No interest payments to pay off any long term debt will allow Geospace Technologies to have lower total liabilities.
I am always on the lookout for companies whose stock price has been on the decline, but have strong financials. Geospace Technologies fits that criteria. Geospace is down roughly 63% from its 52-week high, which was $107.93 back on Nov. 15th, 2013. Inversely, if the stock rose back up to $107.93, that would be an increase of 172%. I am no way saying I believe Geospace is going to get back to that level within three months, but based off its current price level, I would not be shocked to see a 100% return in the next six to nine months.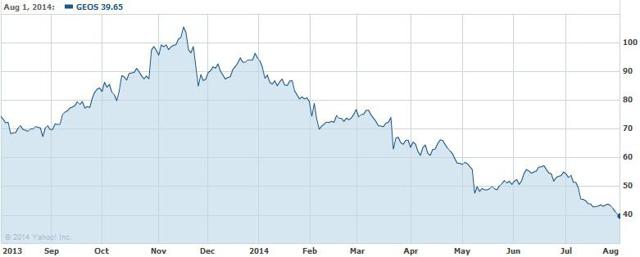 Sources: Yahoo Finance
Disclosure: The author is long GEOS. The author wrote this article themselves, and it expresses their own opinions. The author is not receiving compensation for it (other than from Seeking Alpha). The author has no business relationship with any company whose stock is mentioned in this article.