A little over one month ago I published an article entitled "Should You Sell ETW And Buy EXG?". The basis of the recommendation was rooted in the fact that while Tax-Managed Global Buy-Write Opportunities Fund (NYSE:ETW) and Tax-Managed Global Diversified Equity Income Fund (NYSE:EXG) have exhibited long-term average discounts of around -8%, the discount of ETW had narrowed to about -3.31%, while that for EXG remained high at -8.45% (discount differential of 5.03%). Given that the two CEFs are both global option-income funds, are run by the same investment company, possess some portfolio overlap and have highly similar investment mandates (the main difference being EXG's option coverage of 50% and ETW's option coverage of 100%), I suggested that an investor could take advantage of the mean-reverting nature of CEFs by buying EXG and selling ETW.
Happily, this investment thesis has played out so far. Over the past six weeks, the discount for ETW had widened from -3.31% to -3.93% while the discount for EXG had narrowed from -8.45% to -5.60%, meaning that the discount differential had shrunk from 5.03% to 1.67%. Hence, the trade was up more than 2.6% in 6 weeks. My own personal trade was executed on June 17th, though unfortunately it took a few more days until my article was published on Seeking Alpha.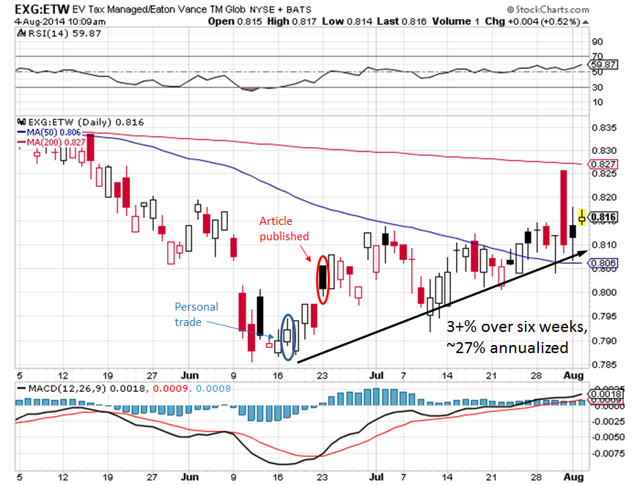 While 2.6% over six weeks doesn't seem much, keep in mind that i) this works out to be ~23% annualized, and ii) this was a hedged strategy, meaning that I merely sold my existing holdings of ETW and used the proceeds to buy more EXG, while keeping the total dollar value of the two funds constant.
Given that the discount differential between EXG and ETW has narrowed significantly, I am now closing this trade. I will be selling off some shares of EXG, but I won't be repurchasing ETW at this juncture. Instead, I plan to purchase some high-yield securities that have fallen hard over the past few weeks, as this is the main goal of the "Buy-the-Dip High-Yield portfolio. The first-half performance of the portfolio, which includes CEFs as a major component, is presented here.
Disclosure: The author is long EXG. The author wrote this article themselves, and it expresses their own opinions. The author is not receiving compensation for it (other than from Seeking Alpha). The author has no business relationship with any company whose stock is mentioned in this article.