By Evangelos Pazarentzos, Ph.D. and Gorjan Hrustanovic
The Background
Medivation (NASDAQ:MDVN) is a clinical-stage bio-pharmaceutical company operating out of San Francisco, CA. Medivation's lead (and currently only) drug is Enzalutamide (Xtandi), an FDA-approved second-generation Androgen Receptor ("AR") inhibitor. Enzalutamide is partnered with Astellas Pharma, in which MDVN retains 50% of Xtandi profits in the US, and high-teen % royalties in the EU alongside pre-determined royalties from Astellas.
On January 29th, MDVN presented its PhIII PREVAIL data, which showed unprecedented results for Castration-resistant Prostate Cancer (CRPC) patients in the "pre-chemo" setting. The stock reached highs of $85.83 as a result of this news.
In light of the PREVAIL data, we believe MDVN is one of the most compelling investments in the healthcare sector today. Xtandi represents the next step towards translating a new generation of highly selective and potent oncoprotein inhibitors to the clinic, and that will ultimately extend the lives of thousands of prostate cancer patients.
The Prostate Cancer Landscape
Prostate cancer is the leading cause of cancer death in American men. 230,000 men are diagnosed each year in the US alone, and 30,000 die each year. The progression of prostate cancer, along with the current therapeutic landscape, is outlined below.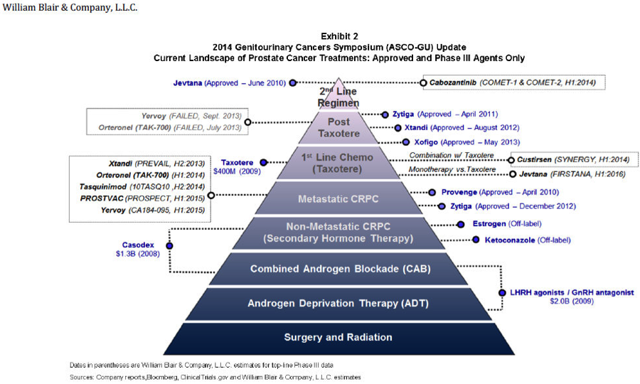 Importantly, there are significantly more patients in the earlier stages of prostate cancer progression than in the later ones, so "front-line" therapies like Casodex see significantly more patients and longer duration of therapy, than "end-of-the-line" therapies. The most commonly used agents in the pre-chemo settings are, in order, (in combo with hormones) Casodex (bicalutamide - AZN) and Zytiga (Abiraterone - JNJ). The MDVN investment thesis stands on the belief Xtandi will likely expand to the front-line settings.
Casodex (bicalutamide): This is the frontline "hormone-therapy" AR inhibitor, frequently given in combination with, or after, LHRH agonists or GnRH antagonists (testosterone deprivation) therapy in locally-advanced prostate cancer. Bicalutamide is a "first-generation" AR-inhibitor that was a >$1.3B drug for AZN in 2008, though is off-patent now. Even with generic competition since 2008, it has still sold ~$300mil last year (2013).
Zytiga (Abiraterone): Zytiga is a CYP17A inhibitor from JNJ that inhibits CYP17's ability to biosynthesize androgens, effectively serving as androgen-deprivation therapy. Thus, Zytiga targets the "ligand" presumably responsible for AR activation. Zytiga is currently approved for patients in the post hormone, pre-chemo setting. Peak sales estimates have been as high as 4.7B. Sales have been good, reaching 1.7B in just its second full year on the market in 2013 and being on track to surpass 2B this year with sales for 1H2014 reaching 1.074B. However, sales have been stagnating since Xtandi's rise to market, and will likely continue to be negatively affected by Xtandi, especially after the PREVAIL data (SEE BELOW). Two months ago, the US patent and trademark office extended a method of use patent for JNJ's Zytiga. Zytiga patent extension allows exclusivity for Zytiga until at least 2018, and maybe later. When Zytiga goes off patent, presumably cheaper generic alternatives will then be given the green light. However, Zytiga's patent extension is actually beneficial for future Xtandi revenue, because it will delay cheap generic competition in the space and delay pricing pressure on Xtandi.
Provenge (NASDAQ:DNDN): Dendreon's NK-cell therapy is also approved in the pre-chemo setting. However, due to its non-competing MOA and poor acceptance clinically, we will not discuss it as a direct competitor to Xtandi.
To tap into the prostate cancer market, agents typically start clinical investigation in post-chemo salvage setting, and then, once they show efficacy, work their way up with subsequent trials. In 2012, on the legs of the post-chemo AFFIRM trial, Xtandi was granted approval for the post-chemo setting, and the drug has been seeing 30% quarter-over-quarter sales growth, ultimately leading to MDVN's first positive-EPS quarter in 4Q13.
Xtandi will outcompete Zytiga in the pre-chemo CRPC setting
The major, imminent, question for MDVN is whether Xtandi can outcompete Zytiga in the pre-chemo setting. On January 2014, MDVN released the data for PREVAIL, a PhIII study evaluating Enzalutamide in the pre-chemo, mCRPC setting. The results were unprecedented, and have provided strong support for Xtandi's superiority over the already-approved Zytiga. This is key, since much of MDVN's valuation is placed on how it will fare against Zytiga's peak-sales estimates in the pre-chemo setting. Current PDUFA for pre-chemo prostate cancer is September 18th. However, given the impressive PREVAIL results presented in January, an earlier (and surprise) approval is certainly not out of the question. Early approval would in theory lead to quicker and faster-than-anticipated uptake of Xtandi in the pre-chemo setting, leading to significantly higher revenues that will likely surpass the conservative FY2014 guidance. Of note, in the post-chemo setting, Xtandi received approval approx. 9 weeks early (9-10 weeks prior to September 18th could have been early July so decision is anticipated any time now). Ultimately, the market share question will come down to physician (both urologist and oncologist) choice and awareness. However, this choice is much more clear than MDVN's current market cap reflects. We will go over a few scientific reasons for Xtandi's superiority over Zytiga in the next section, but there are now also significant clinical data to support this point. Here's why:
Physicians, when presented with two treatment options will assess two things that will dictate which to use first: 1). Safety and 2). Efficacy. Enzalutamide edges out Zytiga in both.
Effectiveness: Even though cross-trial comparisons should be taken with a grain of salt (no direct trials have been initiated comparing Zytiga and Xtandi directly in the pre-chemo setting), here is a table comparing commonly measured metrics in the respective pre-chemo Phase III trials:

By all metrics, Enzalutamide outperforms. Similar retrospective cross-trial analysis has already been performed for the post-chemo trials. A poster presented at 2013 Genitourinary Cancers Symposium (J Clin Oncol 21, 2013 suppl 6; abstr217) compared the analysis from the respective Phase III trials and concluded in a cross-trial comparison that Enzalutamide indeed outperformed Zytiga. Their conclusion stated: "In this indirect comparative effectiveness analysis, [Enzalutamide] appears to be more effective than [Abiraterone] in time to PSA progression, rPFS, and PSA response. OS was not different". However, OS is hard to interpret since both studies had significant patient cross-over.
Safety and Convenience: Enzalutamide is more convenient (1 pill type/day) while also having a favorable safety profile to Zytiga, particularly given CRPC's patient population. Zytiga suffers two major drawbacks (i, ii), and one minor one (III):
i). Steroids. Zytiga must be taken with steroids (prednisone), Enzalutamide does not. These steroids are associated with adverse events that many physicians find unfavorable.
ii). Cardiovascular risk. Zytiga may have higher cardiac (hypertension) adverse events. Enzalutamide is generally considered safer for patients with pre-existing cardiac or hypertension problems. An update from ASCO 2014 notes that Zytiga's hypertension risk is 2x higher than Enzalutamide's. The average age of a prostate cancer diagnosis is 66, so it is largely an elderly population disease. Elderly populations in the US are likely to have cardiac and/or hypertension problems, so this will likely impact physicians' prescription choices in favor of Xtandi.
iii). Diet. Zytiga comes with diet restrictions, largely due to the prednisone.
Moreover, previous concerns of seizures associated with use of Xtandi seem to not be an issue with recent data updates from Xtandi.
Zytiga achieved worldwide sales of 1.7B in 2013, and is expected to obtain 2.5B in 2014, with peaks sales at approx. 4.6B in 2017. In JNJ's 1Q14 conference call, they reported that Zytiga was in control of 34% of the mCRPC market. If we look at US sales of Xtandi and Zytiga in the last 3 quarters of 2013, we see a 30% increase in quarter-over-quarter sales of Xtandi, yet a rather stagnating picture for Zytiga. Keep in mind, these figures are all prior to the PREVAIL data in January, which are likely to shift these trends in Xtandi's favor even more. Physician sentiment is skewing heavily in Xtandi's favor, with some reports placing the Xtandi/Zytiga split at 70/30 market share.
It is also important to note that there is strong rationale for the combination use of Zytiga and Xtandi together. Indeed, there is an investigator sponsored trial assessing the combination in the pre-chemo setting. When looking at Zytiga vs. Xtandi, most patients will likely end up seeing both during the course of their prostate cancer treatment. However, due to cross-resistance, the treatment given first will likely see a much longer duration of treatment than the second (which = significantly higher sales). We believe Xtandi will overwhelming be the frontline therapy choice, here's why:
A potential mechanism of resistance to AR inhibition is expression of AR-V7. AR-V7 promotes resistance to both Zytiga and Xtandi. However, in a small sample size of Xtandi/Zytiga naïve patients, 25% of Xtandi-resistant patients developed ARV7 whereas 51% of Zytiga-treated patients developed ARV7. Since presence of ARV7 would make a patient cross-resistant to both therapies (thus sequential therapy would not work), this data provides rationale for Xtandi use before Zytiga and reinforces our previous points (see above) about the rationale of using Xtandi as a superior drug to prevent cross-resistance with a potential paradigm of treatment as shown below: Xtandi -> Zytiga > Zytiga -> Xtandi.
In reality, we believe that in time both drugs will be given to patients either in succession, or in combination. However, since cross-resistance does indeed occur with these two agents, whichever one is prescribed first will likely see the longer treatment duration, which will translate to higher sales.
Working its way up (STRIVE/TERRAIN) to the front-line setting
MDVNs future success vs. Zytiga in the pre-chemo setting is currently underappreciated, but this is far from where the story ends. It is currently in PhII trials assessing its utility in the front-line setting directly against bicalutamide (Casodex). These trials are TERRAIN in the EU and STRIVE in the US. Data for TERRAIN is expected mid-summer 2014 (soon), while STRIVE is seeing rapid enrollment with data expected in mid-summer 2015 and thus represent significant upcoming catalysts for MDVN.
In oncology, the mechanisms of resistance to therapy can teach us a lot about the primary drivers of disease. It is well known that the AR is the primary driver of disease in the vast majority of prostate cancers, however this is also proven by the fact that the majority of bicalutamide resistance consists of rescue of AR signaling, despite presence of drug. So, why is Xtandi clinically more effective than Casodex?
Xtandi was discovered in Casodex-resistant cells and the specific steps that were taken towards its discovery are nicely presented in several reviews Expert Opin Drug Discov. 2014 Jul;9(7):837-45
During pre-clinical development, Enzalutamide was found to be much more effective in killing AR-overexpressing cells compared to Bicalutamide
Mechanisms of resistance to Casodex almost always include AR-centric alterations. Enzalutamide is a second-generation androgen-receptor inhibitor (bicalutamide is the first) that has 100x more potency against the AR in vitro than bicalutamide. Moreover, Enzalutamide has the unique ability to not only bind to the AR with stronger affinity, but it does so in such a way that it prevents multiple steps in the AR activation pathway. Not only does Enzalutamide prevent binding of ligand (testosterone) to AR, but it also inhibits both the nuclear import of AR and DNA-binding of AR (below).
If successful, these trials would not only suggest Xtandi as the drug of choice after hormone therapy, but significantly increase the sales and value of MDVN. If TERRAIN data are sufficiently impactful, the market share that Xtandi will have access to will far surpass just the pre-chemo segment and spill into the much larger front-line setting. The question is, will Enzalutamide have success when directly compared to Bicalutamide? As it stands, Xtandi's TERRAIN and STRIVE trials will likely ultimately succeed.
Expanding the clinical utility of Enzalutamide:
Active research is ongoing on Enzalutamide to define and combat therapy resistance. Combination therapy trials (Xtandi + another agent) are already underway, and are likely to extend the clinical utility and treatment duration of Xtandi. Of note, Sawyers et al. have identified glucocorticoid receptor (GR) upregulation as a frequent and clinically targetable mechanism of resistance to Enzalutamide (Figure 3).


Figure 3. Taken from Sawyers publication, Cell 2013 PMID:24315100. Correlative clinical data showing GR-upregulation which they describe that leads to resistance to Enzalutamide in most patients screened.
These findings have led to the initiation of clinical trials testing GR-inhibitors (such as CORT's Mifepristone) in combination with Enzalutamide in both prostate cancer and breast cancer.
There are currently 35 clinical trials with Enzalutamide for several indications and several stages of prostate cancer. However, the readouts for these trials are not for some time, and by that point, we believe Xtandi's role in the prostate cancer market will be well defined.
Breast Cancer and Bromodomains
A portion of Triple-Negative Breast Cancers (TNBC) are thought to be driven by AR signaling. Thus, Xtandi is also being explored in two PhII trials in this patient population. Although there is strong scientific rationale for success in this unmet need, the market is not placing/pricing in significant value to this indication. This is likely due to the fact that Zytiga has tried and failed in this indication. In fact, it is hard to come by an analyst report even mentioning these trials since the prostate cancer prospects are dominating Xtandi dialogue. However, we believe that, given Xtandi's more direct MOA on the target, likelihood of success is much higher.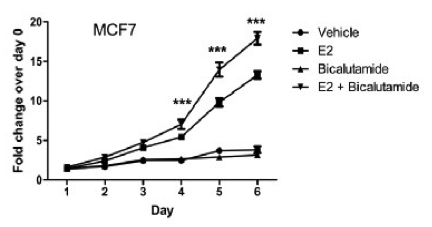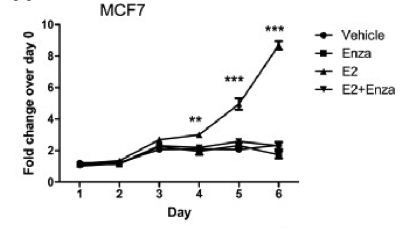 Figure 4. Example of one of the numerous pre-clinical data for efficacy of Enzalutamide in breast cancer indications. Enzalutamide inhibits proliferation of breast cancer cells while bicalutamide does not (obtained from Breast Cancer Research 2014, 16:R7 doi:10.1186/bcr3599
Further potential upside rests in MDVN's recently announced partnership with Oncofusion and their Bromodomain targeting inhibitors. These candidates represents MDVN's first pre-clinical candidates since the launch of Xtandi. Although this family of inhibitors has tremendous potential, we do not attribute any value (in terms of an investment thesis) to these compounds quite yet. However, developments or IND/PhI's with this pipeline are definitely something to watch out for and consider, and will likely provide further upside.
Valuation and Projections
The market of prostate cancer is currently at 27B and is expected to reach 50B by 2017 (with 17B in the diagnosis and screening segment, and 14.3B for surgery and radiation, and approx. 15-20B left for therapeutics like Xtandi to compete for).
The pre-chemo market category itself is expected to be ~9.5B by 2021. Xtandi is expected to capture the largest portion of this market for the reasons mentioned above. We believe this will amount to a 75/25 split favoring Xtandi, projecting Xtandi as high as 7B/yr by 2021.
This high projection for Xtandi will be driven by positive results from the STRIVE/TERRAIN trials, which should begin to solidify Xtandi as the frontline therapy option among Urologists. In June, Stifel noted that a survey of urologists showed that they prefer Xtandi over Zytiga by a 4-3 margin, a ratio that will likely increase significantly with STRIVE/TERRAIN data. Likewise, Citigroup has recently conducted a similar survey and reported "very favorable" results for Xtandi, and went on to raise 2015 sales estimates to 1.75B.
We believe fair valuation of MDVN (taking into account the current peak sales estimates) in the pre/post-chemo settings is about ~5B. However, with addition of the 400,000 patient hormone sensitive/refractory market (i.e. the patient population in STRIVE/TERRAIN), this could well double the future sales of Xtandi. Thus, positive STRIVE/TERRAIN data combined with ever-increasing sales of Xtandi will ignite a rapid increase in MDVN share value, which likely lead to a 11B market cap by this time next year (which would represent about 3x of our peak sales estimate, 7B (3.5B of which going to MDVN)).
Disclosure: The author is long MDVN. The author wrote this article themselves, and it expresses their own opinions. The author is not receiving compensation for it. The author has no business relationship with any company whose stock is mentioned in this article.