Company Description
According to management, Catamaran (NASDAQGS: CTRX) is a pharmacy benefit management and Healthcare IT provider that "helps organizations and the communities they serve take control of prescription drug costs. Catamaran manages more than 350 million prescriptions each year on behalf of over 32 million members and processes one in every five prescription claims in the U.S. The company relies on skill and scale to deliver compelling financial results and sustainable improvement in the overall health of members."
The PBM industry consists of several major players, Express Scripts (NASDAQGS: ESRX), CVS Caremark (NYSE: CVS), UnitedHealth Group (NYSE: UNH), and Catamaran (NASDAQGS: CTRX). As a smaller player, Catamaran currently holds about 10% market share.
History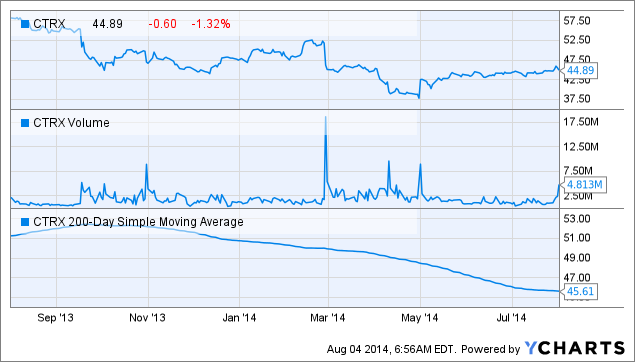 Catamaran started as a Healthcare IT provider, but transitioned into a Pharmacy Benefits Manager through acquisitions. The company expanded PBM customers by cross-selling its PBM services to clients that were already using their technology platform. To boost organic growth, Catamaran made several acquisitions in the PBM business to expand market share.
Commentary on Q2 Results
Financial performance exceeded estimates in a number of areas with revenue of $5.4B, ahead of $5.0B consensus, EBITDA of $188.5M, ahead of $188M consensus, and EPS of $0.54, ahead of $0.51. Growth reflects faster than expected integration of Cigna partnership and Restat acquisition.
Revenue has increases 58% year over year driven by the Restat acquisition and implementation of new customer contracts from the Cigna (NYSE: CI) partnership. Adjusted prescription claim volume for the PBM segment increased 49% to 101.2M from 68.0M in Q2/2013
YTD contract wins of $600M is in line with last year. Although large health plans are not expected to switch PBM providers in 2015, Catamaran is currently bidding on 2016 start dates
Management guidance was nudged slightly towards higher revenues and lower EBITDA for the year.
Leverage ratio dropped to 1.04x from 1.13x in Q1/2014 due to cash generation and debt repayments. Since the Restat and Cigna integrations have seen progress ahead of schedule, management has the option to pursue small acquisitions to boost technology and supplement organic PBM growth
Investment Rationale
Undue Pessimism: I believe that pessimism surrounding the PBM industry has exerted downward pressure that has been overly exaggerated. Concerns about private exchanges damaging the existing PBM business are overblown, and enrollment in these exchanges have been lower than expected. In fact, growth in the PBM industry appears strong in light of the Affordable Care Act. Despite its premium software offering, Catamaran trades in line with peers Express Scripts (NASDAQGS: ) and CVS Caremark (NYSE: ), shown in the comparables table below. The firm also has the needed scale to negotiate effectively with suppliers. Thus, Catamaran is not only in a position to take market share from its competitors, but also benefit from a rebound in industry outlook.
Strong Growth Potential: Catamaran maintains a strong competitive position due to its top tier technology platform and ability to customize its services to meet consumer demands. On the contrary, mega-sized players in the PBM industry, such as Express Scripts and CVS Caremark, only have the ability to provide tailored solutions to their largest clients. Thus, Catamaran should be able to expand from its ~10% market share by capturing small and medium sized customers. Recent financial performance further confirms Catamaran's ability to grow.
Comparables Table
| | | | |
| --- | --- | --- | --- |
| Catamaran | FY 2013A | FY 2014E | FY 2015E |
| P/E | 22.6x | 20.5x | 17x |
| EV/EBITDA | 15.5x | 13x | 11x |
| Peer Group | | | |
| P/E | 18.1x | 17x | 16x |
| EV/EBITDA | 11.8x | 11x | 10.5x |
Source: Bloomberg
Conclusions
The ratio analysis above shows that Catamaran trades in line with peers based on FY 2015E earnings multiples. Given Catamaran's growth potential and competitive position, I believe that Catamaran is a compelling long idea and should trade at a increased earnings multiple (around 13x FY 2015E EBITDA) over its peers.
Disclosure: The author has no positions in any stocks mentioned, and no plans to initiate any positions within the next 72 hours. The author wrote this article themselves, and it expresses their own opinions. The author is not receiving compensation for it (other than from Seeking Alpha). The author has no business relationship with any company whose stock is mentioned in this article.