Love them or hate them, but without Paramount's billion dollar Transformer franchise this summer's box office would be even more in trouble than it already is this late into the season. However, there is a silver lining and it's coming from the most unlikely place…the month of August. Not usually known for producing blockbusters, this year the dog days of summer could end up being a scorcher in more ways than one.
Here's a look at three entertainment companies that are looking to help the summer go out with a bang while at the same time helping its investors turn a profit.
Disney (NYSE:DIS)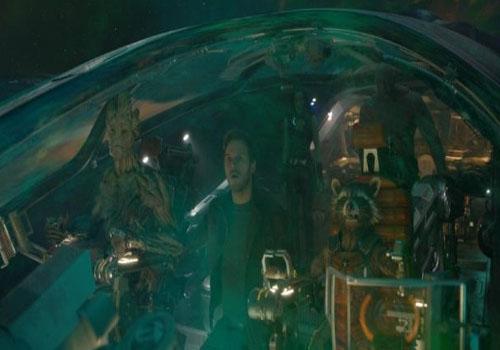 (Credit: Disney)
You can't have this conversation without looking at the Mouse and his friendly neighbors super-heroes. Having Marvel under the Disney umbrella has been a huge boon for the company and the deal's impact has had major implications across all of the company's subsidiaries including most notably ABC which has made a huge investment in the Marvel portfolio for its lineup.
Although looking strictly at the film side, this weekend proved very big for the house the Mouse built as Guardians of the Galaxy soared to a $94 million opening. What's even more impressive is that when paired with April's $95 million opening of Captain America: The Winter Soldier, it spotlights a new industry trend.
For the last few years Hollywood's summer season has been quietly bleeding over to April. It was a change that really began to take hold following Fast Five's monster debut back in 2011 and it continued in 2013 with Oblivion and then again this year with Solider. This is a welcome change for theater owners that have been begging for studios to space out their tentpoles.
With Solider and now Guardians, Disney has shown you can launch a major hit film outside of that May/June/July window and given that Guardians was a virtually unknown franchise to the mainstream just two years ago, its success should speak volumes for the future. Expect Guardians to continue to help boost Disney's revenues and the overall box office in future weeks as this has been a brand new toy for the company to play with across all areas.
Viacom (NYSE:VIA)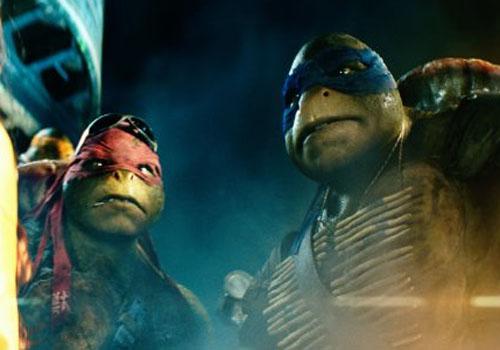 (Credit: Viacom)
Analysts agree though that it is going to take more than Guardians to shake the slump the box office has been in and all things equal it is very likely that the industry is still looking at a 10% season-to-season decline (if not larger). However the super-hero film will have some help as again this could be one of the strongest lineups of August films in a long time.
One of the best chances to keep the success streak going is the Teenage Mutant Ninja Turtles re-boot which hit theaters this Friday. Make no mistake, this is a big deal for Viacom across two different subsidiaries: Paramount and Nickelodeon. For the movie studio this is a chance to bring what was once an extremely profitable franchise back to life, while on the TV side it's a way to keep the momentum going on what has been a well-received return to form.
Investors need to be aware that this actually digs even deeper in Viacom's business as in both cases the consumer products teams will looking to help fuel box office receipts as well. Ninja Turtles appeal to multi-generations and those who grew up with the franchise will likely be looking to pass the interest onto their kids. It's a little early to talk about estimates for opening week, but keep an eye out nonetheless as its success or failure will have a multi-layered impact on the stock. A lot is banking on this debut.
Lionsgate (NYSE:LGF)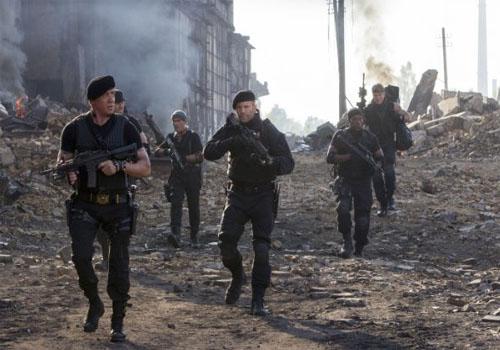 (Credit: Lionsgate)
Liosngate's always been a dark horse at the box office and to be honest, a dark horse in the industry overall. With a portfolio that includes a thriving film division, a TV production wing that includes such powerhouses as Mad Men, Nashville, Orange Is The New Black and Nurse Jackie and TV networks that include Epix, TVGN (TV Guide Network, in partnership with CBS), this is a brand that has a hand in everything.
For investors though it's been a good summer as the stock price started out around $26 in early June and now sits at around $31 (as of this writing). The biggest leap in that period came right around the time Orange received its massive haul of Emmy nominations in mid-July. Now with two movies starting in back-to-back weeks that needle is going to jump again.
This August Lionsgate has the latest in two of its marquee franchises: Step Up and The Expendables. Dance brand Step Up has had all but one of its films debut during the summer and currently the movie sits at a worldwide combined gross of over $600 million. Meanwhile Expendables is getting ready for the third movie in the profitable trilogy with new cast members Harrison Ford, Wesley Snipes and Mel Gibson entering the fray.
What's interesting to note here is that both franchises have opened domestically to less and less money with each installment, but internationally audiences have shown up and their worldwide tallies have increased picture-to-picture. Granted it's a small sample size for Expendables, but it is still a telling statistic. These are both potent brands for Lionsgate and investors should remember that especially with Gibson joining Expendables 3 and a few franchise favorites returning to Step Up, the films will have additional eyes on them.
Now realistically while it's unlikely either of the above or Teenage Mutant Ninja Turtles will open to Guardians level at the box office, the trio paired with The Weinstein Company's adaptation of The Giver and Sin City sequel, A Dame To Kill For, will still present a formidable slate and one that collectively can help make up for a summer than until this last weekend had only produced one big budget mega-smash.
Hollywood studios may not be able to make back off all of their money, but this is the best roster they could hope for to recoup a significant share.
Disclosure: The author has no positions in any stocks mentioned, and no plans to initiate any positions within the next 72 hours.
Business relationship disclosure: All opinions expressed are the authors and no compensation outside of Seeking Alpha is being received. The author has a business relationship with a subsidiary of Disney but is not a full-time employee.