It's no secret that I've been critical on Pandora (NYSE:P) for the better part of the last year.
With Apple's iTunes Radio and Spotify on the scene, the noose is starting to tighten around Pandora, a company that can't seem to turn a profit and still seems to have the blessing of those participating in the public markets.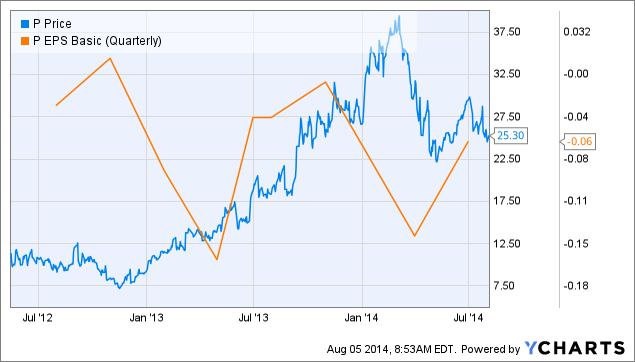 P data by YCharts
For the trailing twelve months, Pandora has still turned an astounding 30%, even though the stock has been off 4.9% year to date. I've contended that the buying is a result of analysts pumping the name combined with institutions continuing to prop the name up. Only time will tell if I'm right.
My last piece contended that Pandora has proven that all analysts can be wrong.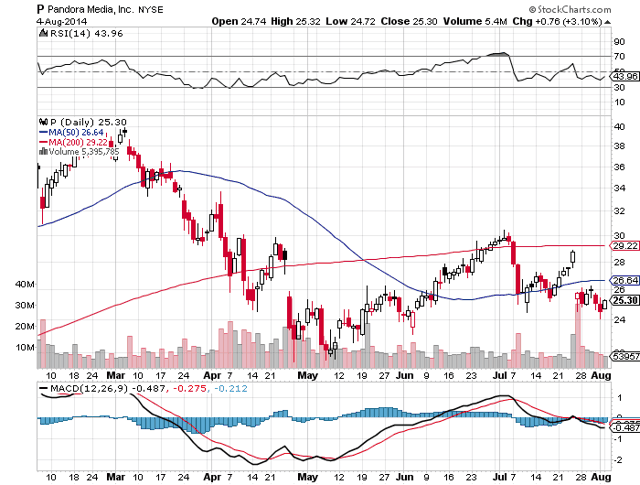 In addition, my near daily usage of Pandora (not by my choice) over the span of 2012-2013 had me convinced that the service is far inferior to iTunes Radio, which carries a larger music catalog, is available more places internationally, and has less commercials. Pandora's ad content has appeared to grow as the days push forward, and the content per station gets repetitive as soon as you've listened for only a couple of hours.
In addition to that, the company's metrics as a public corporate entity have been anything but reassuring. I started critiquing the company's active listener decline at the end of last year and into this year.
In addition to that, the company trades at a multiple that I don't believe it deserves. It's somewhere in the hundreds. I lost track.
Now, as part of the plan to try and revitalize the company, news has come out that they're considering talk radio. So much for all of the bulls that were hanging on to the "music genome project" argument that made this company so special. Even if they tried to apply that concept to talk radio, I don't think it would work. Regardless, Pandora seems to be abandoning the one item that was unique to them in the "music genome project". Remember reading all of the bullish analyses that swore to you up and down that it was going to be the beginning of something massive in streaming music? Yeah, well, not so much.
Seeking Alpha reported:
"Music's an important piece of radio listening in the car, but if there's a place where spoken word is also equally, and more important really, it's in the car," says Pandora CFO Michael Herring, explaining why the Web radio leader is thinking of adding talk radio to its offerings.
Pandora mentioned on its Q2 CC (transcript) it now has 7M unique users who activated Pandora via "native automotive integrations," up from 2.5M a year ago. However, automotive listening currently averages 6 hours/month, well below the 21.1 hours averaged by Pandora's 76.4M total active listeners.
Pandora was pressed by analysts about its soft June active listener growth (-1% M/M and +7.5% Y/Y) on its CC. While listener engagement remains strong - listeners' hours rose 29% Y/Y in Q2 - concerns have grown that competition from Spotify, Apple (NASDAQ:AAPL), and others has hurt user growth. Talk radio could provide a way to expand Pandora's base.
The good news is that it wouldn't likely take up a bunch of capex to introduce talk radio. You're going to have talent that needs to be paid for, obviously, but the rest of the infrastructure necessary shouldn't be too expensive. But, if Pandora keeps making the move towards being a Sirius XM style of streaming radio station, you are talking about spending a ton more money before the company has ever made any. That has dilution written all over it.
A great piece was out a couple days ago by Shock Exchange that contends that Apple is saying to Pandora that "market share is good, but profits are better". I tend to agree.
Even at $25/share, Pandora appears to still be overvalued here. Until we can draw a direct line from this company to profitability, I'm not interested in paying anything more than single digits for Pandora.
Best of luck to all investors.
Disclosure: The author has no positions in any stocks mentioned, and no plans to initiate any positions within the next 72 hours. The author wrote this article themselves, and it expresses their own opinions. The author is not receiving compensation for it (other than from Seeking Alpha). The author has no business relationship with any company whose stock is mentioned in this article.