By Clinton Holmes
Seriously, when I first saw AT&T's (NYSE:T) dividend yield was above 5%, I couldn't believe it. AT&T is a long-standing proven company. Over the last two decades, AT&T has had multiple periods of explosive growth.
The first period of growth came between 1995 and 2005 when revenue and net income almost tripled due to the activation of AT&T's mobile infrastructure.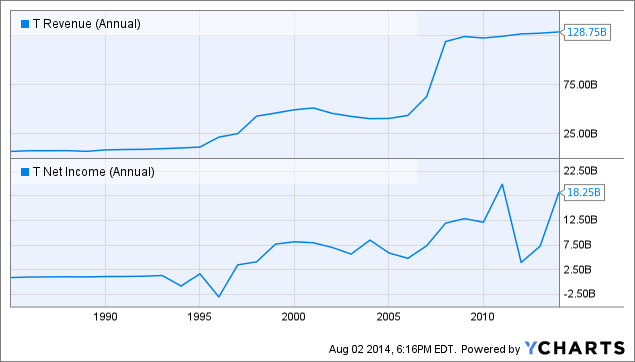 T Revenue (Annual) data by YCharts
The second period of growth came between 2005 and 2009 when revenue tripled and net income doubled thanks in large part to AT&T's exclusive rights to Apple's (NASDAQ:AAPL) iPhone.
With interest rates still in the gutter, it doesn't make sense to me that investors haven't driven the 5% dividend yield down by gobbling up shares of AT&T. As you can see, there has actually been a divergence between the dividend yield of AT&T and the SPDR Barclay TIPS ETF (NYSEARCA:IPE).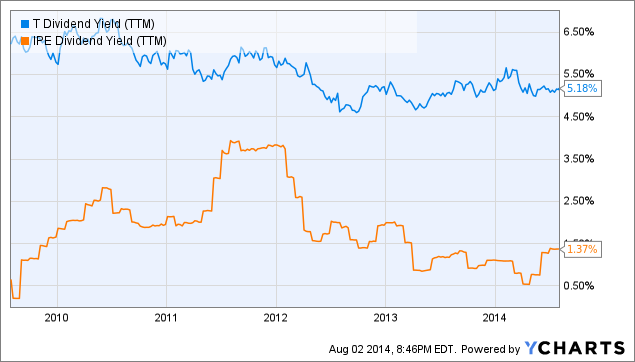 T Dividend Yield (TTM) data by YCharts
So, what is going on here?
Today I wanted to share my analysis of the company so that someone brighter than I might be able to validate my hypothesizes for the high dividend yield; or even better, enlighten the community with a hypothesis of their own in the comments.
Within my analysis I examined:
The security of AT&T's dividend
AT&T's ability to grow top and bottom line relative to to peers Verizon (NYSE:VZ) and Sprint (NYSE:S)
The health of AT&T's balance sheet
The Dividend is Secure for Now
This is the first reason I thought investors would ignore the 5% dividend yield of AT&T. It makes sense that if the dividend is not secure, it is not worth investing in. From the data I have seen, that is just not the case.
In the trailing twelve months, AT&T paid just about $1.40 per share in dividends on $3.40 in earnings per share.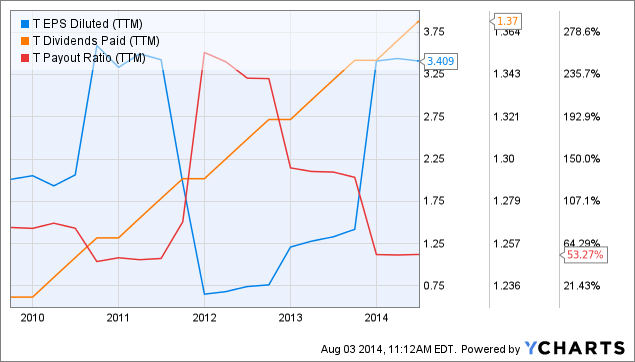 T EPS Diluted (TTM) data by YCharts
This represents a sustainable 53% payout ratio. Looking into the future, current EPS estimates for the next four quarters still provide sufficient coverage of the $0.46 dividend. the payout ratio could temporarily increase to as high as 70% in OND'14.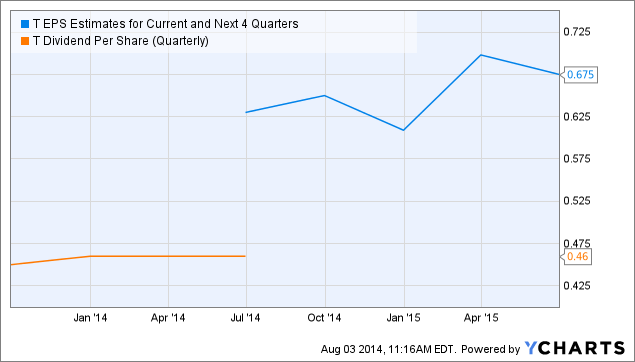 The EPS Estimates for Current and Next 4 Quarters data by YCharts
The only issue is that the payout ratio could temporarily increase to as high as 70% in OND'14.
AT&T Top Line Growth is Competitive with Peers
As stated previously, AT&T had two periods of massive growth, one of which occurred in the last 10 years. The average annual revenue growth at AT&T over the last decade was more than 600 bps higher than Verizon at 12.3%. Additionally, AT&T's growth was trending up over the decade, while both Verizon and Sprint were on a down trend; in fact, in the case of Sprint, overall revenue growth was negative.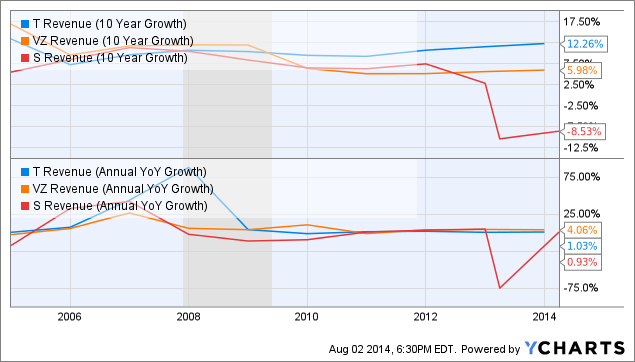 T Revenue (10 Year Growth) data by YCharts
Looking at revenue growth from a year over year perspective, it is clear that AT&T's revenue growth has slowed. Over the last year, AT&T was able to grow revenue by 10 bps more than Sprint, but lagged Verizon by 300 bps. While a potential AT&T investor would like to see AT&T's annual revenue growth to lead Verizon's, it would still take Verizon about two years to surpass AT&T as the market leader by revenue should the growth rates remain the same.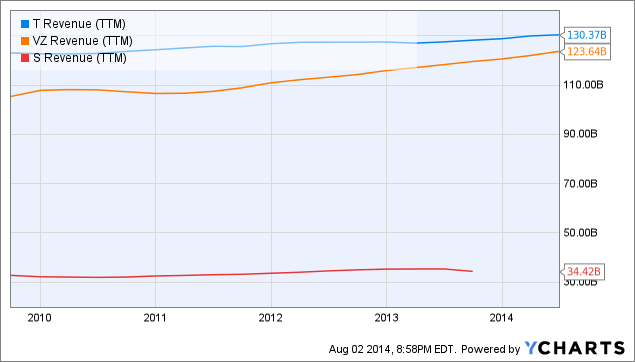 T Revenue (TTM) data by YCharts
From these two charts I would conclude that while AT&T's top-line growth has slowed, it is still competitive. Additionally, if you look at AT&T's revenue history, the company tends to go through periods of flat to slight revenue growth followed by periods of explosive revenue growth.
AT&T's Bottom Line Growth is an Advantage vs. it's Peers
Three metrics were looked at to gauge the profitability of the three companies: profit margin, operating margin, and net margin.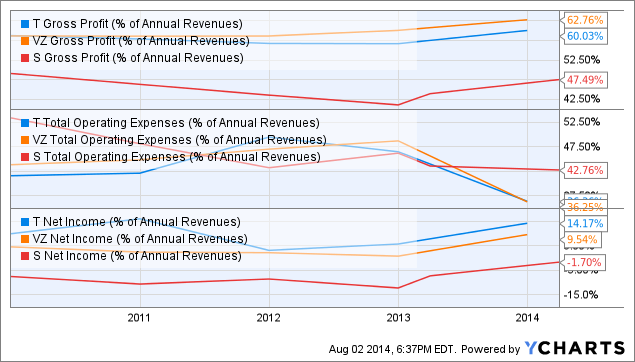 T Gross Profit (% of Annual Revenues) data by YCharts
When analyzing these charts a few observations stood out. First, the profit margins within the peer group are relatively stable. AT&T and Verizon have consistently been between 60%-62%; Sprint showed slightly more volatility, ranging from 42%-48%.
The second observation was that operating margin within the peer group has been considerably volatile. Both AT&T and Verizon have been prudent in reducing operating margin over the last two years and currently reside at 36%. Sprint is a full 600 bps higher at 42%.
The last observation was that like operating margin, net margin has had some fluctuation. However, unlike profit margin and operating margin, AT&T has consistently had the highest net margin of the peer group. Today AT&T enjoys almost 500 bps of net margin over Verizon and once again, Sprint is a clear laggard.
Overall, I believe these three charts illustrate that while there is some variability within the profit metrics of the peer group, AT&T has consistently been the most profitable.
Is AT&T's Balance Sheet What is Keeping Investors Away?
In this part of the analysis, the focus is on determining how AT&T has funded revenue and earnings growth to see if it has been done sustainably through cash generated by the business. To do this, the 10 year trend of the following metrics were analyzed:
The cash position: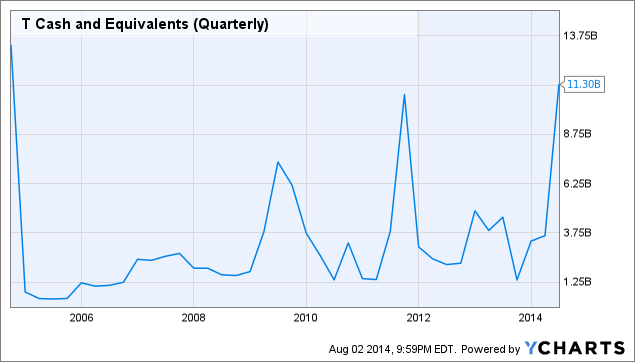 T Cash and Equivalents (Quarterly) data by YCharts
The level of debt: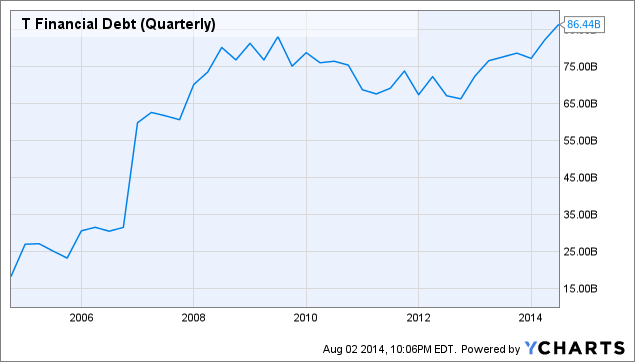 T Financial Debt (Quarterly) data by YCharts
The ratio of liabilities to shareholder equity: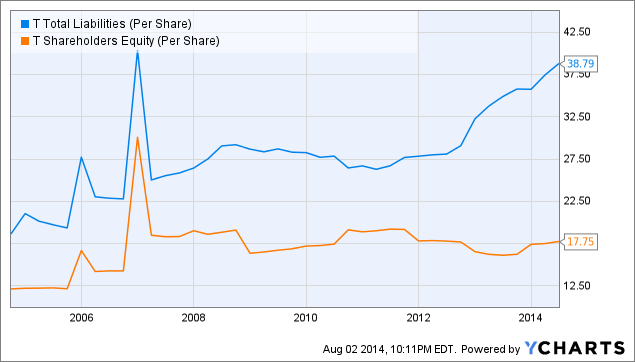 T Total Liabilities (Per Share) data by YCharts
And, finally retained earnings:
T Retained Earnings (Quarterly) data by YCharts
Let's start with the positive. With $11B in cash, AT&T is well above the average cash position over the last decade. No doubt, this will provide them with some buffer should the industry face some unforeseen challenges.
Another slight positive is the 10 year performance of retained earnings. With retained earnings trending up since 2013, it finished the decade up just over 10%, suggesting the business model is producing cash for expansion. This would be a much more significant positive if there had not also been considerable volatility over the decade because it would demonstrate that the business model is less effected by fluctuations in the economy. The remaining two charts start to explain why investors think AT&T deserves a 5% dividend yield.
Plain and simple, AT&T is swimming in debt. Since 2006, AT&T's debt position has ballooned five-fold from $16B to over $85B. Additionally, the ratio of liabilities to shareholder equity has ballooned from a low of around 1.25 in 2011 to 2.17 in 2014. This is a clear red flag for investors, because the company is financing growth through debt rather than cash generated in the business.
Concern increases when factoring in the quick and current ratios to evaluate AT&T's liquidity.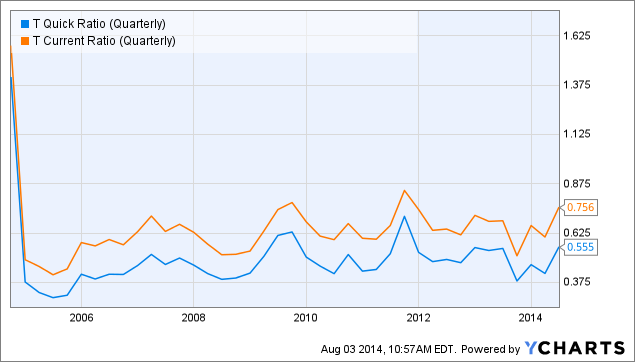 T Quick Ratio (Quarterly) data by YCharts
While it is true, both ratios appear to be just above the 10 year average, both are under 1, indicating the company does not have enough current assets to cover current liabilities. A conservative investor might find this concerning and considering the overall debt level, making them reluctant to buy.
Conclusion
My initial hypothesis for why AT&T sports a 5% dividend yield was that the dividend itself might not be secure. When this hypothesis was disproved, I thought it might be a problem with continued profitability. I believe this hypothesis was also disproved, since AT&T is competitive against its peers on both the top and bottom line.
My final hypothesis was that AT&T's balance sheet might be struggling. This is the only hypothesis to have some merit. Clearly the balance sheet is not AT&T's strong point. Debt loads are high and the liquidity measures being above the 10 year average might not be enough for conservative investor to feel their principal is secure.
What hypothesis do you have for why AT&T has a dividend yield greater than 5%?
Disclosure: The author has no positions in any stocks mentioned, and no plans to initiate any positions within the next 72 hours.
Business relationship disclosure: Black Coral Research, Inc. is a team of writers who provide unique perspective to help inspire investors. This article was written by Clinton Holmes, President of Black Coral Research Inc. We did not receive compensation for this article (other than from Seeking Alpha), and we have no business relationship with any company whose stock is mentioned in this article. Black Coral Research, Inc. is not a registered investment adviser or broker/dealer. Readers are advised that the material contained herein should be used solely for informational purposes. Investing involves risk, including the loss of principal. Readers are solely responsible for their own investment decisions.