As the S&P 500 dropped 2.69% last week, CBRE (NYSE:CBG) fell 7.67% despite reporting strong second quarter growth and earnings. Although a significant drop in value, the world's largest commercial real estate company is positioned to bounce back and push forward with their ongoing growth.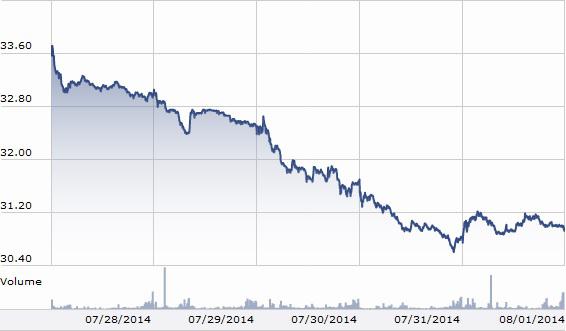 Source: Morningstar
After the market closed last Tuesday, CBG reported a second quarter EPS of 32 cents, which represents a 52% increase from the same quarter of the year over. Their revenue was $2.1 billion, which is 22% higher from the same quarter of the year over. Much of this new revenue came from the 14% increase that they saw in commercial leasing.
Since 2009 total revenue has increased over 10% each year over the last. For 2014, CBG is on track for total revenue of over $8 billion, which is more than 11% than that of 2013, and almost double the revenue of 2009. CBG has a P/E ratio of 27.15, a forward P/E ratio of 18.69, and a debt/equity ratio under 1. Even coming off the rough week CBG stock price is still up 17.68% year to date.
CBG has been seeing huge growth in the Americas which is their largest segment, but now they have made a move to increase their presence in the Pacific Region by acquiring the Australian project management firm, Paragon Project Management Pty Ltd. Through the acquisition CBG will be growing their occupier outsourcing services business, Global Corporate Services, which saw a 58% increase in second quarter revenue.
Final Comments
As the economy improves companies are expanding their locations by size and new territories. Commercial leasing is taking off, which CBG has seen double-digit revenue growth from each quarter over the last four quarters. Their dominant presence in the Americas, which grew 11% year over year, continues to expand while their more modest growth of 3% in the Pacific Region is just another prospective market CBG is looking to further capitalize on.
The 7.67% decrease CBG stock price saw last week was nothing more than a correction that was exacerbated by market volatility. CBG stock price was running steady and strong, so a small correction was in the cards, however at a 7.67% drop; investors could finally get a chance to buy in at a discount. If you have not yet had the chance to ride the success of this stock, now might be the best time to take advantage of its resilience.
Disclosure: The author has no positions in any stocks mentioned, and no plans to initiate any positions within the next 72 hours. The author wrote this article themselves, and it expresses their own opinions. The author is not receiving compensation for it (other than from Seeking Alpha). The author has no business relationship with any company whose stock is mentioned in this article.