I have slowly come to change my outlook on mortgage REITs. The sector didn't do well at all in 2013 as uncertainty about the Federal Reserves' monetary policy caused interest rates to be volatile which put mortgage security values under pressure.
However, 2014 looks to be a turnaround year for the sector which largely has presented encouraging results so far. While 2013 was characterized by a sector-wide decline in book values and ongoing earnings volatility, 2014 has served mortgage REITs quite well.
Annaly Capital Management (NYSE: NLY) should be no exception here. The mortgage REIT has a market capitalization of almost $11 billion and can be understood as a proxy for the mortgage REIT sector.
American Capital Agency Corporation (NASDAQ:AGNC), another formidable competitor in the space of mortgage security investments, just released second quarter earnings last weeks. And results were encouraging to say the least: American Capital Agency reported $2.43 in comprehensive income per share and, more importantly, presented a whopping increase in its second quarter book value: The mortgage REIT reported a 7.2% sequential increase in its net asset value, which is both a great accomplishment and a strong indicator, that the book value bleeding for one of the largest mortgage REITs in the sector has finally stopped.
It's all about the book value
American Capital Agency has bled book value throughout much of 2013 and Annaly Capital Management also suffered from a nasty book value erosion.
But AGNC's book value has now risen two quarters in a row (see below) and it raises hopes, that Annaly Capital Management will also be able to report a sequential increase in its second quarter book value this week. Investors will clearly eye Annaly's book value development when earnings are released on August 6, 2014.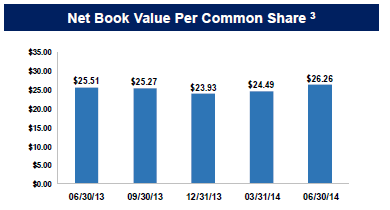 (Source: American Capital Agency Second Quarter Earnings Presentation)
From the fourth quarter of 2013 to the first quarter of 2014, Annaly Capital Management already reported stabilizing business conditions as its net asset value grew 1.3% from $12.13 to $12.30 per share. Should Annaly Capital Management be able to report an equally impressive growth rate in its book value as American Capital Agency, investor confidence could quickly return to the mortgage REIT sector.
In any case, both Annaly Capital Management and American Capital Agency have done well so far in 2014 and are solidly up. Annaly shares delivered a total year-to-date return of 18% whereas shares of American Capital Agency increased a whopping 28%.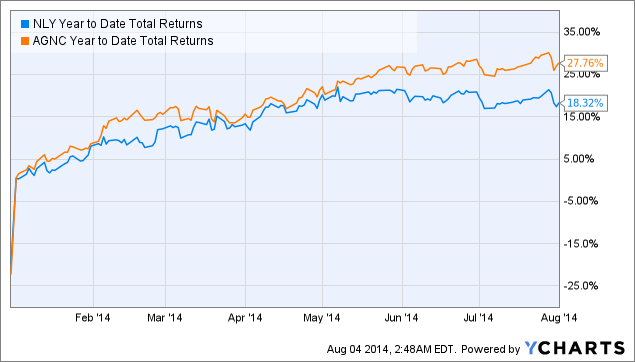 Stabilizing dividends and lower leverage
Looking at other key metrics for American Capital Agency, two developments besides the sequential book value increases stand out: The mortgage REIT further de-risked its balance sheet and brought down its 'at-risk' leverage to 6.9x from 7.6x in the preceding quarter.
Furthermore, AGNC held its dividend payments steady at $0.65 per share and now paid investors the same dividend three quarters in a row: A convincing sign, that dividend payments have bottomed out and the mortgage REIT can look optimistically into the future.
Given AGNC's strong second quarter results, investors clearly should be optimistic about Annaly Capital Management's earnings release. In fact, I believe Annaly will deliver similar results than American Capital Agency. In particular, I expect:
A second sequential increase in book value.
A lower risk profile and reduced leverage ratios.
Stabilizing dividends.
Annaly Capital Management currently pays investors $0.30 per share. Similar to AGNC, Annaly has paid its present dividend for three quarters consecutively suggesting that dividend payments indeed have bottomed out. Should Annaly be able to delight investors with solid book value results for the second quarter, I can imagine that the REIT will quickly trade at a premium to its book value.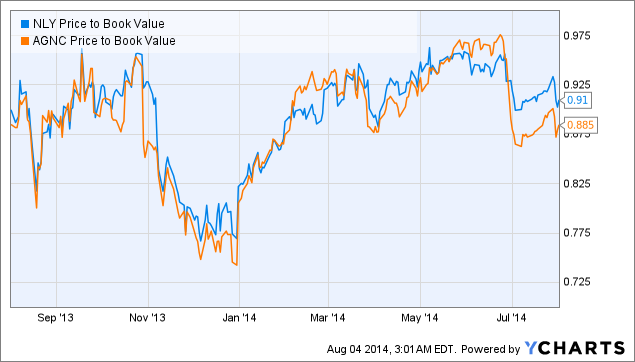 Conclusion
American Capital Agency's results certainly bode well for the sector and Annaly Capital Management in particular. Both companies are proxies for the mortgage REIT sector and both REITs already presented stabilizing dividends at the beginning of the year.
Moreover, in addition to a high dividend yield, investors in Annaly Capital Management might now even see a premium valuation, which should be driven by a return of investor confidence to the mortgage REIT sector. Buy.
Disclosure: The author has no positions in any stocks mentioned, and no plans to initiate any positions within the next 72 hours. The author wrote this article themselves, and it expresses their own opinions. The author is not receiving compensation for it (other than from Seeking Alpha). The author has no business relationship with any company whose stock is mentioned in this article.