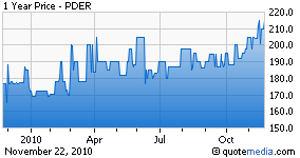 Click to enlargeThis is the first installment of the series of articles I promised to write in my earlier article titled Looking Through Pink Sheets For Value Investments. As much as the Pink Sheets can be a minefield of scams and risky investments, it can also be a treasure-trove of real companies that could easily trade on the major exchanges if they chose to do so. This lack of exposure tends to create values, as most of Wall Street will not even consider these investments.
One such treasure is Pardee Resources Company (OTCPK:PDER). Pardee is a very well managed diversified natural resources company that is primarily engaged in the management of its owned land and mineral rights. The company tends to lease its properties in return for royalties rather than becoming an operator. This allows the company to avoid the costs and risks associated with mining, drilling, harvesting and milling.
Coal
Thanks to a prudent allocation of capital in 2009 and strong prices, coal is now producing a substantial portion of the company's revenue. For the nine months ended September 30, 2010, coal accounted for $35.5 million of the $43.3 million in total revenues. The company's coal property's are primarily located in West Virginia and Colorado. In order to mitigate political risk, the company's recent acquisition of its coal property in Colorado is expected to be fully mined within the next four years. In addition, approximately 20% of the company's coal reserves qualify as metallurgical coal which commands a higher price. The company has been increasing production at both its Central Appalachia and Colorado properties. At September 30, 2010, production stood 52% higher over last year. The coal segment should keep cash flows high while the company waits for natural gas prices and timber volumes to recover.
Oil & Gas
The second largest revenue producing segment that may have the brightest future is the oil & gas business. The company's properties are primarily located in West Virginia, Louisiana, Texas, and Colorado. The West Virginia properties give the company exposure to the prolific Marcellus Shale play. Similar to Marcellus Shale giant National Fuel Gas (NYSE:NFG), the company is the owner of the property which should allow it to better control the drilling pace which in turn allows the company to slow drilling when prices are depressed in order to maximize the price received from the fuel in the ground. Many oil & gas companies are forced to drill regardless of price to hold their lease. There has been a lot of attention given this area including the recent announcement that Chevron (NYSE:CVX) will purchase Atlas Energy (NYSE:ATLS). Other major players in the area include Chesapeake Energy (NYSE:CHK), Range Resources (NYSE:RRC), EXCO Resources (NYSE:XCO) and XTO Energy now owned by ExxonMobil (NYSE:XOM). With company like this, the true value of the Pardee properties should be realized as development continues.
In addition to the Marcellus properties the company also owns various interests in the Niobrara formation and the Haynesville Shale play. The company has been involved with its properties in Colorado since the early 1980's, but now there may be a new lease on life with exploration companies pouring into the Niobrara formations in hopes to use new technology to tap into potentially large reserves of oil. The company is hopeful the current Niobrara exploration will extend to the acreage covered by their leases in the near future. The company's Louisiana acreage gives it exposure to the Haynesville Shale play. When natural gas prices recover, this segment should become a star as exploration efforts increase.
Timber
As you might have guessed, the timber business has been down substantially due to historically low housing starts. This segment has seen a slight improvement over 2009 levels, but is still down considerably compared to 2008. The company's highest producing species in 2009 were Poplar (40%), Red Oak (25%), White Oak (9%), and Red Maple (8%). While Cherry was only 4% of production, it was 17% of total 2009 timber revenue. The other species produced revenue more in line with their production rates other than Poplar which produced only 28% of revenue. Timber will most likely continue to suffer the rest of this year and potentially a good part of next year, but what makes timber such a good asset is that with proper management, declines in production result in a growing asset.
Real Estate
In recent years the company has become more aggressive in developing part of its approximately 200,000 acres of real estate. The company is developing a property in Putnam County, West Virginia which now has a new four-lane highway running though it that was just opened to the public in June 2009. The company is actively marketing lots for sale and leases property for cell towers and recreational purposes. The company showed its commitment to making real estate development a larger part of its operations with the purchase of 7,728 acres of timberland for $13.9 million less than a month ago. While the property will initially be used to harvest timber, the company expects to generate future revenues through the sale of the property due to its proximity to the metropolitan areas of Washington, D.C., Richmond and Charlottesville, Virginia.
Renewable Energy
I think the most important attribute of current management is that they are not sitting on their hands and just milking their vast real estate and mineral rights holdings. In 2009 they hired Mike Slom to lead the new renewable energy division. The company believes that biomass, solar and wind are particularly well suited for its current base of assets and they believe the mid-Atlantic region is in the early stages of a solar energy boom. To that end, Mr. Slom did not waste much time making the company's first investment with the purchase of two solar photovoltaic commercial installations located in New Jersey for $2.2 million. Both properties are operating and producing revenues. I look for the company to continue its efforts into renewable energy, especially if we get a favorable energy policy from the Feds.
Conclusion
Pardee has been a steady performer over the years which has made it a core holding in my portfolio. While it is a small company, it has valuable assets that are well managed. The company is very shareholder friendly as they are open with information and pay an annualized dividend of $4.40 per share. The stock price has traded higher in recent weeks as the price of coal stocks have pushed higher. However, as you can see, this is not a pure play on coal alone. Even if coal as an energy source is slowly replaced by cleaner burning natural gas, the company has plenty of exposure to natural gas and a large reserve of metallurgical coal for which there is currently no substitute in steel manufacturing.
It is important to keep in mind that this is a small company and the stock is very thinly traded. This stock is not appropriate for all portfolios especially if liquidity is a concern. There are approximately 712,509 shares outstanding giving the company a market capitalization of approximately $156 million with a share price of $219.
Disclosure: Author long PDER.PK