Agree Realty Corp. (NYSE:ADC) has just a market capitalization of $440 million, but that shouldn't deter investors from taking a very close look at this promising real estate investment trust: Agree Realty has a highly diversified net lease property portfolio, high quality tenants, great portfolio metrics as witnessed by a consistently high occupancy rate and a competitive dividend yield of 6%.
How is that for a value proposition?
Potential to grow
With a market capitalization of less than half a billion, Agree Realty is a great alternative to Realty Income (NYSE:O) or American Realty Capital Corporation (ARCP) in the retail REIT sector. Whereas both Realty Income and ARCP largely grew via acquisitions and probably have seen the majority of its growth, Agree Realty has much more potential to grow in size and valuation.
A company has a LOT more potential to grow at a market cap of $440 million than at a market cap of $10 billion or $12 billion, which is the case for Realty Income and American Realty Capital Properties.
Diversification
At its core, REITs are highly diversified real estate plays that benefit from geographic, industry and tenant diversification. Mixed-use or diversified REITs add another layer of diversification via investments in multiple property types.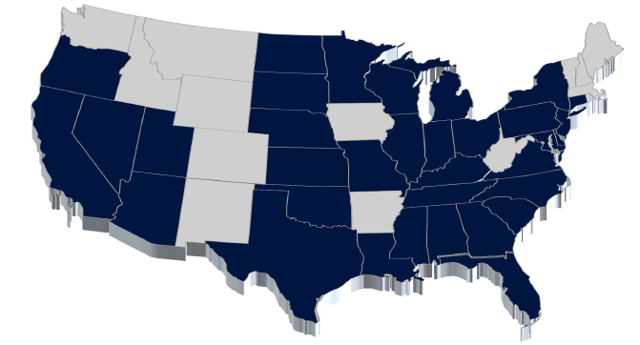 (Source: Company Investor Presentation)
Agree Realty, however, is a net lease REIT with a focus on the acquisition and development of retail properties. At the end of the second quarter, Agree Realty reported an investment portfolio consisting of 142 properties with a gross leasable space of 3.9 million square feet in 34 states.
Agree Realty just purchased two net lease properties in the second quarter for $12.5 million, one is located in Texas and the other one in Wisconsin.
In addition, the REIT recently announced the acquisition of a real estate portfolio consisting of 19 Taco Bell properties for $19.0 million via a sale-leaseback transaction with Charter Foods.
While I think the Taco Bell transaction will serve Agree Realty and its shareholders well, it is also a good thing that Agree Realty can attract high quality tenants and continues to grow its property portfolio with selective acquisitions.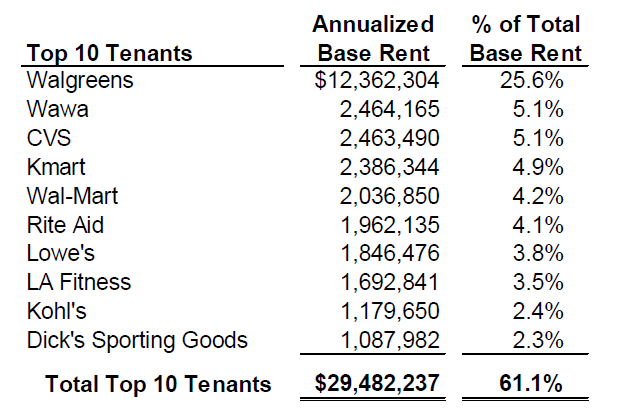 (Source: Company Second Quarter Earnings Release)
Quality tenants and high occupancy
Even without Taco Bell as a new tenant, Agree Realty's property portfolio consists of top notch tenants including Walgreens, CVS, Kmart, Rite Aid, Kohl's, Dick's Sporting Goods and others. Its top ten tenants account for 61% of base rent with Walgreens making up the chunk of it.
High quality tenants often translate into high occupancy rates and renewal contracts.
Agree Realty has a five-year average occupancy of 97% which is extraordinarily high. Consistently high occupancy rates indicate well-managed, quality properties and good customer relationships. All of which reflects well upon Agree Realty and suggests that the company will be able to deliver healthy dividends to shareholders.
In the second quarter of 2014, Agree Realty's portfolio was approximately 99% leased and it almost doesn't get any better than this.
Dividends
Despite its smaller size, Agree Realty does not have to hide from industry giants Realty Income or ARCP from dividend yield comparisons.
In fact, Agree Realty is quite competitive in terms of shareholder remuneration and has a lot more potential to attract both tenants and investors to its business.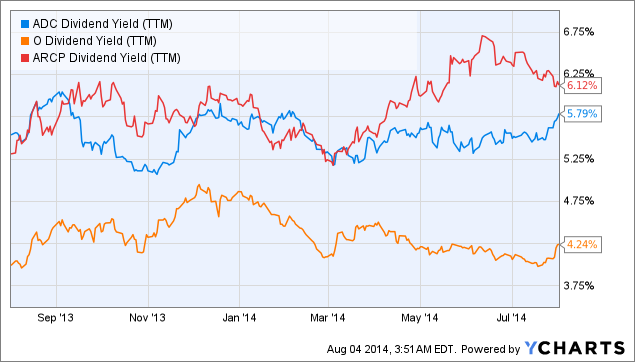 Bottom Line
Agree Realty is an interesting, low capitalization alternative to Realty Income or American Realty Capital which both have sizable retail exposure. As the case for Agree Realty has shown, buying a smaller REIT doesn't mean that investors have to sacrifice in terms of tenant quality and geographic diversification.
With a dividend yield approaching 6% and a lot of potential to grow organically as well as via acquisitions, Agree Realty is an attractive bet on U.S. retail properties.
Disclosure: The author is long O, ARCP. The author wrote this article themselves, and it expresses their own opinions. The author is not receiving compensation for it (other than from Seeking Alpha). The author has no business relationship with any company whose stock is mentioned in this article.