In mid-late June, I had looked at Smith & Wesson (SWHC) and I had said:
"In my mind, $14.75 is a level worth buying for the long-term. But it is only at $14.57 that it becomes a compelling trade for a person with a shorter time horizon.

I might initiate a trading position if the stock gets to $14.50. Regrettably owning Smith & Wesson as an investment for the long-term is not possible: my investment mandate is such that it permits U.S. investments only in global mega-cap and large cap stocks, with some very limited investments in low volatility small or mid-sized U.S. companies - we get most if not all of our small/mid-size allocation risk and return from investments in India. Unfortunately, while I like Smith & Wesson the company, and we are getting to a point where I might like the price too, it cannot be classified as a small cap company with low price volatility."
I had suggested that $14.50 to $15 was the fair value for Smith & Wesson. Fair value is the level at which there is zero alpha: it is the level at which a long-term investor's return expectation of 12.50% would be satisfied, with 12.5% representing the risk adjusted return required by investors for selecting Smith & Wesson versus the market. The stock is now trading at $12.27. And I intend to go long Monday at open. Here is why.
The stock is now cheap. It offers alpha of about 18% to fair value of $14.50, after which a long-term return expectation of 12.5% can be expected.
This chart displays the trailing twelve month PE and forward PE ratios over the past decade. The present trailing twelve month and forward PE ratios are about as low as they have been over the past decade.
In my view, Smith & Wesson offers a decent bottom fishing opportunity, though whether it is, is something we will only know later.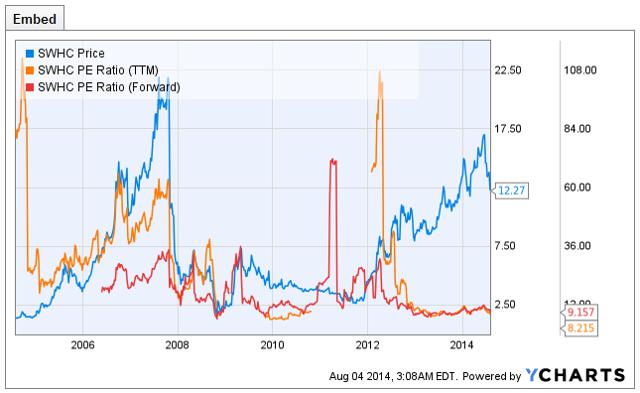 The company continues to offer industry leading value and quality, together with a growth potential just over in line with industry. Momentum has been ugly industry wide, and it has been no different for Smith & Wesson. The stock offers a great opportunity to value investors seeking to allocate capital to the Aerospace/Defense Products and Services Industry.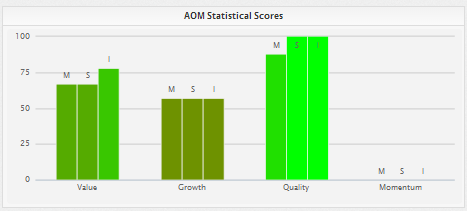 In my prior post on Smith & Wesson, I had highlighted the buyback program, and the conclusion of the Department of Justice investigation with no criminal prosecution in relation to the legacy FCPA matter from 2010 as two catalysts.
I had wrongly assumed that the closure of the Department of Justice investigation would result in a release of $2 million in estimated expenses accrued. As it happens, there will be no release of estimated expenses, as Smith & Wesson recently agreed to pay just over $2 million to settle SEC charges of foreign bribery, without admitting or denying any wrongdoing. But we do have closure on the Department of Justice investigation, which is a positive.
As far as the buybacks are concerned, Smith & Wesson recently raised $75 million. In the press release, they say: "The net proceeds from the initial issuance of the Notes are expected to be used for general corporate purposes, which could include vertical integration opportunities, capital investments, acquisitions, and repurchases of the company's common stock."
We know that during the fourth quarter (quarter ended 4/30/14), the Board of Directors authorized the repurchase of an additional $30 million of the company's common stock. And we know that between 5/1/14 and 6/20/14 (approximate conference call date), $3 million of this authorization was used to purchase 200,000 shares at an average price of just under $15 per share. I expect that further purchases will have been made since that date. And I expect that the recent debt offering will be used to accelerate the buyback of what remains of the $27 million buyback authorization available. Finally, I would be far from surprised to see an additional buyback authorization before long. As a result, I expect the share price to rise substantially between now and the next earnings release date expected on or around 9/4/14.
If you do decide to follow me into my intended long position, be warned that I have been wrong before, and may well be proven wrong again. In terms of position sizing, my position will be between 0.25% to 0.30% of my portfolio.
Disclosure: The author has no positions in any stocks mentioned, but may initiate a long position in SWHC over the next 72 hours. The author wrote this article themselves, and it expresses their own opinions. The author is not receiving compensation for it (other than from Seeking Alpha). The author has no business relationship with any company whose stock is mentioned in this article.