As I have noted in previous articles, Vanguard Natural Resources (NYSE:VNR) is widely considered one of the better upstream MLPs. Vanguard was the first to pay distributions monthly, usually nearly always 100% of production hedged, and has been smart on the acquisition front. However, this gleam seems to be fading with Vanguard once again putting out a poor quarterly result.
Q2 2014 Overview
For Vanguard, Q2 2014 was a mixed quarter. While production was inline with guidance, DCF per unit was weaker than expected. Below is a summary of the quarter: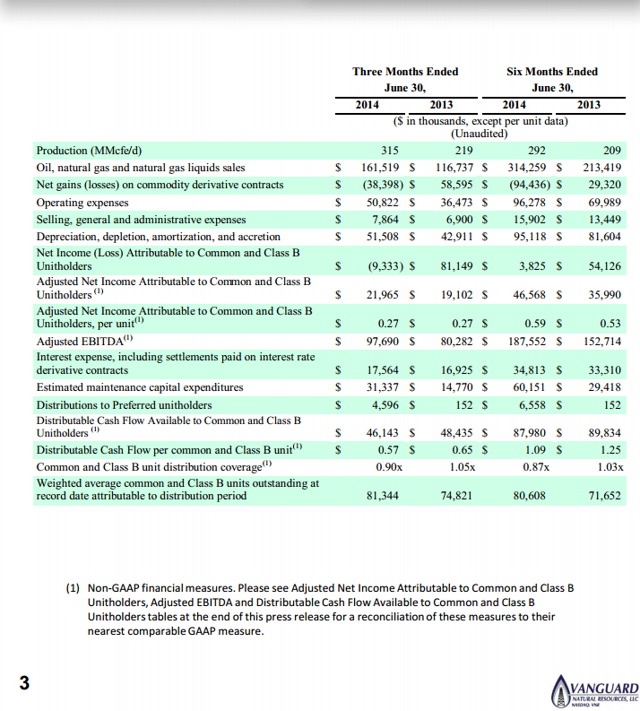 Click to enlarge
Vanguard saw its production rise to 315 MMCFE/D, up 18% from 268 MMCFE/D last quarter and a 44% increase from 219 MMCFE/D last year. The big difference here was that the company benefited from a full quarter of production from the acquisition of natural gas properties in Southwestern Wyoming.
Do note that Vanguard changed its reporting from BOE/D to MMCFE/D this year, making comparisons to prior periods more difficult. This was due to its shift towards the company becoming primarily a natural gas producer.
Speaking of the production mix, natural gas once again led the way, constituting 69% of Q2 production, with oil and NGLs splitting the rest at 17% and 14% respectively.
While production did grow, Vanguard did not see revenues rise at a similar rate. Oil and gas sales were $161.5 million, up 6% from $152.7 million last quarter and 38% from $116.7 million last year.
The company noted weak natural gas prices, down 11% to $3.55 per MCF from $3.96 per MCF last quarter. Also much lower were NGLs, down 32% Q/Q to $25.49 per BBL, from $36.72 per BBL. However, improving oil prices did help offset most of these declines, up 4% to $91.74 per BBL from $87.99 per BBL last quarter.
A look at Vanguard's Adjusted EBITDA and DCF
Once again, Vanguard saw a weak quarter it terms of distributable cash flow, or DCF.
Adjusted EBITDA, a key metric of profitability for MLPs, came in at $97.7 million, a new record for Vanguard and up 9% Q/Q from $89.8 million and up 22% Y/Y from $80.3 million.
Likewise, Vanguard posted an improvement in its DCF, up 10% Q/Q to $46.1 million from $41.8 million. However, this metric is still down 5% from last year's $48.4 million.
On a per unit basis, Vanguard did see its DCF increase 10% to $0.57 from $0.52 last quarter. However, DCF per unit is still down 13% from $0.65 last year.
As a result of the weak DCF, Vanguard saw coverage ratio worsening to 0.90x, compared 1.05x last year. On the bright side, this is a modest improvement from the 0.83x ratio posted last quarter.
Making sense of the weak DCF coverage ratio
A coverage ratio of below 1.00x is normally a red flag for investors as it means that the company did not cover its distribution in the quarter.
While a one quarter blip is not uncommon, Vanguard has now posted three straight quarters of sub-1.00x coverage ratios, a very worrying trend.
Furthermore, according to data from MLPdata.com, Vanguard's TTM coverage ratio has now fallen to 0.92x, firmly below the crucial 1.00x level.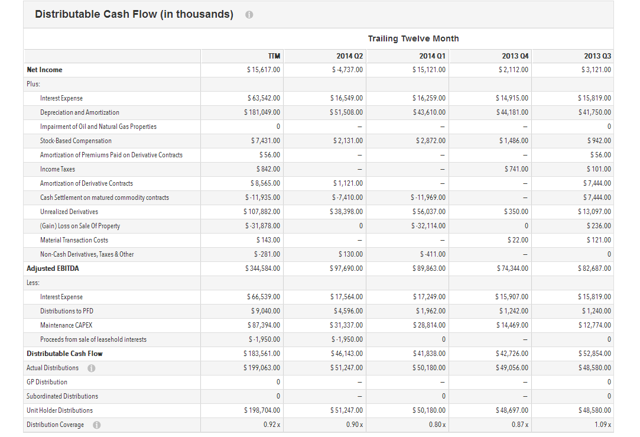 Click to enlarge
Digging into the numbers, it appears that Vanguard is once again being plagued by higher maintenance capex, up over 113% to $31.3 million compared to last year's $14.8 million. What is quite remarkable about the increased maintenance capex is that it is well outsized compared to the Y/Y production growth.
The company has noted that this figure does include a very small growth capital component, mostly corresponding with the Ultra and QEP properties in Wyoming.
However, due to weaker energy prices during the quarter, this increased production did not produce a meaningfully enough increase in revenues to offset DCF declines.
Conclusion
Overall, Vanguard had a fairly disappointing second quarter. Yes, production is up. However, DCF was not. Given that the distribution is the number one reason many own Vanguard units, this is a big problem.
That being said, I am expecting the distribution coverage ratio to climb above 1.00x during the second half of 2014. The new East Texas assets should provide a boost. Furthermore, the capital program should continue to incrementally increase production. Here's hoping natural gas prices cooperate.
Disclaimer: The opinions in this article are for informational purposes only and should not be construed as a recommendation to buy or sell the stocks mentioned. Please do your own due diligence before making any investment decision.
Disclosure: The author is long VNR. The author wrote this article themselves, and it expresses their own opinions. The author is not receiving compensation for it (other than from Seeking Alpha). The author has no business relationship with any company whose stock is mentioned in this article.