American Express (NYSE:AXP) is an outstanding credit card company and its second quarter results have once again highlighted strong revenue and earnings growth, high returns on equity and growing card member loans. The company has further upside potential from positive momentum in consumer spending.
in addition to solid fundamentals, American Express is a value stock that also benefits from the endorsement of Warren Buffett, founder of Berkshire Hathaway (NYSE:BRK.A) (NYSE:BRK.B), who remains one of the largest shareholders in the credit card company.
If Warren Buffett, arguably the most successful investor in the world, buys a company and holds it through a variety of business cycles, investors should take note. Buffett currently owns 14.2% of American Express and does not appear to plan a sale anytime soon.
Performance results
American Express largely profited from increased billing revenues in the most recent quarter. Its billed business increased a whopping 9% year-over-year to $258.1 billion and there is a good chance customers will continue to swipe their credit cards.
Generally, the better the economy is doing (employment and median wages increase), the better credit card companies and American Express will be doing.
Growth in consumer spending and revenues of credit card companies are positively correlated: The higher the confidence of customers in their economic prospects, the more willing customers are to spend money they don't have via credit cards as they are confident they will be able to pay the money back with future paychecks.
With higher consumer spending and a recovering U.S. economy, American Express should be at the forefront of companies that benefit from higher revenues and earnings yields going forward.
Billed business has been a key revenue and earnings driver for American Express and high growth rates over the last eight quarters are encouraging: American Express' growth in billed business stood at a solid 9% on a currency-adjusted basis in the most recent quarter.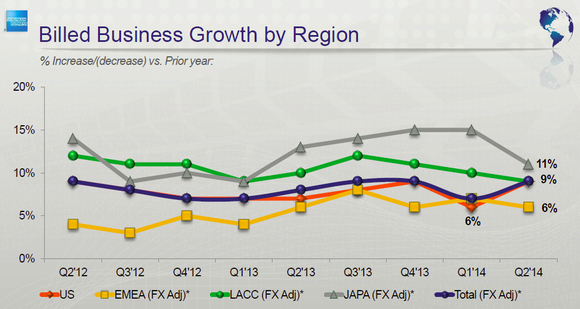 (Source: American Express Second Quarter Conference Call Presentation)
Member loans
Related to higher revenues and momentum in billed business is American Express' loan growth.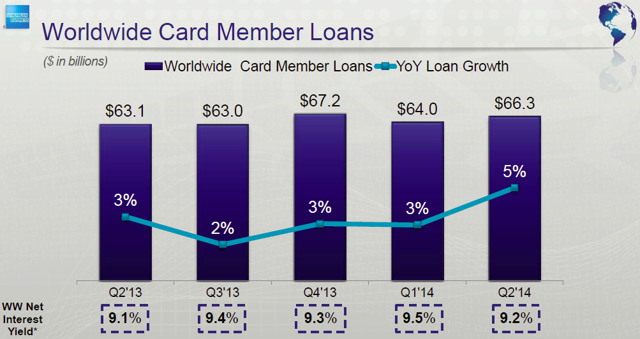 (Source: American Express Second Quarter Conference Call Presentation)
Card member loan growth is one of the key segments that should do extraordinarily well over the next couple of quarters and its earnings should experience tailwinds from customers who will take on incremental debt in a booming U.S. economy.
Worldwide card member loans increased to a total of $66.3 billion compared to 63.1 billion in the year ago quarter. Year-over-year loan growth rates in this segment have received a boost lately as American Express benefits from increased consumer spending already.
Its second quarter year-over-year loan growth was reported at 5% and investors can reasonably expect further growth in the upcoming quarters.
Profitability
One thing I don't like too much about credit card companies is, that their costs can periodically become inflated due to a high reliance on marketing activities and promotions.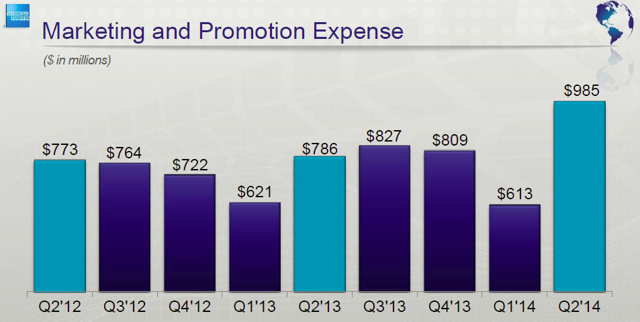 (Source: American Express Second Quarter Conference Call Presentation)
American Express relies heavily on promotional expenses to drive transaction activity and to give customers incentives to utilize their credit cards. This can be very expensive and clearly eat into profits.
Despite a 61% surge in quarter-over-quarter marketing and promotion expenses to $985 million, American Express still managed to report a 9% increase in net income to $1.5 billion and a whopping 29% return on average equity in the second quarter.
The strength of the American Express franchise is likely also the reason why Warren Buffett continues to hold on to his position in this leading credit card company.
Valuation
I generally expect credit card companies to do well over the next two to three years as fundamental improvements in unemployment and GDP growth should provide tailwinds for consumer spending.
Based on P/B valuations, American Express and Visa (NYSE:V) certainly are the more attractively priced credit card companies.
A lot of value in American Express and Visa can be found in their brand and high recognition value as well as the fact that credit card companies generally operate in an oligopolistic market structure where long-term profits tend to be higher than in a more competitive market environment. Warren Buffett calls this "moat".
MasterCard (NYSE:MA), on the other hand, is trading at a much higher valuation multiple and is not forcing itself upon investors at nearly 14 times book value, even though the company benefits just as its peers from a lucrative industry structure.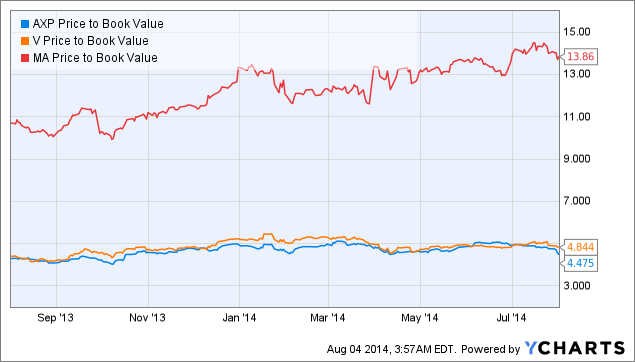 Bottom Line
American Express is a solidly run credit card company with momentum in billed business and member card loans and should benefit from an ongoing economic recovery that will make consumers swipe their credit cards more often.
In addition, investors buying American Express can find emotional support in the fact that they are investing alongside one of the richest and most successful investors of all time: Warren Buffett.
Disclosure: The author has no positions in any stocks mentioned, and no plans to initiate any positions within the next 72 hours. The author wrote this article themselves, and it expresses their own opinions. The author is not receiving compensation for it (other than from Seeking Alpha). The author has no business relationship with any company whose stock is mentioned in this article.