Analysts believe that Woodward (NASDAQ:WWD) is a buy or a hold. But I have my doubts.
Woodward declared third-quarter results on July 21, 2014, and the Street welcomed the results with a 16% jump in its share price.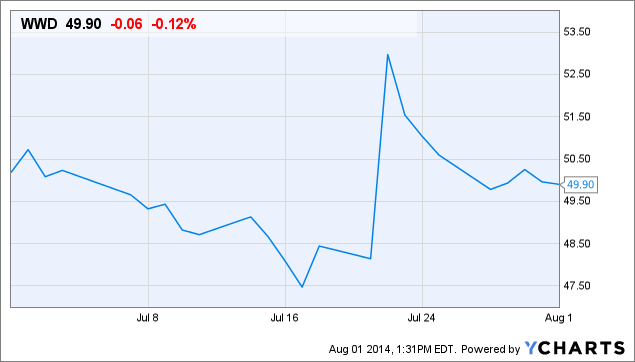 The company is a component manufacturer in the aerospace sector and in the energy sector. Woodward's earnings rose to $46 million in the latest quarter from $23.6 million in the previous year. The company posted a jump in its net sales to $524 million from $483 million in the same period last year. The energy sector has contributed most of the gains made by the company in the latest quarter. The latest earnings figures are given below:
Three-Months Ended

June 30,

2014

2013

Net sales

$

524,284

$

483,759

Costs and expenses:

Cost of goods sold

372,571

349,482

Selling, general and administrative expenses

40,468

46,747

Research and development costs

34,990

35,487

Amortization of intangible assets

8,357

9,769

Interest expense

5,972

6,723

Interest income

(73)

(68)

Other (income) expense, net (Note 16)

(469)

122

Total costs and expenses

461,816

448,262

Earnings before income taxes

62,468

35,497

Income tax expense

16,467

11,834

Net earnings

$

46,001

$

23,663
Source:10-Q; figures in thousands.
The energy segment's gross earnings were at $40 million, a huge jump from $12 million in the same quarter last year. This earnings boost was helped by increased sales in wind turbine converters, aero-derivative turbines, and large gas and diesel engine markets. Last year, the energy segment earnings were dragged down by a one-time expense of $15 million related to the revaluation of its renewable-power business.
According to the company:
Uncertainty with respect to U.S. and other government renewable power incentives and economic factors associated with alternate energy sources resulted in significant overcapacity and financial distress in the renewable power industry, particularly in our fiscal year 2013. As a result, we made a decision in fiscal year 2013 to align our renewable power business appropriately for the then current environment and foreseeable future, through revaluation of its assets and liabilities, including workforce management actions, which resulted in specific charges of $15,707 in the third quarter of fiscal year 2013.
This means the earnings jump in the energy segment is not as dramatic as it seems at first glance.
Three-Months Ended

Nine-Months Ended

June 30,

June 30,

2014

2013

2014

2013

Segment external net sales:

Aerospace

$

274,923

$

272,218

$

765,816

$

754,100

Energy

249,361

211,541

669,977

623,511

Total consolidated net sales

$

524,284

$

483,759

$

1,435,793

$

1,377,611

Segment earnings:

Aerospace

$

39,357

$

38,949

$

102,195

$

111,740

Energy

40,203

12,430

99,162

60,573
Source:10-Q; figures in thousands.
Where Is the Cash?
The acquisition of GE's thrust-reverser actuation-systems business located in Duarte, Calif., for $200 million was completed only by 2013. Of this, $198.8 million was paid in cash. Certainly, this was not a small deal given the company's annual revenue.
Also, the company is constructing new campuses and facilities for its aerospace and energy segments. The expenses recognized for this expansion are higher than the annual net income of the company. In line with its expansion plans, the company is expecting a significant increase in its employee count by 2021.
Is Woodward in the right financial health situation for such an expansion? The earnings look good. But earnings have to be realized as solid cash in the bank. Here is where I have doubts about Woodward. Woodward's accounts receivable and inventories together total $791 million, which is equal to around half of its annual sales. See the table below:
June 30,

September 30,

2014

2013

ASSETS

Current assets:

Cash and cash equivalents

$

95,842

$

48,556

Accounts receivable, less allowance for uncollectible amounts of $7,260 and $8,872, respectively

322,463

381,065

Inventories

469,036

431,744

Income taxes receivable

6,641

14,071

Deferred income tax assets

44,246

43,027

Other current assets

47,971

38,650

Total current assets

986,199

957,113
Source:10-Q; figures in thousands.
A significant portion of Woodward's cash holdings is part of its foreign subsidiaries, which may incur additional tax on repatriation. According to the company:
Of the $ 95,842 of cash and cash equivalents held at June 30, 2014, $ 7 9,296 was held by our foreign subsidiaries. We are not presently aware of any significant restrictions on the repatriation of these funds, although a portion is considered indefinitely reinvested in these foreign subsidiaries. If these funds were needed to fund our operations or satisfy obligations in the United States, they could be repatriated and their repatriation into the United States may cause us to incur additional U.S. income taxes or foreign withholding taxes. Any additional taxes could be offset, in part or in whole, by foreign tax credits. The amount of such taxes and application of tax credits would be dependent on the income tax laws and other circumstances at the time these amounts are repatriated.
Also, accounts receivable has a $50 million portion as drafts from Chinese banks, on a total accounts receivable of $322 million. These drafts from Chinese banks can have a maturity period up to 180 days. According to the company:
Consistent with business practice common in China, Woodward's Chinese subsidiary accepts from Chinese customers, in settlement of certain customer accounts receivable, bank drafts issued by creditworthy Chinese banks. Bank drafts are financial instruments issued by Chinese financial institutions as part of financing arrangements between the financial institution and a customer of the financial institution. Bank drafts represent a commitment by the issuing financial institution to pay a certain amount of money at a specified future maturity date to the legal owner of the bank draft as of the maturity date. The maturity date of bank drafts varies, but it is Woodward's policy to only accept bank drafts with maturity dates no more than 180 days from the date of Woodward's receipt of such draft. The issuing financial institution is the obligor, not Woodward's customers. Upon Woodward's acceptance of a bank draft from a customer, such customer has no further obligation to pay Woodward for the related accounts receivable balance. As of June 30, 2014, and Sept. 30, 2013, Woodward had bank drafts of $50,144 and $72,954, respectively, recorded as non-customer accounts receivable on its condensed consolidated balance sheets. Woodward only accepts bank drafts issued by creditworthy banks as to which the credit risk associated with the bank draft is assessed to be minimal.
If the company was cash rich, you could easily ignore all this. But, as you may know, Woodward has a debt of around $665 million. Hence, the inventory pileup and accounts receivable could easily put pressure on the company's balance sheet. Check out its debt details below:
June 30,

September 30,

2014

2013

Revolving credit facility - Floating rate (LIBOR plus 0.85% - 1.65%), due July 2018, unsecured

$

165,000

$

-

Series B notes - 5.63%, due October 2013; unsecured

-

100,000

Series C notes - 5.92%, due October 2015; unsecured

50,000

50,000

Series D notes - 6.39%, due October 2018; unsecured

100,000

100,000

Series E notes - 7.81%, due April 2016; unsecured

57,000

57,000

Series F notes - 8.24%, due April 2019; unsecured

43,000

43,000

Series G notes - 3.42%, due November 2020; unsecured

50,000

-

Series H notes - 4.03%, due November 2023; unsecured

25,000

-

Series I notes - 4.18%, due November 2025; unsecured

25,000

-

Series J notes - Floating rate (LIBOR plus 1.25%), due November 2020; unsecured

50,000

-

Series K notes - 4.03%, due November 2023; unsecured

50,000

-

Series L notes - 4.18%, due November 2025; unsecured

50,000

-

Long-term borrowings under Line of Credit - Variable rate of 1.06% at September 30, 2013; unsecured

-

200,000

Total debt

665,000

550,000

Less: current portion of long-term debt

-

(100,000)

Long-term debt, excluding current portion

$

665,000

$

450,000
Source:10-Q; figures in thousands.
Clearly, the company has high ambitions. Yet, more clarity has to emerge on Woodward's ability to sustain its expansion and business operations. And, if you are still bullish on this company, please share your thoughts in the comments.
Disclosure: The author has no positions in any stocks mentioned, and no plans to initiate any positions within the next 72 hours. The author wrote this article themselves, and it expresses their own opinions. The author is not receiving compensation for it (other than from Seeking Alpha). The author has no business relationship with any company whose stock is mentioned in this article.