Last week when Tesla Motors (NASDAQ:TSLA) reported a significant earnings beat of $0.11 per share, compared to the average estimate of $0.04 per share, the stock surged in Friday's session with carry through Monday. Still, with the stock approaching important resistance levels around $240 per share and again between $250 and $253, investors must be considering if the stock has the potential to push higher. In terms of guidance, the company was conservative in estimates for the rest of this year, but very positive for 2015 and 2016. Ultimately, I believe there are three key factors that will drive the stock to new heights, and these are the catalysts investors should look to leverage. I am a buyer of shares, particularly on any pullbacks, but weakness in any of the three factors should cause you to reevaluate your position.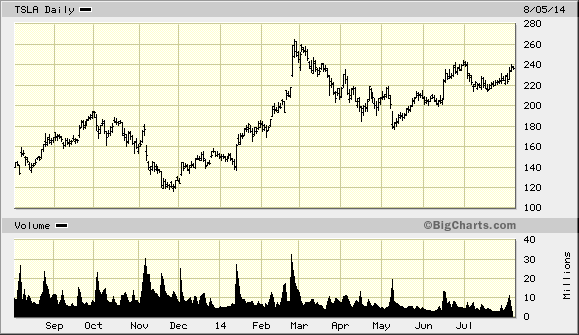 The Gigifactory
Last week on a conference call, CEO Elon Musk said, "We've essentially completed the creating of the construction pad for the Gigafactory in Nevada. We are going to be doing something similar in one or two other states, something I previously said we were going to do." Pushing these sites into production is a critical growth project for Tesla because it will expand the company's reach beyond its own vehicles. With Musk throwing open the company's patent portfolio, if Tesla could become the supplier of batteries to others, especially one of the big three auto makers - say Ford (NYSE:F) or General Motors (NYSE:GM) - this could be a game-changing segment.
The company's partnership with Panasonic remains a critical piece, given the $5 billion price tag: "Of that number, we see Tesla probably providing 40 to 50 percent of the total; Panasonic probably about 30 to 40 percent; the state maybe 10 percent; and other industrial partners maybe 10 to 15 percent, depending on how vertical we go with the factory." A recent article is Forbes points out that while the 10% Musk is demanding from the state is a big number, it is neither unreasonable - the project will be a huge job creator - nor is it unprecedented: "According to Automotive News, Tennessee paid $580 million to win Volkswagen in 2008."
Spreading Supercharger Network
One of the biggest perceived drawbacks to electric vehicles is the relative scarceness of recharging stations. While Tesla has targeted a network that would mean 98% of people were never more than 100 miles from the nearest station, this is an ambitious goal that needs external support. Enter biofuels.
In addition to hopes that an expanding market of electric vehicles will naturally push the development of charging stations, and a recent USA Today article cogently discusses how guidelines from the U.S. Environmental Protection Agency will incentivize the expansion of biofuels production. The piece points out that will the immediate benefit will be to companies like Waste Management (NYSE:WM) and Veolia Environment (VE), electricity created from these fuels will also qualify for the incentives. While there remain some obstacles to the expansion of these facilities, they are likely to push expansion faster than you might think. A critical piece of the growth story for Tesla is making recharging more seamless.
The Model 3
Tesla has promised to deliver the Model 3 - a mass market, less expensive vehicle - by 2017. While company's recent guidance that it will deliver 100,000 vehicles next year is very bullish for the company, significant growth will come from a vehicle that is more attainable. There is obviously significant lead up time to the release of the Model 3, but investors should watch for news on the vehicle as it will certainly drive the stock. An accelerated clock will be bullish, although is not necessary, but news of any significant delays should be of concern.
Trading Shares
Ultimately, despite Tesla's recent run, shares have plenty of upside for each of these three reasons. You should track these factors carefully, but I believe the company is positioned to perform. Even with the recent surge, I remain a buyer.
Disclosure: The author has no positions in any stocks mentioned, and no plans to initiate any positions within the next 72 hours. The author wrote this article themselves, and it expresses their own opinions. The author is not receiving compensation for it (other than from Seeking Alpha). The author has no business relationship with any company whose stock is mentioned in this article.