Cumberlan (CPIX) is on deck soon for the FDA to review their drug for a potential approval with their PDUFA date on 12/10/10. They filed a supplemental drug application with the FDA in the first quarter of the year to expand the label of their liver failure injectable drug Acetadote which has already hit the market to counteract overdoses of acetaminophen.
Cumberland Pharmaceuticals Inc. (Nasdaq: CPIX) on the first of December announced that that an independently conducted study of Acetadote (acetylcysteine) Injection, or intravenous N-acetylcysteine, as a cost-saving treatment for acetaminophen poisoning was published in Volume 12, Number 4 of the peer-reviewed Journal of Medical Economics, distributed in December. The study concluded that Acetadote was a less costly treatment regimen than oral N-acetylcysteine in all evaluated scenarios.

Acetadote [R] Data Showed that the product could provide Substantial Cost-Savings for Healthcare Systems:

"Health economic modeling of total costs to treat acetaminophen poisoning revealed that Acetadote could save between $881 and $2,259 (up to 37%) compared to oral treatment."

Cumberland filed an sNDA in the first quarter of 2010 that included data from a clinical trial led by investigators at the University of Texas Southwestern Medical Center indicating that acute liver failure patients treated with Acetadote have a significantly improved chance of survival without a transplant. The treatment provides those patients requiring a transplant increased time for a donor organ to become available.

"This study establishes that Acetadote is an excellent treatment for people suffering from non-acetaminophen acute liver failure," said William M. Lee, M.D., professor of internal medicine at UT Southwestern Medical Center in Dallas and the leading author of the study. "Acetadote is safe and easy to administer, and provides the first glimmer of hope that something can help these direly ill patients." The results from the study, which is the largest clinical trial studying acute liver failure to date, were presented at the most recent national gastroenterology meeting and have been published in the medical journal Gastroenterology(1). This was a multi-center, randomized, double-blind trial involving 173 patients with acute liver failure not due to acetaminophen toxicity. Patients enrolled in the study were stratified according to coma grade, with coma grade one representing the earliest stages of hepatic encephalopathy and coma grade four representing late-stage conditions. The study results indicate that the transplant-free survival rate was significantly higher at three weeks, one year and two years for patients in coma grades one and two receiving Acetadote than for those receiving placebo.

Cumberland requested expanded labeling for Acetadote to include the new indication following discussion of the important new data with the FDA. The Company has requested a priority review of the application as well as additional exclusivity for the product if the new indication is approved.
The company suffered a setback three months ago as on 8/20/10 Cumberland announced that a three-month delay until December 10th to make a decision on the drug. the U.S. Food and Drug Administration [FDA] has extended its review of the supplemental new drug application [sNDA] for the use of Acetadote® (acetylcysteine) Injection in patients with non-acetaminophen acute liver failure.
"We look forward to continued discussion with the FDA regarding this potentially life-saving treatment for patients who have few alternatives," said A.J. Kazimi, Chief Executive Officer of Cumberland Pharmaceuticals.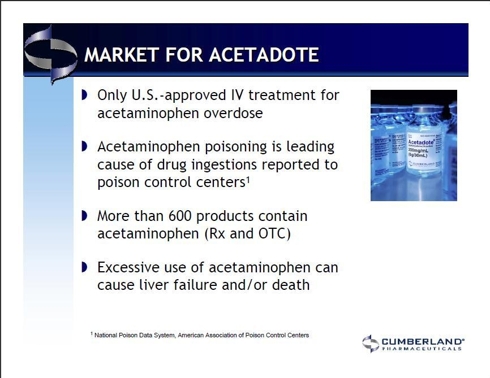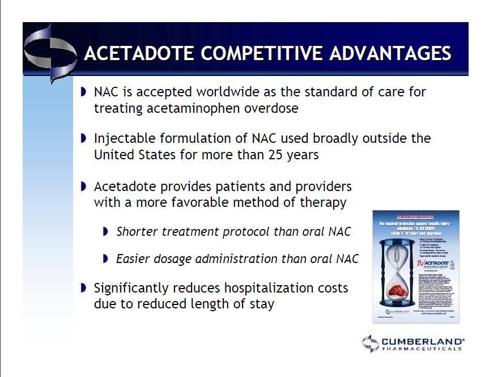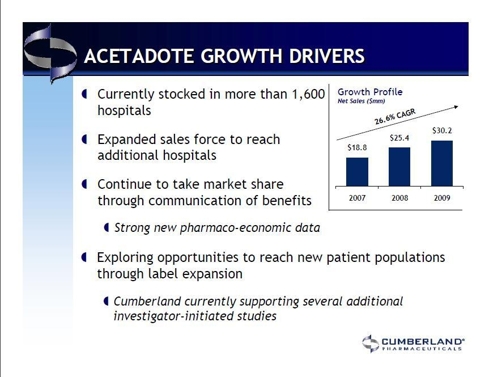 Acute liver failure is a rare syndrome associated with a high mortality rate and frequent need for liver transplantation. Approximately 50 percent of acute liver failure cases are caused by acetaminophen poisoning. Currently, transplantation of the liver is the only treatment for patients with liver failure not caused by acetaminophen overdose. In March 2010, Cumberland submitted the sNDA to the FDA for the use of Acetadote in patients with non-acetaminophen acute liver failure. The FDA formally accepted the application for review and designated the review classification as Priority in May 2010.
Acetadote was launched by Cumberland in 2004 as the first U.S.-approved injectable drug to treat acetaminophen overdose. In 2006, the FDA approved Acetadote for use in pediatric patients. The Company also received FDA approval for updated labeling regarding the safety of Acetadote in 2008 based on new information from a post-marketing safety study reporting a lower-incidence of side effects compared to previously reported data.

In early October Cardinal Health (NYSE: CAH), one of the largest distributors of pharmaceuticals and medical supplies, and Cumberland signed a distribution agreement. Financial terms of the deal were not divulged by the companies but under the three-year deal, Cardinal would exclusively distribute three of Cumberland's drugs in the U.S., Puerto Rico and other specific countries. The drugs covered by the deal are Acetadote, Caldolor and Kristalose. Cumberland will be responsible for delivering these drugs to Cardinal's distribution center in LaVergne, Tennessee. The deal represented another situation in the long-standing bond between the two companies. Cardinal teamed up with Cumberland in 2002 to market Kristalose (used to treat constipation and hepatic encephalopathy, a brain disorder) in the U.S. through its Specialty Pharmaceutical Services [SPS] unit. Moreover, Cardinal offered its sales force in 2004 to promote Acetadote to hospitals and poison control centers across the U.S.

Another Recent Development was the Submission of Application for New Formulation of Acetadote. In October 2010, Cumberland submitted an application to the U.S. Food and Drug Administration [FDA] for approval of a new formulation of Acetadote. The new formulation was developed to replace the currently marketed product and is the result of their continued commitment to further developing their products, whether to expand into new patient populations or to improve upon our products. Cumberland believes the testing and manufacturing work they undertook with the new formulation of Acetadote demonstrates that it offers improvements over the currently marketed product and, upon potential approval by the FDA, they plan to introduce it to the hospital community. They expect to receive a response from the FDA in January 2011 and, if the new formulation is approved, would commence with the new product launch immediately. They have also filed a patent application with the U.S. Patent and Trademark Office to protect the proprietary new formulation.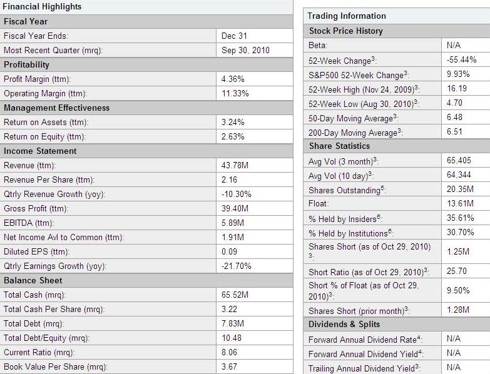 Financially the company is pretty solid. They have 65 million in cash, or 3.22 total cash per share. They also have a book value per share of $3.67. The market cap for the company is only 140 million. The float is 13.6 million with a little under 21 million shares outstanding.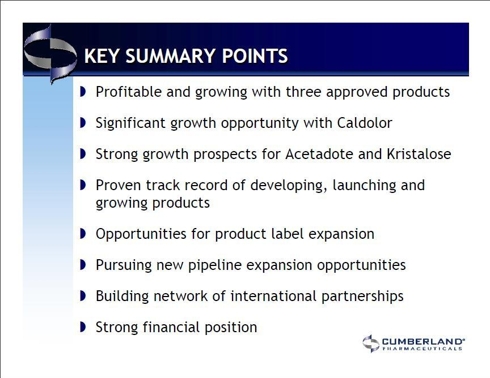 In the next 2 weeks Cumberland Pharma should hear from the FDA with regards to whether their sNDA for the expanded label of Acedatote will be approved. A positive decision from the FDA will allow them to continue to expand and grow their presence within the hospital sector amongst their key products as well as expand their international partnership base. The next few weeks should be exciting for this small but profitable biotech.


References
(1) Lee WM, Hynan LS, Rossaro L, Fontana RJ, Stravitz RT, Larson AM, Davern TJ 2nd, Murray NG, McCashland T, Reisch JS, Robuck PR; Acute Liver Failure Study Group. Intravenous N-acetylcysteine improves transplant-free survival in early stage non-acetaminophen acute liver failure. Gastroenterology. 2009 Sep;137(3):856-64.


Author's Disclosure: Long CPIX but position can change at any time.