Altria (NYSE:MO) and its holding in SABMiller plc (ADR)(OTCPK:SBMRY) actually pre-dates Altria itself.
As you might know, Altria owns Philip Morris USA, which was a subsidiary of Philip Morris International (NYSE:PM). Philip Morris International was forced to spin off its U.S. operations in order to reduce the risks of litigation.
Philip Morris International used to own U.S. beverage giant, Miller Brewing, which was acquired by South African Breweries for $5.6 billion in stock and assumed debt at the end of May 2002. This transaction created the SABMiller we know today.
Growing stake
At the time of the deal, [Philip Morris International, also owned the majority of Kraft (KRFT)] South African Breweries paid Philip Morris around 430 million SAB shares, approximately 36% of the new SAB, with a 25% of voting rights along with three directors on SAB's board.
Unfortunately, over the past decade, Altria's stake in SAB has shrunk due to dilution. SAB has gone on an acquisition spree, acquiring more than 50 companies since the initial deal. As a result, Altria's stake has now fallen to only 27.1%.
Nevertheless, the acquisition spree and can hardly be considered to be a bad thing. Over the years since initially acquiring its stake in SAB, the value of Altria's stake has surged to around $25 billion and last year, according to Altria's corporate presentation, the SAB stake chucked out $991 million in income for Altria.
What's it worth?
It's difficult to figure out how much exactly, on a per share basis SAB is worth to Altria. However, SAB's shares, which have their primary listing in London, trade at around 26x historic earnings, implying that Altria's share is worth just under $26 billion. Altria's current market capitalization seems to assign no value to this share. Indeed, strip the $26 billion out of Altria's market value of $80 billion and the company's value falls to $54 billion only 2.3x sales, on a historic basis.
The rest of the tobacco sector trades at 3x to 4.5x sales, on a historic basis. Apply a conservative 3.5x sales multiple to Altria's stock and add back in the $26 billion SAB share and you get a market cap of $111 billion, roughly $56 per share, 38% above current levels -- I need to stress that this is only a back-of-the-envelope calculation.
Impressive growth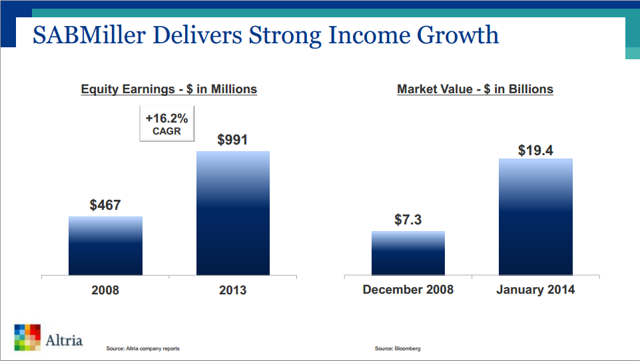 Source: Altria company presentation CAGNY conference.
Altria's holding in SAB is actually one of the fastest growing parts of the group. Since 2008 Altria's annual income from its share of SAB has expanded at a compounded annual growth rate, or CAGR of 16.2%. In comparison, Altria's income from smokeable products has grown at a CAGR of 4.2%.
Then there's the return on investment to consider. Altria's share of SAB is booked on the company's balance sheet at $6.5 billion, an income of $991 million for fiscal 2013 indicates an annualized return on investment of 15.2%.
To some, it may seem odd that Altria's share of SAB is booked at such a low cost on its balance sheet but there is good reason for this.
Indeed, this understatement results from the generally accepted-accounting-principles, or GAAP, equity method of valuation. Altria's stake in SAB is less than 50%, and the company only has three seats on SAB's 11-seat board, so Altria does not exercise control over SAB.
As a result, Altria cannot fully consolidate SAB onto its balance sheet, and neither is the company allowed to mark the stake up to its current value. So, Altria can only record the book value of its SAB holding on its balance sheet.
Of course, if Altria were to fully revalue its share of SAB, it would report a large one-off gain, and there could be tax issues here.
Nevertheless, Altria may be forced to revalue its stake pretty soon as rumors are once again circling the City of London that SAB could be a bid target.
I should say that these rumors have been swirling now for around ten years, so it's not really anything to get excited about. However, the general consensus of opinion is that, eventually SAB will be taken over by its larger peer, Anheuser-Busch InBev (NYSE:BUD), although another theory has emerged recently that SAB could buy out the world's largest spirits distributor Diageo (NYSE:DEO).
Takeover time
With a market capitalization of just under £52 billion, or $88 billion, only ABInbev, with a market cap of €129 billion, or $172 billion would be able to stump up the cash to fully acquire SAB -- there are few other companies with the financial firepower to make an offer.
Rumors suggest that ABInbev could pay a 30% premium for SAB's shares, jacking up SAB's buyout price to around $120 billion, at time of writing Altria is only worth $80 billion. Altria's share in SAB at this price would be worth around would be entitled to or $33 -- before tax.
A buyout of this type could be an issue for Altria. The company's management has previously stated that the tax on realized gains for a sale of the company's SAB holding would mitigate much of the capital gain from the sale of the holding. At the time of these comments, management stated that Altria would sell its SAB share for a price far in excess of book value and as a result the company would have to pay 33% federal and 6% state taxes on the gain -- ouch.
Ideally, unless the company can structure the deal as a tax free spin-off, in order to avoid a hefty tax charge, Altria wants to avoid the above scenario, or indeed any scenario where the company receives a lump sum liability as this would lead to a hefty tax charge.
With seats on SAB's board, Altria will likely get its way, which is why a Diageo-SAB tie-up is now being floated as an alternative to an SAB takeover.
If the two beverage giants were to tie up, the duo would great a world-leading alcoholic beverage production and distribution business.
According to analysts at Barclays, a tie up of the two beverage giants would create a $170 billion business, annual free cash flow of approximately $8.5 billion. The combined group could save more than $700 million per annum by combining global distribution networks.
There are questions about how SAB would afford a deal of this nature. SAB and Diageo are roughly the same size, although Altria could put up some of the cash as the tobacco giant stands to benefit significantly from the tie up.
In conclusion
So in conclusion, using a sum-of-the-parts calculation, Altria's share in SAB is worth much more than the market is currently valuing it at. Using a rough, back-of-the-envelope calculation, Altria and SAB combined should be worth in the region of $56 per share, but this is not where the value is to be found.
Altria's share of SAB is worth more than the market is valuing it at. The SAB holding is adding a near $1 billion per annum boost to Altria's bottom line and the holding could be worth significantly more over the next few years, depending upon what course SAB's management decides to seer the company in.
Disclosure: The author is long MO. The author wrote this article themselves, and it expresses their own opinions. The author is not receiving compensation for it (other than from Seeking Alpha). The author has no business relationship with any company whose stock is mentioned in this article.
Editor's Note: This article discusses one or more securities that do not trade on a major U.S. exchange. Please be aware of the risks associated with these stocks.