Allied Nevada Gold (NYSEMKT:ANV) is a US-based gold mining and exploration company which owns and operates the Hycroft open pit gold and silver mine, located in Nevada.
Stock Price: $3.04
Shares Outstanding: 104 million
Market Cap: $315 million
Enterprise Value: $851 million
52-week range: $2.61 - $6.70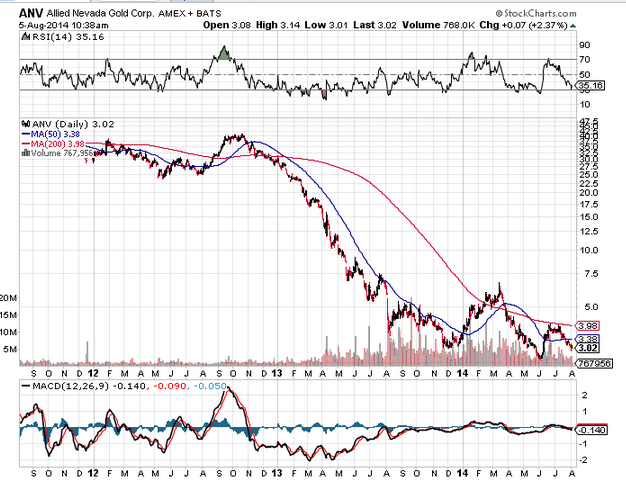 The Hycroft Mine: 10 Million Ounces of Gold in Nevada
The Hycroft mine is already huge but is expanding, with the goal of becoming one of North America's biggest heap leach and milling operations.
The company forecasts 2014 production of 230,000 to 250,000 ounces of gold and 1.7 to 2 million ounces of silver. Since 2009, the mine has a compound annual growth rate of 35% gold and 76% silver production, from 100,000 ounces of gold produced in 2010 to 230,000 to 250,000 ounces expected to be produced this year.

The mine has significant reserves of 10.6 million gold ounces and a whopping 467 million ounces of silver, plus 27.5 million in gold equivalent resources. This makes Allied Nevada's Hycroft the largest Nevada gold/silver deposit, even bigger than the Cortez deposits and the Carlin deposits owned by Newmont (NYSE:NEM).

The company also appears to be undervalued when you look at its enterprise value per gold equivalent gold reserves and resources. According to the company, Allied Nevada is valued at just $31 EV/Resource ounces and $47 EV/Reserve ounces, which is lower than its peers Eldorado Gold (NYSE:EGO), Coeur Mining (NYSE:CDE), AuRico (NYSE:AUQ), etc.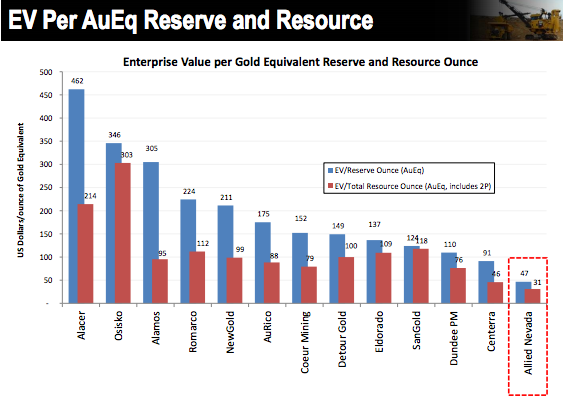 A mill expansion pre-feasibility shows that the mine could eventually produce as much as 450,000 ounces of gold and 21 million ounces of silver a year, at super-low adjusted cash costs under $500 an ounce (well below the current $800+ figure), with an expected internal rate of return of 26.5% and a base-case net present value of $1.68 billion, far more than the company's current enterprise value.

A feasibility study is set to be released in Q4 2014, followed by commencement of construction of Phase 1 (subject to financing). However, this expansion is expected to cost $1.32 billion in initial expansion capital, which the company clearly does not have, as I will touch upon below.
Second Quarter Results: Were They Really Positive?
The company achieved second quarter 2014 production expectations with gold production of 56,864 ounces and silver production of 481,151 ounces, increases of 45% and 262% year-over-year.
- The company maintained its original guidance for full-year production of 230,000-250,000 ounces of gold and 1.7 to 2 million ounces of silver.
- Adjusted cash costs were $806 an ounce, but are expected to increase to $850 for the second half of the year.
- Net income came in at $4.4 million or $.04 per share. On an annualized basis, this would result in full-year EPS of $.16, giving the company a forward P/E of 18.75.
While these results seem positive at first glance, if investors dig a little deeper they will see that the situation is getting quite worrisome:
- Cash and equivalents as of June 30, 2014 stood at just $13.6 million, down from $81.4 million on Dec. 31, 2013 and down from $49.187 million on March 31, 2014. This is even after the company sold 75% of its Hasbrouck and Three Hills property for $20 million.
- The company had total current assets of $338 million at the end of the quarter, which is down significantly from $365 million at the end of Q1 and down from $403 million at the end of Q4 2013.
- The company's total debt load remains huge even after the company paid some of it, with $495 million in debt (non-current) and $73.6 million in current debt, plus $32.7 million in accounts payable, $3.8 million interest payable and $8.3 million in other liabilities.
- It's clear that the company's interest expense on its debt is eating into its profits: for the last quarter, income from operations came in at $18 million, however, $11.329 million was spent on interest expense. After $2.34 million in income taxes, the company's was left with net income of $4.3 million.
- The company's net cash provided by operating activities was actually negative $6.8 million for the quarter, due to an accounts payable balance of $6.3 million, interest payable and production-related inventories.
- The company also repaid $13.8 million of principal on capital lease and term loan obligations.
- Cash and equivalents decreased $35.5 million in the quarter. Just one year ago, the company had a cash balance of $243 million.
With cash costs expected to increase for the next two quarters to $850 an ounce (from $806 an ounce this quarter), it looks like there will be little breathing room for Allied Nevada, especially with gold lower at $1,280 an ounce. If gold does not take off from here and at least head higher to $1,320+ an ounce, then I think Allied Nevada's cash flow will suffer in the coming quarters.
With just $13 million in cash, I would expect an equity financing to be announced in the next month or so. Perhaps more likely is a potential takeover of the company by a large-cap miner such as Barrick Gold (NYSE:ABX), Agnico-Eagle (NYSE:AEM) or Goldcorp (NYSE:GG), or at least a partial sale of the Hycroft Mine.
Still, this is just speculation and I think Allied Nevada is just too risky to invest in currently - despite its huge upside potential, the company's high debt loan and dwindling cash reserves are a major cause for concern.
Disclosure: The author has no positions in any stocks mentioned, and no plans to initiate any positions within the next 72 hours. The author wrote this article themselves, and it expresses their own opinions. The author is not receiving compensation for it (other than from Seeking Alpha). The author has no business relationship with any company whose stock is mentioned in this article.