Mylan (NASDAQ:MYL) has a portfolio of more than 1,300 generic pharmaceuticals and several brand drugs. The company's stock has handily outperformed the S&P 500 over the last five years and has crushed one of its peers (NASDAQ:TEVA) in that time while underperforming Actavis (ACT) in that time.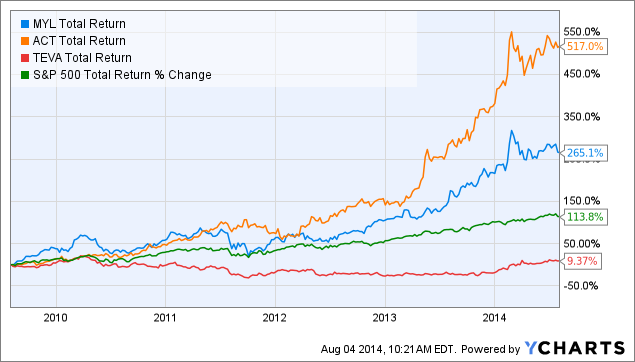 MYL Total Return Price data by YCharts
In this article, I will take a look at Mylan's valuation and give a buy/sell/hold recommendation.
Getting Bang for the Buck
Two of the most important metrics to look at for any company are the ROE (Return on Equity) and ROA (Return on Assets) ratios. Mylan shows exceptional trends for these all-important figures.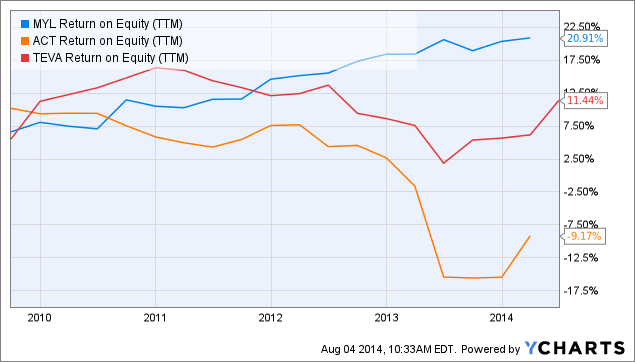 MYL Return on Equity (NYSE:TTM) data by YCharts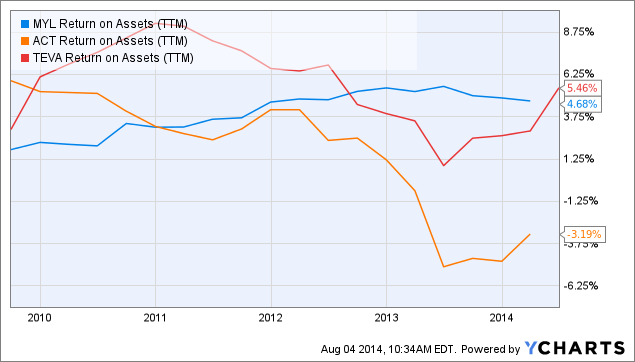 MYL Return on Assets (TTM) data by YCharts
Mylan compares very well with its peers in the key financial metrics above. Note, however, that its high ROE is partly the product of more leverage than its peers. While a certain amount of leverage is great, too much can be catastrophic. At the current levels, it is my opinion that Mylan's debt is manageable.
Finally, I will look at operating margin: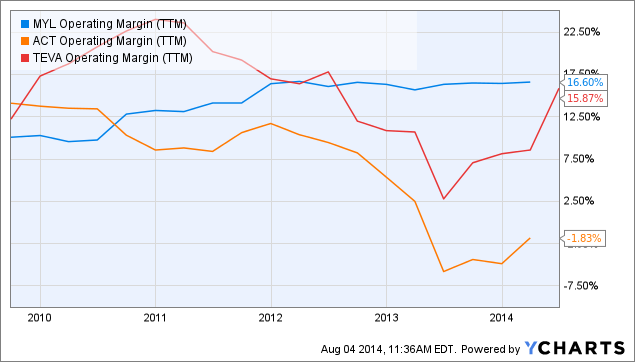 MYL Operating Margin (TTM) data by YCharts
Once again, Mylan shows strong underlying financials with its very healthy operating margins.
Valuation of the Stock
First I will take a look at the forward P/E ratios of Mylan, Actavis, and Teva.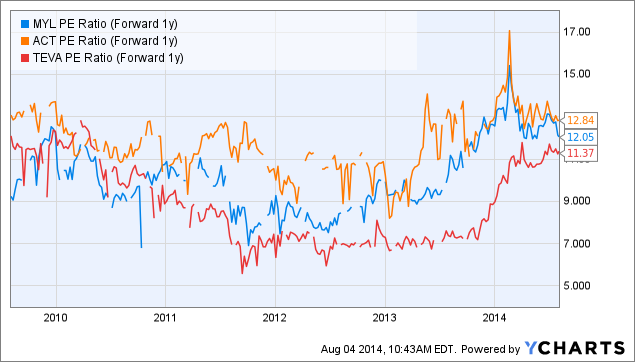 MYL PE Ratio (Forward 1y) data by YCharts
We can easily see that all three stocks are valued close to one another based on one year forward P/E. Also, it is quite clear that over the last three years there is a clear trend of ACT > MYL > TEVA.
Of course, I don't want to look at forward P/E in a vacuum. Here are analysts expected five-year EPS growth numbers for each company, along with the PEG ratio (using the one-year forward P/E figures):
|   | EPS Growth | PEG |
| --- | --- | --- |
| MYL | 12.46% | .97 |
| ACT | 19.85% | .65 |
| TEVA | -.66% | -17.22 |
(source for expected EPS growth: finviz.com)
While evaluating relative value among peers is a worthwhile activity, the rubber meets the road at absolute value. That is, in order for an investment to make sense, that investment should have intrinsic value. To that end, I will produce a discounted earnings model for Mylan.
According to finviz.com, analysts estimate EPS growth of 12.46% for the next five years. Given Mylan's past history, that estimate looks reasonable and I will use it in my model. After five years of that growth, I model 10 years of 6% growth. Using these conservative numbers, I reach a fair value of $48.9 per share, which is pretty much spot on where Mylan currently trades.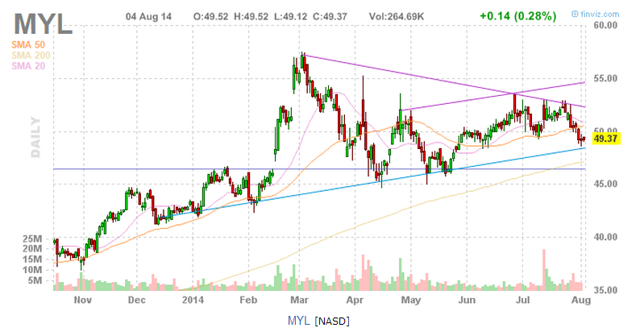 (source: finviz.com)
From a technical standpoint, MYL is in a general uptrend and currently sits right near a resistance line. Any break below that could take the stock down 5% - 10% and resistance should be felt again around $45 per share.
On the other hand, if the current resistance holds, a bounce back up to $52 - $53 per share looks very reasonable.
Conclusion
At this time, MYL shares look fairly valued to me -- which in itself is a rarity in this market. However, the company has several interesting catalysts to keep an eye on that could propel the stock higher in the next 12 months.
Tax inversion. With Mylan's purchase of Abbott Laboratories' (NYSE:ABT) generic-drug business, Mylan will officially be based in the Netherlands.
Celebrex sales. In March 2014 a US court struck down the US patent office decision to extend Pfizer's (NYSE:PFE) exclusivity to Celebrex through 2015. While Mylan subsequently sued Teva in relation to Celebrex, Mylan will benefit from gaining exclusivity for 60 days on the smallest dose of the drug.
Copaxone sales. Copaxone is a multiple sclerosis drug that accounted for 21% of Teva's sales in 2013. The US patent protection ended on May 24. Mylan is expected to produce a generic this year and cut into those sales.
Macro protection. This is not a "catalyst", but it is something that I like to see in any stock that I am considering buying these days. Pharma companies typically hold up well in bear markets.
The above points in Mylan's favor are not quite enough to push the stock into a "buy" for me at this point. My discounted earnings model indicates fair value and the PEG ratio is near 1.0. Also, a look at the forward P/E ratio graph above shows that the stock is near five-year highs for that metric.
Although I currently consider Mylan a hold, it is a stock that I have owned in the past and one that I am keeping a close eye on now. In the immortal words of Warren Buffett, "It's far better to buy a wonderful company at a fair price than a fair company at a wonderful price."
Is Mylan a "wonderful" company? Let me know what you think in the comments.
Disclosure: The author has no positions in any stocks mentioned, and no plans to initiate any positions within the next 72 hours. The author wrote this article themselves, and it expresses their own opinions. The author is not receiving compensation for it (other than from Seeking Alpha). The author has no business relationship with any company whose stock is mentioned in this article.