By Karen Schwartz
It's been a bit of a rocky ride for Wells Fargo (WFC). On top of digesting its acquisition of Wachovia, the bank faces the prospect of having to buy back loans as a result of foreclosure legitimacy issues and its stock was the worst performer in the 24-company KBW Bank Index (KBE) over the first nine months, according to Bloomberg BusinessWeek. Still, Wells Fargo reported record earnings in the third quarter, leading most analysts to see upside for the bank's share price.
The median price of 17 sell-side and independent analysts who have changed or reiterated their targets since Wells Fargo reported earnings in October remains at $36.00. The mean target is $36.47 compared with $36.06. Wells Fargo closed Friday at $27.49.
Click to enlarge: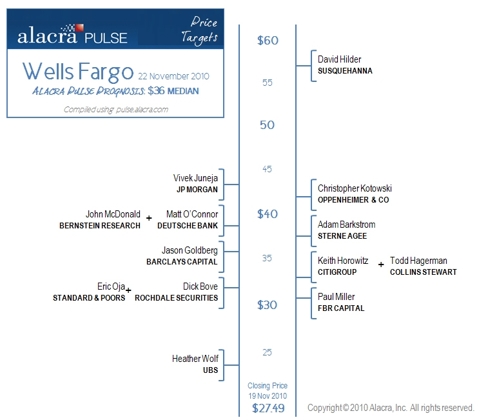 Of the analysts tracked by Alacra Pulse, 17 have a positive rating, 3 are neutral and only one is negative.
Susquehanna's David Hilder has the highest target at $57. He expects WFC's valuation to improve as concerns about mortgage exposures are clarified and efficiency improvements are realized. Hilder's target is more than double the $23 reiterated by Heather Wolf at UBS Equities, who has a Sell rating on the bank. She thinks consensus earning estimates are about 30% too high for 2011.
It never hurts to have Warren Buffet as a booster. His affection for Wells Fargo was in full display at the May 2009 stockholders meeting of Berkshire Hathaway (BRK.A) when he stated that "If I had to put all of my net worth into stock, that would be the stock". A recent filing disclosed an increase in Wells Fargo holdings, making it the "second largest holding of Berkshire Hathaway after Coca-Cola."
Price targets have risen since the summer on WFC, which Sterne Agee's Adam Barkstrom said as far back as May "isn't getting credit for its earnings power." He upgraded it to "Buy" from "Neutral," with a $37 price target.
Over the summer, Rochdale Securities' Dick Bove upgraded Wells Fargo from Neutral to Buy. Earlier this month Bove cited Wells as among the banks "most likely to increase dividends as early as the first quarter of 2011."
But though Bove also lifted his price target to $32 from $30 in October, he pointed to the company's third quarter results as "not that strong," noting that "revenues were down for both net interest income and non interest income on a sequential basis."
FBR Capital's Paul Miller, who in July raised the stock from Market Perform to Outperform with a price target of $31, said "meaningful signs of stabilization" were among the factors that led to the stock being upgraded following its 2Q earnings.
The primary drivers of our upgrade are (1) credit losses remain elevated but stabilization will likely continue, which should enable further reserve releases and serve as a catalyst to earnings; (2) relative to peers, WFC is sheltered from many of the regulatory headwinds that will weigh on banks' earnings going forward.
"Wells Fargo continues to be one of our top picks," Oppenheimer & Co. analyst Christopher Kotowski wrote in a 20 September report. Kotowski last month upped his price target on the company to $42 from $36, and reiterated his Outperform rating.
Looking ahead to 4Q EPS estimates, Morgan Stanley's Betsy Graseck and Justin Kwong upped theirs by 15 cents:
WFC reported EPS of $0.60. If we add back merger and integration expenses of 6c, we arrive at operating EPS of $0.66, 11c above our estimates and the Street.
But next year will kick off a decade that will bring the "worst revenue growth" for U.S. banks in 80 years, according to Credit Agricole analyst Mike Mayo. Christopher Whalen at Institutional Risk Analytics says "we'll be lucky" if the growth rate for U.S. banks is flat and Thomas Brown, CEO of Second Curve Capital adds that big banks such as Wells Fargo will have the hardest time growing.
So while Wells Fargo may be undervalued in the short term, the longer term prospects don't look too appealing.
(Source: Alacra Puse, Bloomberg BusinessWeek, Problem Bank List, Barrons, SmarTrend, StreetInsider)
Disclosure: None