RetailMeNot, Inc. (NASDAQ:SALE) operates a digital coupon marketplace which connects consumers with brands. The company operates digital coupon websites throughout Europe and the United States. Its U.S. site, RetailMeNot.com has personally saved me thousands off of retail prices. The company announced its Q2 2014 earnings yesterday and let's just put it this way, the market was not happy. Below are the company's historical financial results: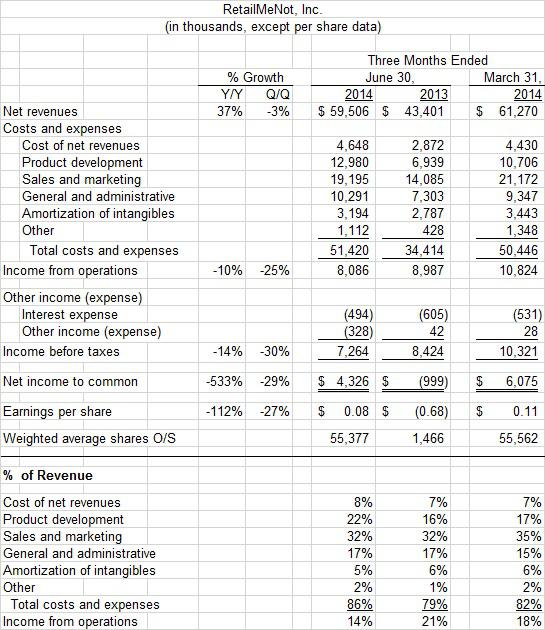 Revenue
Revenue of $60 million during the quarter was up 37% annually and down 3% sequentially.
International revenue was up 57% annually to $14 million; international now comprises 23% of total revenue, up from 20% a year ago.
Analysts were expecting revenue of $60 million.
Earnings
Income from operations declined 10% annually and 25% sequentially.
Product development costs and cost of revenues as a percentage of net revenues ticked up to 22% and 8%, respectively.
Net income of $4.3 million was down 16% compared to the $5.1 million achieved in Q2 2013. The $1.0 million net loss to common shareholders for Q2 2013 was net of $6.1 million preferred dividends.
The $0.08 per share earned during the quarter was also 27% below the $0.11 per share earned in Q1 2014.
Valuation
The market thrashed RetailMeNot; in pre-market the stock was down $5.30 (21%) to $20 per share. At its pre-market price the company's market capitalization would be about $1.1 billion or 9x run-rate revenue (Q1 2014 + Q2 2014 revenue annualized). At $20 per share, the company trades at about 53x run-rate earnings per share.
Conclusion
RetailMeNot's revenue was just shy of expectations. However, earnings declined 16% annually and 29% sequentially. At over 53x run-rate earnings per share and nearly 9x run-rate revenue, the company is a strong sell.
Disclosure: The author is short SALE. The author wrote this article themselves, and it expresses their own opinions. The author is not receiving compensation for it (other than from Seeking Alpha). The author has no business relationship with any company whose stock is mentioned in this article.